Know about Mount Kilimanjaro Facts to prepare for your Climbing Mount Kilimanjaro. Discover the basics, learn the routes and get all your questions answered. What's new, how's Kilimanjaro different from other mountains!
Mount Kilimanjaro has its own unique features with recorded highest altitude. The Mount Kilimanjaro Facts are one of its own kind and cannot be found in other parts of the world. Climbing Mount Kilimanjaro has been easy nowadays as it provides various options with hundreds of tour operators ranging from budget to luxury.
Mount Kilimanjaro Facts & All About Africa's Highest Peak
Africa has its highest peak and tallest free-standing mountain Kilimanjaro. The mountain has its own unique features with recorded highest altitude. The MountKilimanjaro Facts are one of its own kind and cannot be found in other parts of the world.
Climbing Mount Kilimanjaro has been easy nowadays as it provides various options with hundreds of tour operators ranging from budget to luxury.
The main Interesting Facts about Mount Kilimanjaro are its variant climatic and weather condition. The mountains snow caps are disappearing and has lost its 80% of mass since 1912 and according to scientist it may be ice free in next 20 years.
We have made a research and listed few Mount Kilimanjaro Facts which would be helpful for your plan:
The most daunting among the Mount Kilimanjaro Facts is the depletion of more than 80% of snow cap on this striking mountain crater since 1912.
Geography and Altitude:
As Mount Kilimanjaro is situated in the northern circuit of Tanzania it covers a vast distance around the Kilimanjaro National Park. The main Kilimanjaro Volcanic Facts you will be interested to know is that Mt. Kilimanjaro is a dormant volcano and formed by the eruption of three volcanic cones, Shira, Kibo and Mawenzi. The last major eruption was occurred before 3, 60,000 years and the last volcanic activity happened was 200 years ago and it resulted for an ash pit on the mountain.

The summit of Kilimanjaro, Uhuru peak is 5,895 meter or 19,341 ft tall above the sea level. However, the Mount Everest stands 8,848 meters above sea level which is 2,950 meters higher than Kilimanjaro.
We have an interestingfact that is related to the Height Of Mount Kilimanjaro Facts for you; The Everest base camp's south and north are below the summit of Kilimanjaro.
Being the highest mountain of Africa the Mount Kilimanjaro makes up one of the seven summits.
Weather and Climatic Zones:
The weather in Mount Kilimanjaro is highly influenced by trade winds and according to the structure of the mountain. These Mount Kilimanjaro Facts And Figures will show you the practically formed ecological systems on Kilimanjaro.
The South-eastern winds which are travelling over the Indian Ocean will have more of moisture and once it hits Mount Kilimanjaro during the month of March, it forces the flow upwards forming clouds and rainfall occurevery day during these months.
The other one of anti-trade winds which travels from the North-eastern circuit carrying a little of moisture but blows very strong. The winds are very strong during the month of April through October to keep the south east trade winds below them. Due to this these months are very dry and cloud cover the rainfall.
The north eastern monsoon arrives in November and brings bring short rainfall to the northern slopes of Kilimanjaro.
The wet months in Kilimanjaro are March, April and November. However, January to beginning of March is best time for trekking and you can experience snowfall and cold temperatures during December – May.
You will face five ecological zones while Climbing Mount Kilimanjaro for the summit. These major climatic or ecological zones are; Cultivated, Rainforest, Heath and Moorland, Alpine desert and Arctic summit zones.
Kilimanjaro Climbing Routes:
You can choose from 6 Kilimanjaro Routes like Machame Route, Marangu Route, Lemosho Route, Northern Circuit Route, Rongai Routeand Umbwe Route. The Kilimanjaro routes have beautiful landscapes and panoramic views which makes the climb still more attractive. The 3 routes approach from the South, 3 from the west and Rongai approaches from the North. To choose the suitable route for the successful summit, you should follow Climb Kilimanjaro Guide.
Machame Route is called as whiskey route as it is a bit difficult compared to the Marangu route which is called coco cola route. Lemosho route has the highest success rate with 95% and Northern circuit route also follows it with 95% success rate. Lemosho and Northern circuit route are known as the Best Route to Climb Kilimanjaro according to the successful summit.
| | | | | | |
| --- | --- | --- | --- | --- | --- |
| | Northern Circuit | Lemosho | Machame | Rongai | Marangu |
| Days | 9 | 6-8 | 6-7 | 6-7 | 5-6 |
| Distance (miles) | 60 | 42 | 38 | 45 | 43 |
| Difficulty/steepness | moderate | moderate | moderate | easier | easier |
| Lodging | camping | camping | camping | camping | dorm/hut |
| Crowds | very low | medium | high | low | high |
| Scenery | excellent | excellent | excellent | very good | good |
| Acclimitization | best | excellent | very good | fair | poor |
| Cost | high | medium - high | medium | medium | low |
| Success Rate | highest | high | medium - high | medium | lowest |
Kilimanjaro Summit Success Rate:
The Kilimanjaro Success Rate will depend on the number of days taken to trek the mountain and type of route chosen. The more days taken to climb Kilimanjaro will give you a higher success rate. There are no technical skills are required to Climbing Mount Kilimanjaro like other mountain peaks. This is one of the helpful Mount Kilimanjaro Facts you should know for the summit. But, Kilimanjaro Altitude Sickness and time for acclimatization can't be avoided. You will need to sleep on lower elevations and spend more time on mountains. This will allow your body to acclimatize and adjust to the higher altitude levels.
The consideration of route is also important. Knowing about the specification of Kilimanjaro Routes is one of the most important Mount Kilimanjaro Facts, which can increase your chance for the summit success. You will always need to choose to climb high and sleep low. You should trek to the higher sections during the day and sleep on lower sections during night to allow your body to acclimatize. Here are few details of summit success rates according to KINAPA.
Kilimanjaro Success Rate depends upon the suitable Kilimanjaro route and acclimatization profile of Kilimanjaro routes. The 5 days route will give you 60% - 70% success rate. 6 days route will give you 65% - 70% success rate. 7 days route will give you 75% - 80% success rate. 8 days route will give you 80% to 85% success rate. 9 days route will give you 85% - 95% success rate and 10 days route will give you 90% to 97% success rate.
Here is Some Mount Kilimanjaro Facts .......
It Is One Of The Seven Summits:
Mount Kilimanjaro is the tallest peak of Africa and freestanding mountain in the world. Mount Kilimanjaro is one on the seven summits of world. To scale Kilimanjaro you will not need any technical skills or any equipment's such as rope, harness, crampons and other. Here is the list of other summits:
Mount Everest – Asia – First ascent 1953 – 8,848 meters
Aconcagua – South America – First ascent 1897 – 6,961 meters
Denali – North America – First ascent 1913 – 6,194 meters
Mount Kilimanjaro – Africa – First ascent 1889 – 5,895 meters
Mount Elbrus – Europe – First ascent 1874 – 5,642 meters
Mount Vinson – Antarctica – First ascent 1966 – 4,892 meters
Mount Kosciuszko – Australia – First ascent 1840 – 2,228 meters
No One Know The Real Meaning Of Kilimanjaro:
The name of highest mountain of Africa 'Kilimanjaro' itself is one of the interesting Mount Kilimanjaro Facts. The name Kilimanjaro is the comprised of Swahili word 'Kilima' which mean mountain and 'Njaro' means whiteness. However, the Germans wrote, the Swahili of the cost call the snow-mountain Kilimanjaro as the 'mountain of greatness', 'Mountain of Caravans'.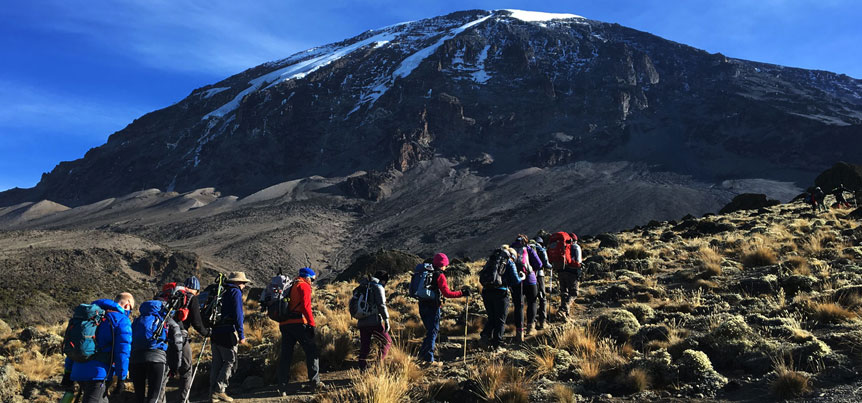 It is also said that Kilimanjaro is the European pronunciation of a KiChagga phrase which means, 'we failed to climb it'.
The Fastest Ascent:
The fastest Ascent and descent to Kilimanjaro was achieved by Swiss Karl Egloff in just 6 hours and 42 minutes in the year 2014. This was achieved as they went on training for high elevation for many days. They got adjusted to the higher altitude. Hence, this was possible. The answer will be 'yes', if you have a doubt Is Climbing Kilimanjaro Safe or not, as a beginner.
Highest Cricket Match:
The Highest cricket match was held in Kilimanjaro in the month of September, 2014. A group of 30 cricket players and officials climbed to the top of Kilimanjaro and then descend to crater camp to play the highest game of cricket ever recorder. This is one of the Fun Facts about Mount Kilimanjaro.
Highest Pizza Delivery:
The Highest pizza delivery was done by Pizza Hut in May, 2016 and set an official Guinness world record by delivering the highest pizza to the top of Kilimanjaro.
Africa's Tallest Tree Discovered On Kilimanjaro:
The tallest tree on Africa is at Kilimanjaro and it measures 81.5m in height. It is anEntandrophragmaExcelsum species tree and is 600 years old.
Golf on Kilimanjaro:
It is not yet confirmed that who hit the longest golf shot on top of Kilimanjaro. However, it is know that the golf shot was hit from the Uhuru peak to the crater rim and this is recorder as the highest and longest golf shot. However, most of people like to capture the moment hitting the golf to the longest distance possible.
Majestic Mountain Kilimanjaro of Africa is full of natural wonders which are representing themselves as dramatic scenic views on Kilimanjaro. During your hiking on different Kilimanjaro Climbing Routes, you will be amaze by witnessing the panoramic views of Mount Kilimanjaro. This information will be really helpful for you, if you have planned for Climbing Mount Kilimanjaro.