Thousands of climbers have left their footprints on the Kilimanjaro Trails with an ever-increasing number of climbers Climbing Mount Kilimanjaro every year. So when did this journey of Kilimanjaro Climbing Trail begin and how did it get so popular? How our ecological footprints on the mountain are affecting the environment of Kilimanjaro? What is the natural vegetation available on the mountain?
We at Jerry Tanzania Tours are here to answer these questions and inform you more about the gorgeous Kilimanjaro Trails. So let's get started!
How did the Climbing Mount Kilimanjaro Trails begin?
After volcanic eruptions, millions of years ago three peaks of Mount Kilimanjaro were formed. Shira (one of the volcanic cone) is now extinct and eroded, while the other two volcanoes (Mawenzi and Kibo), after subsequent eruptions, 'melted' together. The highest peak is Kibo with its famous Uhuru peak at almost 6000m above sea level.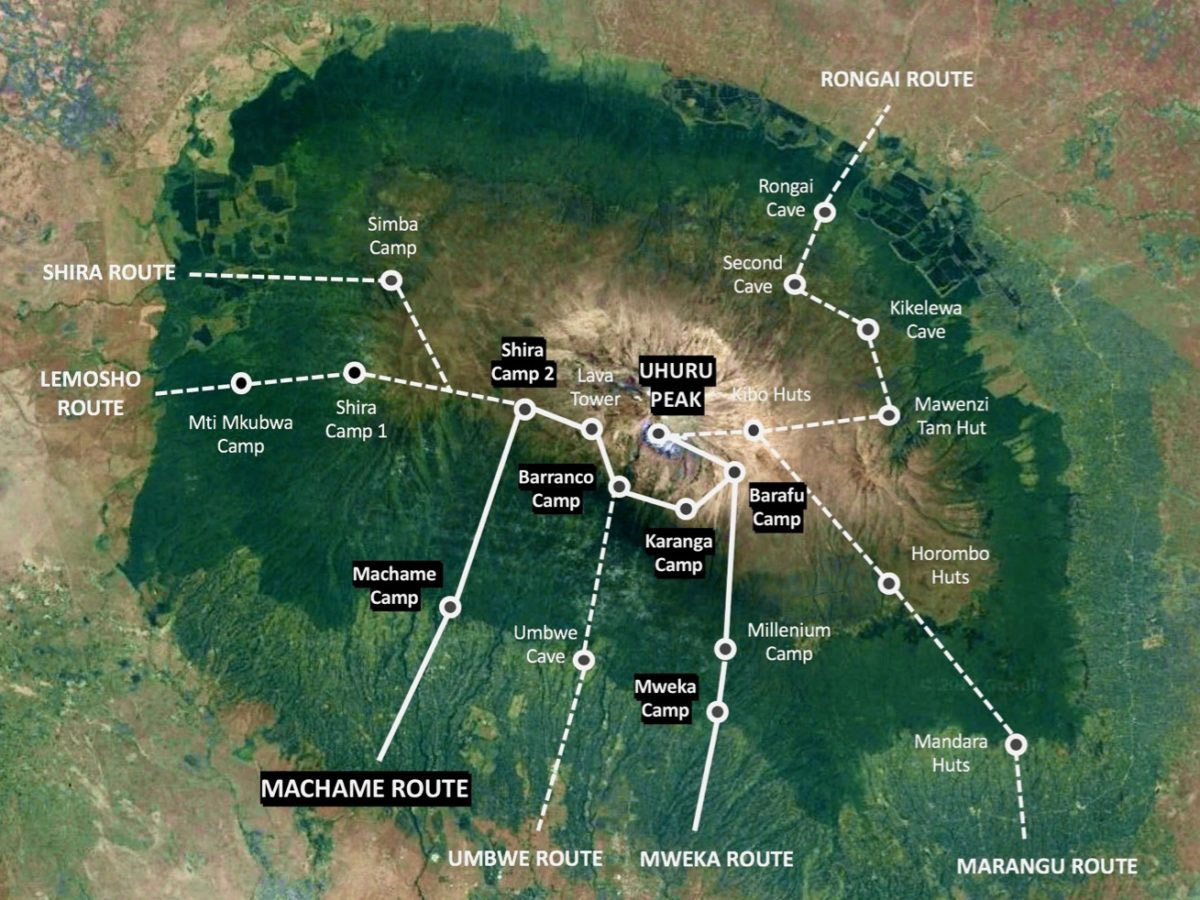 Let us understand the Mount Kilimanjaro Climbing timeline:
In 1889, Johann Rebmann tried to get up the mountain with 30 porters and an umbrella.
In 1909, a German geology professor Hans Meyer was the first recorded person to stand on top of Kilimanjaro.
Gertrude Benham a 22-year-old man of London reached the top of Kilimanjaro, alone in 1926.
In 1932, Pastor Richard Reusch found a dead leopard on the crater rim. Later a glacier was named after him.
The construction of Kibo hut began in 1939.
Over 58 visitors trekked up Kilimanjaro in 1942.
In 1957, volcanologist JJ Richard caused some alarm by verifying that Kilimanjaro is still active.
In the late 1950s, the University of Sheffield and the Tanganyika Geological Survey declared the volcano dormant and almost extinct.
From 1961 onwards less than a thousand visitors visited the mountain annually.
In the year 1999, Kili's guest list has increased to 11,000 visitors per year.
Thereafter, the annual climbers on Mt Kilimanjaro Trails started to increase manifold, and today we see the experienced, as well as new trekkers, Climbing Kilimanjaro fearlessly every year. Below are some of the Kilimanjaro Trail Records set by some extraordinary people on the climbing Kili.
Kilimanjaro Trails Records:
The oldest person on Kilimanjaro Trails is Anne Lorimor, who reached Uhuru Peak 3.14 p.m. local time on 18 July 2019 aged 89 years and 37 days.
Robert Wheeler an American is the oldest man to summit the mountain is. He achieved this glory at the age of 85 years and 201 days when he summited on 2 October 2014.
Maxwell J. Ojerholm of USA reached Uhuru Peak, unassisted at the age of ten years old on July 4, 2009, taking the tough Machame route.
Theodore Margaroli (10 years old) reached the summit unassisted through the Western Breach.
Keats Boyd from Los Angeles despite an age-limit of 10 years for a climbing permit, reached the summit on 21 January 2008 at the age of 7.
In March 2018 Montannah Kenney from Texas equaled this record.
The fastest Kilimanjaro Trails Marathon To The Summit ascent roundtrip has been recorded by the Swiss-Ecuadorian mountain guide Karl Egloff. He completed the entire Kilimanjaro Trails Length in 4 hours and 56 minutes and returned to the Mweka Gate at 1,630 meters (5,350 ft) in a total time of 6 hours, 42 minutes, and 24 seconds.
A similar female roundtrip record of Climbing Kilimanjaro is held by Fernanda Maciel from Brazil in a time of 10 hours and 6 minutes.
Some other extra-ordinary records have been set by wheelchair users like Bernard Goosen from South Africa who completed the Kilimanjaro Hike in six days in 2007.
Kilimanjaro Trails Difficulty
The Kilimanjaro Trails Difficulty is a common concern of many climbers who are climbing Kilimanjaro for the first time. However, even though the Mt Kilimanjaro Trails is challenging, it is not a technical climb as the Himalayas or Andes. A good acclimatization period is, however, essential to make Kilimanjaro Climb Successfully.
In July and August 2005 a study of people attempting to reach the summit of Kilimanjaro found that over 61.3 percent succeeded in summiting Mount Kilimanjaro while over 77 percent experienced acute mountain sickness (AMS).
Of this a retrospective study of 917 people who attempted to reach the summit via the Lemosho or Machame routes, over 70.4 percent of the climbers experienced AMS.
Also, the Kilimanjaro Summit Height is well above the altitude at which the life-threatening high altitude pulmonary edema (HAPE) or high altitude cerebral edema (HACE), is most common.
Due to fast climbing, health risks are increased substantially.
The falls on steep portions of the mountain and rock slides have killed numerous trekkers. The right guided tour is therefore essential to climb Kilimanjaro.
Apart from this the improper disposal of human waste on the mountain has created a health hazard, necessitating the boiling of all water.
Deaths on Mount Kilimanjaro
It's not a secret that Mount Kilimanjaro experiences numerous deaths and according to the Kilimanjaro Christian Medical Centre in Moshi, over 25 people died from January 1996 to October 2003 while climbing the mountain.
Over seventeen females and eight males, age 29 to 74 have died on Kilimanjaro due to the lack of proper acclimatization profile and choosing the wrong Kilimanjaro tour operators.
From advanced high altitude illness, over fourteen people have died among these one death was caused due to HACE, five with HAPE, and six with both HACE and HAPE.
Mythologies related to Mount Kilimanjaro
There are various mythologies related to Climbing Mount Kilimanjaro. According to a legend, there are ivory-filled graves of elephants and a cow on the mountain. The cow named Rayli produces miraculous fat from her tail glands. Rayli will blast a powerful snort and blow any man down onto the plain if he tries to steal such a gland.
Kilimanjaro Trails comparison chart
| | | | | | |
| --- | --- | --- | --- | --- | --- |
| Route | Outline | Difficulty | Acclimatisation | Cost | Duration |
| Lemosho | Remote route approaching Kilimanjaro from the west. With Shira, often considered the most scenic route due to approach through rainforest and heathland. Some tough climbing days, including steep climb on Barranco Wall, but excellent acclimatisation profile due to longer approach. Joins Machame route near summit. | Medium | Excellent | Mid-cost | 7-8 days |
| Machame | This very popular route approaches from the south-west, and can be very crowded in peak season. Beautiful scenery along the southern traverse and during the climb to Shira plateau. Some tough, steep climbing days, particularly on the Barranco Wall. However, great acclimatisation profile following climbers' adage of "climb high, sleep low". Joins Lemosho/Shira route near summit. | Low | Excellent | Low-cost | 6-7 days |
| Marangu | The so-called 'cola-cola' route is, after Machame, the most popular and most affordable route. Approaches Kilimanjaro from the southeast. A generally easy ascent with gentle gradients. Descent is on the same trail, meaning you see less of the mountain. The oldest trail on the mountain, and the only one to offer basic dorm-style accommodation for the entire climb (most climbers prefer the privacy of a tent!) Poor acclimatisation due to 5/6 ascent being standard, hence lower success rate. | Medium | Poor | Lowest-cost | 5-6 days |
| Northern Circuit | The longest route on the mountain. Approaches from the west via either Shira or Lemosho trails, before branching off for a full traversal of the northern face of the mountain to meet with Rongai route for the summit ascent. Excellent acclimatisation profile. Total escape from the crowds. However, remoteness means rescue is more complicated. | Medium | Best | High-cost | 9 days |
| Rongai | Remote route approaching Kilimanjaro from the north. Long drive to trailhead from Arusha, meaning route is less frequented than others. A comparatively easy climb with a reasonable acclimatisation profile. However, longest and toughest summit night due to position of high camp. Less scenically spectacular than western approach routes, but unique approach to mountain with very special trek through alpine desert, owing to lower rainfall levels on Kilimanjaro's northern face. | Medium | Good | Mid-cost | 6-7 days |
Effect of Climate Change on Kilimanjaro
While climbing Mount Kilimanjaro is every climber's dream, the ecological footprints that we leave on the Kilimanjaro Trails along with the global climate change are affected by the snow-covered mountain peak of Kilimanjaro.
The Mt Kilimanjaro Trails begins from the base of Kilimanjaro and is around five vertical kilometers up the summit. The temperatures drop dramatically from the warmth of tropical Tanzania.
However, the primary quest is just about more than just the summit.
In over 20 years the entire glacier will melt. It is already too late to save the glaciers on the equator, but we can still take action on climate change to save more of the world's ice.
On the mountain it is essential to green your footprint and if you are going to consume make it more life experiences than material things.
Reducing Ecological Footprint on Kilimanjaro Trails
On the Kilimanjaro Trails sadly, the ecological and natural problems are escalating, particularly at Crater Camp. This is the place where detritus and human feces have accumulated to such an extent that the camp may soon be closed. However, recent cleaning efforts have started to avoid closure.
In the high altitude and low temperatures, human waste cannot be buried in the frozen ground and does not degrade.
Many climbers choose to climb without portable toilets, and although some tour operators provide portable chemical toilets, most of the tired and incapacitated porters simply empty them on site instead of carrying them down the mountain.
There are long drop toilets lower down the mountain, deep holes in the ground.
With the number of visitors increasing even these toilets can no longer cope.
Apart from this slithering down the shale on the descent in a strategic maneuver for the sake of speed but is now being discouraged ecologically because of its effect on the erosion of the loose rocks.
Ecological Zones on Mt. Kilimanjaro
On the Kilimanjaro Trails, there are five distinct climate zones. Among these are:
Cultivation
Forest
Moorland
Alpine Desert
And arctic climate zones
Let's have a look at these in detail:
Cultivated Zone
The cultivate Zone is recognized as the bushland zone which is the lowest zone on the foothills of Mount Kilimanjaro in Northern Tanzania. Many assume this zone to be the latest interesting zone, as it is settled under cultivation.
The cultivated zone offers much to the fresh visitor beginning a Kilimanjaro trekking tour and has a wealth of its own.
This zone is at a height of approximately 2,600 to 6,000 ft. (800 to 1,800 m)
This region of the mountain is nevertheless a fertile volcanic soil as well as it receives the greatest annual rainfall.
There are many rivers formed by the glacier from the top of Kilimanjaro as well as making an ideal land for agriculture actives.
Forest / Rainforest Zone
The altitude of Mount Kilimanjaro is approximately 6,000 -9,200 ft. (1800m – 2800m). This zone is a popular circle of Mount Kilimanjaro.
The Rainforest zone is soaked by six to seven feet of rain every year and bursts with biodiversity.
The day temperature is warm and the humidity is high in this dense forest climate zone.
The nightly rains can produce a surprisingly low temperature.
There are varied flora and fauna in this zone with diverse plant and animal life of various species like ferns, olive trees, and palms dripping are found here.
From the thinner jungle, the climbers approaching the Rongai Route, Lemosho Route, and on the edges of the Shira Plateau may be lucky to spot few animals such as antelope, both Blue and Colobus monkey, and more.
Heather Zone
The heather zone is at an altitude of approximately 9,200 ft. 13,200 ft. (2800m – 4000m).
Characterized by heath-like vegetation and abundant wildflowers, this semi-alpine zone, is in the high altitude 'region' according to the mountain medicine.
In this zone, you can expect amazing blue skies at the upper end of this zone with little cloud covers protecting you from the suns.
Alpine Desert Zone
The alpine desert zone is at an altitude of approximately 13,200 ft. -16,500 ft. (4000m – 5000m).
In this zone, the mountain receives little rainfall, and the temperature of this region can reach over 100° F during the day.
The annual rainfall is less than 8 inches a year in this zone.
A very high level of solar radiation is the result of thin air and proximity to the equator.
Fields of volcanic rock of all shapes and sizes showcase the violent past of this region.
At this zone, you are close enough to the pinecone of Kibo to see the huge glaciers that cling precariously to its steep ledges.
There are deep gorges on the slopes and breaches in the crater rim which you will witness in this zone created from the molten lava that blasted through during prehistoric eruptions years ago.
Arctic Zone
The altitude of the arctic zone is approximately 16,000 ft. -19,340 ft. (5000m – 5895m). This zone has its lower segment made up of loose dust and gravel well-known as scree.
The Kilimanjaro Trails Difficulty is maximum at the Scree. But encountering an area like this in Africa equatorial belt is like finding a swath of rainforest in the middle of an Arctic glacier.
You will be taken to the rim of the volcano at Stella Point then heads west.
Following the crater rim as it rises beside a massive glacier to Uhuru peak.
Here you will come across a sign that says, "Congratulations, you are at the height of 5895m above sea level on the tallest free-standing mountain in the world.
Changing Biodiversity on Kilimanjaro
The Kilimanjaro Trails is experiencing changing and we at Jerry Tanzania Tours are here to untangle the invisible connections between human land use, regional climate conditions, and local biodiversity.
According to researchers, the Tropical Mountains such as Kilimanjaro are great environments for studying how humans and climate influence biodiversity. According to them, these mountains host these huge climatic gradients in a very small area.
As the land use varies widely across the Mount Kilimanjaro region, the local human population has more than doubled in the past 30 years.
Industrial-scale coffee plantations have been cut out of the rainforest, cornfields have cropped up throughout the savanna, and clear-cuts and burn areas dot once-pristine forest as a result of logging.
This changing biodiversity is not just challenging but also irreversible. We at Jerry Tanzania Tours work towards leaving minimum ecological footprints on the mountain and strive towards sustainable climbs to protect nature.
Download PDF Guide
Kilimanjaro Trails
Kilimanjaro Flora and Fauna
In the entire Kilimanjaro Trails Length, you will come across numerous Kilimanjaro Flora and Fauna. In the dense rainforest at 1800m – 2800m, you will find the next 'level' of vegetation. This Rainforest zone receives 1000 to 2000mm of rain yearly.
There is a multitude of birds ranging from tropical Boubous, Hartlaub Turacos, Green Wood Hoopoes, Silvery cheeked Hornbills, and more on the lower-lying areas such as the forest zone.
You might see primates such as blue monkeys, colobus monkeys, and olive baboons looking up into the trees.
Some civets, dik-dik, leopards, mongooses, the bushpig, elephants, and Abbott's duikers are also common on the mountain.
So Which Kilimanjaro Trails Should You Choose?
Before you can choose Kilimanjaro Routes you need more information and get to know the different between the routes. There are seven established routes to climb on Mount Kilimanjaro
Experience Various Kilimanjaro Trails With Jerry Tanzania Tours
If you are looking forward to having an extraordinary Kilimanjaro Hike, enjoy the best of a typical day on Kilimanjaro, and strive to complete the Kilimanjaro Summit, watch the world from over 6000m, we at Jerry Tanzania Tours are here to assist you in doing the same.
The Complete Kilimanjaro Climb Cost and Kilimanjaro Packing List, have been discussed in detail, and to get more info regarding the same we suggest you visit these pages. Our Kilimanjaro Guide and Porters are extremely friendly and assist you constantly 24/7 hours to help you reach the summit successfully and take care of your Kilimanjaro Safety.
To book your customized trip packages with us, contact us today and speak to our travel experts directly.
Get your FREE eBook
Enter your name and emailto get your FREE eBook
You can unsubscribe anytime For more details. review our Privacy Policy