The challenging Kilimanjaro Trek has increasingly become the one quest that every climber has in their bucket–list. If you are also dreaming of viewing the curvature of Earth of the top of the World, Climbing Mount Kilimanjaro should be your next travel goal.
What are the best things to do in Kilimanjaro? What do climbers eat, drink on Kilimanjaro? What is the cost of Climbing Kilimanjaro? If these are some questions that pop-up in your mind while planning your Kilimanjaro Climbing Adventure, Jerry Tanzania Tours is here to answer all your queries here. So let's plunge into it right away!
An Overview Of The Kilimanjaro Trek
Location: Kilimanjaro region, Tanzania, Eastern Africa
Starting Points: Marangu, Rongai, Lemosho, Shira, Umbwe, and Machame
Ending Point: Kebo (Uhuru Peak)
Altitude: 4,900 metres from the base of the mountain, and 5,895 metres above sea level
Duration: 5 to 10 days (including ascent and descent) depending upon the route
Distance Covered (including ascent and descent): 70 kilometers (via Marangu), 62 kilometers (via Machame), 72 kilometers (via Rongai), 70 kilometers (via Lemosho), 72 kilometers (via Shira), 51 kilometers (via Umbwe)
Level of Difficulty: Even though climbing Kilimanjaro does not require any professional training but due to its altitude, Mt Kilimanjaro trek is considered to be one of the most strenuous treks in the world.
Mount Kilimanjaro Trek Temperatures: Average annual temperature at Uhuru peak varies between -70C to -290C
Available Accommodation Options: Hotels(before trek), Canvas Tents, and Trekking Huts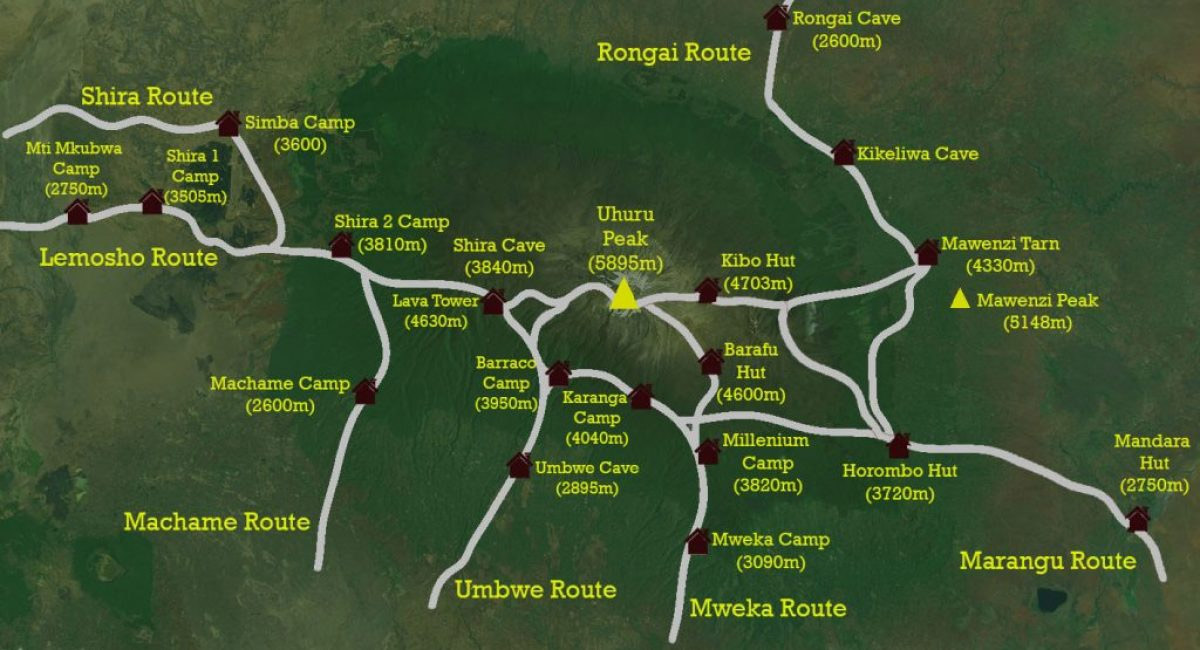 How to Get to Kilimanjaro?
To get to Kilimanjaro the closest International Airport is Kilimanjaro (JRO), and for the climbers coming from Europe, KLM (Delta Air Lines) has a daily non-stop flight from Amsterdam to JRO. Apart from this Air Viva offers connections between Kilimanjaro and several domestic airports, such as Arusha ($75).
In the year 2012 numerous International Airlines launched a direct flight to Kilimanjaro International Airport.
Among these were the Turkish Airlines and Qatar Airways in addition to other International Airlines like Ethiopian Airways, Condor Air, and Kenya Airways.
For those traveling Nairobi or Kenya, you can fly with Kenya Airways, which works with Precision Air. The cost of these flights is about $400/person for a roundtrip ticket.
Apart from this, you can schedule shuttle buses, which run at 8 am and 2 pm daily. The cost of a ticket in these shuttle busses is about $35/person, one way, and takes around 5-6hrs bus ride.
You can fly into JRO if coming from Dar es Salaam. This costs around $320/person roundtrip and takes approximately about 7-8hrs bus ride for $20/person one way to Arusha or Moshi.
Training and Preparation for the Climb
Although many tour operators promise an easy climb to Mount Kilimanjaro, Climbing Mount Kilimanjaro is not that easy and great planning and preparation are essential to help you reach the roof of Africa.
Climbing Kilimanjaro should not be underestimated. This is because it claims several lives a year.
Walking on the easy Kilimanjaro Routes – Marangu route and Rongai route is not that complicated and tough for most climbers.
Also, there are many hikers, however, who believe, being super-fit helps you achieve maximum Kilimanjaro success rate on the mountain. But this is not true.
However, spending several days on the mountain helps you double your chances of reaching the top as it gives you enough time for acclimatizing before the Kilimanjaro Climb.
Important Kilimanjaro Food and Drinks available on Kilimanjaro
The various food offered to you on your Kilimanjaro Trek is prepared by the Kilimanjaro cooks and served by the Kilimanjaro Porters who come along with you on the Kilimanjaro Hike. We at Jerry Tanzania Tours provide you with high-quality food that helps you develop enough strength to help you accomplish the Kilimanjaro trip.
Towards the end of the trip, however, the quality of the food tends to decrease due to a reduction in rations carried by the porters and also due to the food becoming stale on after a few days.
We, however, recommend you to carry along some high energy Kilimanjaro Food like chocolates and nuts for surviving and for successful completion of the trek.
Some ready-made noodle packets and some cooking items that can be prepared easily can also be prepared.
It is very important to stay hydrated on the mountain. The most important reason why climbers suffer from Acute Mountain Sickness (AMS) is due to a lack of water intake and dehydration. It is therefore essential that you drink at least 3L of water a day on the mountain.
What are some of the best Kilimanjaro Lodgings?
Before starting your Kilimanjaro Trek you will need to take some rest after the long flights. For this, there are provisions for Kilimanjaro Accommodation Before and After Your Climb so that you rest well before and after your Kilimanjaro Hike.
On your Kilimanjaro Trip you can stay in the following hotels and lodges in Arusha and Moshi:
The Tanzania Mountain Retreat Lodge and Camp offers campsites and guest houses in Arusha near the gates of Arusha National Park. Costs vary from EUR5 to EUR55 including breakfast.
Hostel Foot Prince is another accommodation suited for budget trekkers. This stay is more of a western-style hostel based in Moshi town.
The Arusha Backpackers which is based in Arusha and Kilimanjaro Backpackers based in Moshi are also some good options for stays in these towns for budget trekkers with costs varying from $10 to $24.
Offering accommodation for budget travelers and Mt Kilimanjaro climbers based in Arusha - Arusha Hostel Lodge and Adventures is a campsite for Campers and a communal kitchen. It costs around $10 to $40 including breakfast.
Kilimanjaro Climb Cost for Private and Group Climbs
The Kilimanjaro Climb Cost for Private and Group Climbs differs due to various factors like several climbers, duration of the climb, and the choice of routes. Climbing the mountain is not cheap. Kilimanjaro Trek Cost is around $2000 - $4000 per person per day and may vary on the group and private climbs. We at Jerry Tanzania Tours provide you mid-range and luxury climbs whose Kilimanjaro Trek Price $250 - $300 per day, per person.
There are some extra costs of tipping Kilimanjaro porters, guides, for Kilimanjaro food and transport.
International Flight costs are not included in the Kilimanjaro trek packages due to the dynamic pricing but for a budget climb for two to four people these extra costs are around $1000 to $1500.
Staying in huts is less expensive than camping on Kilimanjaro.
The Kilimanjaro Tips include approximately up to US$20 for the guide, $15 for the cook, and $10 for each porter, and the total tips on the mountain are $250 - $300 per climber.
When is the Best Time to Climb Kilimanjaro?
The Best Time To Climb Kilimanjaro is in the peak seasons from mid-June to mid-October. As per Jerry Tanzania Tours, the best months to climb Kilimanjaro is from January, February, and September. Other months like July and August are also good but are colder compared to other months.
The Kilimanjaro Climb Price also varies, according to the time in which you choose to climb Kilimanjaro. The prices of Kilimanjaro tour packages are high in peak seasons and less in low seasons.
Download PDF Guide
Kilimanjaro Terk
Kilimanjaro Trek Guide
There are numerous Kilimanjaro Trek Itinerary and Kilimanjaro Trek Package that we offer as part of the Kilimanjaro Climb.
You can customize your itinerary as per your choice and choose from our various Kilimanjaro Trek Routes and packages.
The one popular package is Kilimanjaro Trek and Lemosho Route which is the most beautiful and scenic route on Mount Kilimanjaro.
Apart from this if you are a citizen of a non-USA country you can get complete guidance from our travel experts who provide you complete trek guide for your climb.
For instance, Kilimanjaro Trek UK is popular for climbers traveling from the UK or European countries.
We will provide you the exact Kilimanjaro Climb Cost for UK citizens and other essential Trekking on Kilimanjaro tips that are of great help.
The best and most popular Kilimanjaro Trek Time is from mid-June to mid-October and again from mid-December to mid-March.
Kilimanjaro Trek Packages
9-Days Northern Circuit Route
The Northern Circuit Route approaches Mount Kilimanjaro from the west. We at Jerry Tanzania Tours take you through the comparatively new Northern Circuit route that takes over nine days.
The ascent begins in the first three days following the Lemosho route.
This route then turns northwards and meets the Rongai route at Third Caves.
This is followed by ascending to School Hut. Here the route joins the Marangu route and leading up to the summit via Gilman's Point.
You descend back down the mountain via Mweka after the summit.
To take you to and from the mountain you will have a private vehicle.
You will have accommodation in tented camps on the mountain.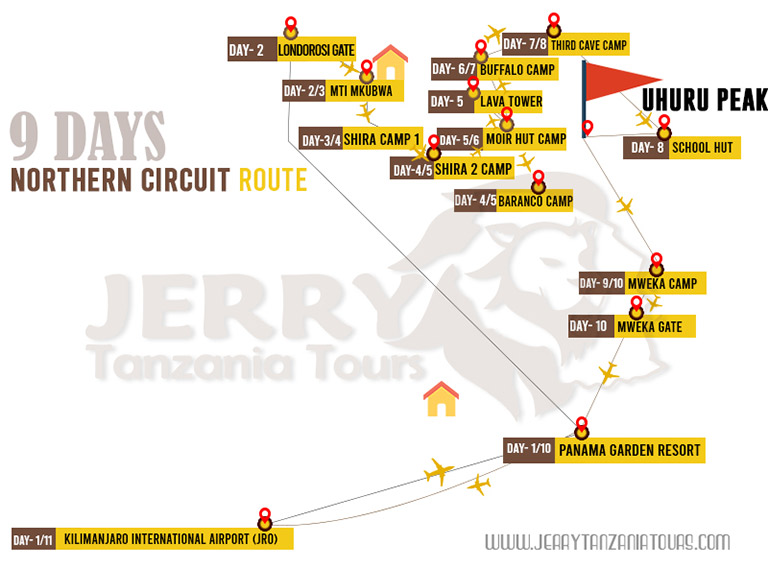 7-Days Rongai Route
The seven-day trip to climb Kilimanjaro, trekking on the Rongai Route is the real adventure you will have on the mountain.
Apart from the gorgeous rainforest and moorland landscapes, you will have some of the most beautiful sightings of some Colobus monkeys on the lower slopes. If you are lucky there could be some occasional elephants higher up.
You will have a private vehicle to take you to and from the mountain. Accommodation on the mountain on this trip will be in tented camps – a true adventure.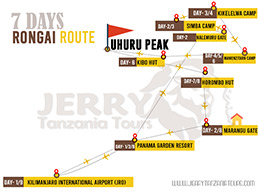 8-Days Lemosho Route
The eight days Lemosho route trip is the longer alternatives but provides better acclimatization to trekkers.
On the Lemosho route, you will come across some varied landscapes with possible animal sightings during the first day of the hike.
The trek starts from the Londorossi Gate.
To take you to and from the mountain you will have a private vehicle.
On the mountain, the accommodation will be in tented camps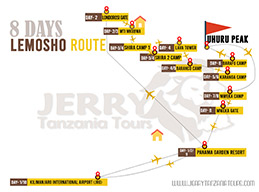 7-Days Machame Route
The seven days Machame Route approaches Mount Kilimanjaro from the south-west.
This popular route gives better acclimatization on a seven-day climb compared to the 6 days climb and has a better chance of providing a high Kilimanjaro Route Success Rate.
The main characteristic of the Machame route is the lush rainforest and alpine moorland.
Even this trail provides numerous challenges and is very scenic and memorable.
We at Jerry Tanzania Tours will provide you with a private vehicle to take you to and from the mountain.
Accommodation on the mountain on this trip will be in tented camps as well.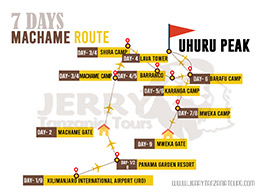 Mount Kilimanjaro Facts
Before starting your Kilimanjaro Trek you must be aware of the following Mount Kilimanjaro Facts:
Mount Kilimanjaro is the tallest mountain on the African continent and the highest free-standing mountain in the world.
Kilimanjaro has three volcanic cones, Mawenzi, Shira, and Kibo.
Mawenzi and Shira are extinct volcanoes but Kibo, which is the highest peak, is dormant and could erupt again.
In a book stored in a wooden box at the top of Uhuru Peak is where nearly all climbers have shared their experience of climbing Kilimanjaro
87-year-old Frenchman Valtee Daniel was the oldest person ever to summit Mt. Kilimanjaro.
There are over five different ecological systems found on the mountain: cultivated land, rain forest, heath, moorland, alpine desert, and an arctic summit.
In 2001 Italian Bruno Brunod summitted Uhuru Peak ascended Mt. Kilimanjaro in 5 hours 38 minutes 40 seconds becoming the fastest person to have ascended the mountain.
Since 1912 the mountain's snow caps are diminishing, resulting in the loss of more than 80 percent of their mass. According to scientists, these landmasses could completely diminish in the next 20 years.
South African Bernard Goosen twice scaled Mt. Kilimanjaro in a wheelchair.
Annually, over 25,000 people attempt to summit Mt. Kilimanjaro of which just two-thirds are successful.
What are some of the Best Things to Do in Kilimanjaro?
On your Kilimanjaro Trek, you can visit the Kilimanjaro National Park Hiking day trips. There exciting Kilimanjaro trip is for those who do not wish to go on Mount Kilimanjaro Hike yet wish to experience the parks' distinct ecosystem, spot some wildlife, and get a glimpse of the summit close-up.
Kilimanjaro Hike takes a minimum of 5 days and a maximum of 10 days depending on the Kilimanjaro Trails. Among the seven routes officially sanctioned for climbing Kilimanjaro and two routes used for descent. These are:
These Kilimanjaro routes vary by scenery, altitude profile, length, difficulty, accessibility, and (lack of) facilities.
It is important to assess your priorities to choose the best Kilimanjaro route for your dream Kilimanjaro Hike.
Some travelers even add Tanzania Safari Tours to their Kilimanjaro Climbing
You will come across numerous Safaris situated near the popular Northern Tanzanian Safari Circuit.
Based on various factors like the type of accommodation - from basic camping to luxury tented camps and Premium lodges, the cost of Tanzanian Safari varies predominantly.
Join Jerry Tanzania Tours for the Best Mount Kilimanjaro Trek
Choose the Best Kilimanjaro Trek and some of the most affordable Kilimanjaro Climb Price with Jerry Tanzania Tours and we promise you will not regret choosing us. With over 30 years of experience in providing Tanzania Tourism, we are the number one travel and Tour Company in the country and provide more than 95% success rate on Mount Kilimanjaro. Kilimanjaro Summit's success is a must for you when guided by our excellent Kilimanjaro Porters and Guides.
Contact us now to start booking the best packages with us today!
Related Kilimanjaro Searches
Get your FREE eBook
Enter your name and emailto get your FREE eBook
You can unsubscribe anytime For more details. review our Privacy Policy