If you are planning to enjoy the majestic Mount Kilimanjaro, then you should be well known about the Best Time To Climb Kilimanjaro.
Best Time To Climb Kilimanjaro Facts
As a perfectly balanced weather, from January to mid March are very popular and Best Time to Climb Kilimanjaro.
In between June to July, the weather becomes drier and quiet sunny. From August to September, you may feel warm but in high altitude you will face bitter cold. From July to September, is the Best Time to Visit Kilimanjaro.
With these information's, Can you start Climbing Kilimanjaro Solo? We have further guides, let's move to our more detailed guide about Best Time To Climb Kilimanjaro!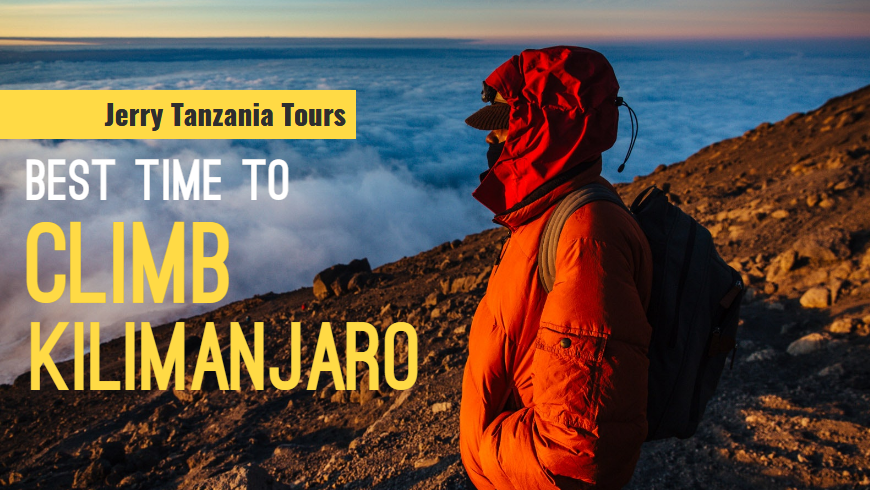 Climb Kilimanjaro Guide – Month By Month
January, February and the first half of March are the warmest months and very popular times for Climbing Mount Kilimanjaro.
April and May are the wettest season in which visiting Mount Kilimanjaro is the worst idea.
From June to August, you will feel warm at the end of June. But nights on high altitude of Kilimanjaro has bitter cold.
August and September is the Best Month to Climb Mount Kilimanjaro. However, you will face highest traffic during these months.
November and December are the short rainy seasons.
Experience the warm and cold breeze along with the snow and humid climate all at once while trekking the great mountain in the peak season of June-September - Best Time to Climb Kilimanjaro
Kilimanjaro Climbing Season & Guide
Dry Season
From July to October is the long dry season or high season. Kilimanjaro Success Rate is highest on the early of this time. So, it is also known as the Best Time to Climb Kilimanjaro. The price remains high during this time and you will face highest traffic in this time.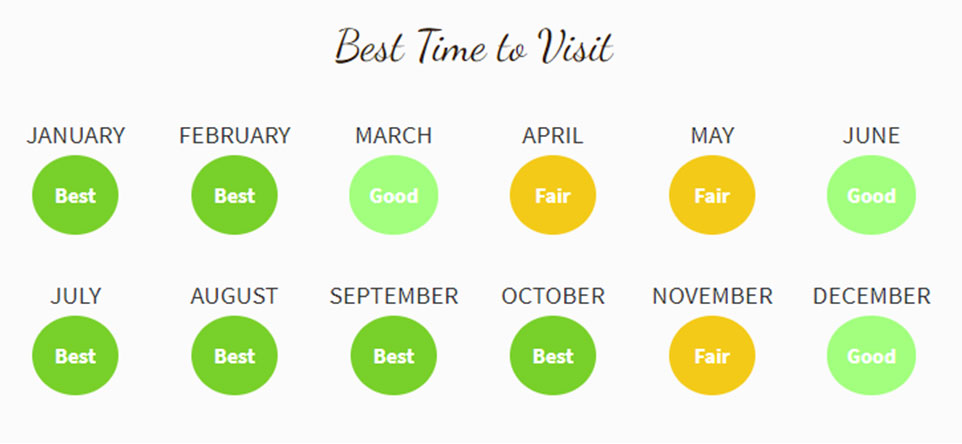 Wet Season
From mid-March to May is the heavy rainy season or also known as wet season. Climbing Mount Kilimanjaro can be possible only on Rongai Route during this time. November to December is the short rainy season.
Warm Season
From January to mid- March is the warm season. During this time, the day time temperature remains quite warm but not much like dry season. You will face less traffic in this time. So, it is also known for the Best Time to Climb Mount Kilimanjaro.
Mount Kilimanjaro Weather Guide
As the oceanic winds hit the Mount Kilimanjaro, the wind turns into rain and snow. According to the temperature and atmospheric pressure, the humidity on different altitudes of Mt. Kilimanjaro varies.

These are the average temperature of Kilimanjaro area which means in lower slopes of Mt. Kilimanjaro.
From January to March, Kilimanjaro Average Temperature varies in between 26 – 27 degree Celsius or 79 – 81 degree Fahrenheit.
In April and May or in rainy season, the temperature remains 23 – 25 degree Celsius or 73 – 75 degree Fahrenheit.
From June to August, the average temperature remains 21 – 22 degree Celsius or 70 – 72 degree Fahrenheit.
In September and October, the average temperature is in between 23 – 25 degree Celsius or 73 – 77 degree Fahrenheit.
In November and December, the average temperature is in between 25 – 26 degree Celsius or 77 – 79 degree Fahrenheit.
Kilimanjaro Temperature Guide
The temperature of Mount Kilimanjaro varies according to Kilimanjaro Climatic Zones. These climatic zones are cultivated, rainforest, heath and moorland zone, alpine zone and summit zone.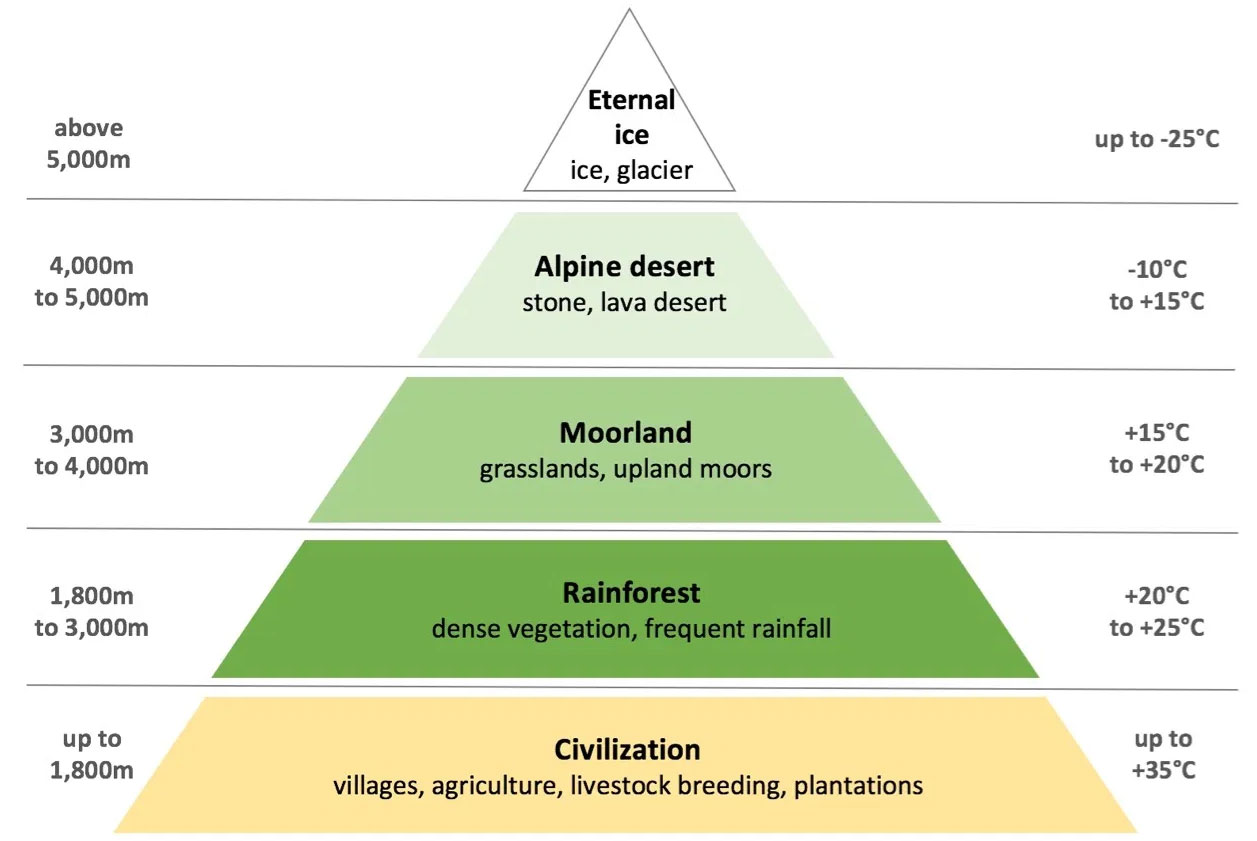 Cultivated zone (800m-1800m),is warm with a temperature in between 25 to 30 degree Celsius.
Rainforest zone (1800m - 2900m) is also warm and humid with a temperature of 12 to 15 degree Celsius.
Heath and moorland zone (3000m – 4200m) is a semi-arid area with a temperature of 5 to 10 degree Celsius.
Alpine zone (4200m – 5000m) is a desert zone with a temperature of little warm and during night the temperature drops below freezing point.
Summit zone (5000m – 5895m) is the top zone and Kilimanjaro Summit Weatherhas a temperature of -6 degree Celsius.
Whether Kilimanjaro Can Be Climbed Through Out The Year?
Yes, it is possible to climb Kilimanjaro in any season of the year. As an important Kilimanjaro FAQ's asked by everyone, Mount Kilimanjaro can be visited all year around as there are no rain above altitude of above 2,800m.
But for the lower slopes or in cultivated and rainforest zone, it is nearly impossible for hike during April and May. So, we are recommending you to choose Rongai route for the summit, the only northern route that remains dry all-around of the year.
Full moon Dates For Climbing Mount Kilimanjaro
For the Best Time to Climb Kilimanjaro, you can plan for your hike in full moon dates, the celestial events. You can enjoy the full moon after reaching at the summit. As it is a monthly occurrence, you should plan carefully to reach the summit when the moon is brightest.
| | | | | |
| --- | --- | --- | --- | --- |
| Month | 2020 | 2021 | 2022 | 2023 |
| January | 10 | 28 | 18 | 7 |
| February | 9 | 27 | 16 | 5 |
| March | 9 | 28 | 18 | 7 |
| April | 8 | 27 | 16 | 6 |
| May | 7 | 26 | 16 | 5 |
| June | 5 | 24 | 14 | 4 |
| July | 5 | 24 | 13 | 3 |
| August | 3 | 22 | 12 | 1, 31 |
| September | 2 | 21 | 10 | 29 |
| October | 2, 31 | 20 | 9 | 28 |
| November | 30 | 19 | 8 | 27 |
| December | 30 | 19 | 8 | 27 |
Preparation is key, mainly if you are on a shorter time frame or harder route. So timing is the top most medium to consider before Climbing Mount Kilimanjaro For Beginners.
For more information about planning Climbing Mount Kilimanjaro, visit our Climb Kilimanjaro Guide Page. From July to September is the Best Time Of Year to Climb Kilimanjaro. Hope Jerry Tanzania Tours provide the real aspect of Timing to climb Kilimanjaro!