Have you been surfing the web, searching for climbing Kilimanjaro packages, and requested some quotes but have to go varied Kilimanjaro Climb Price results? The least expensive Kilimanjaro Climbing Packages that we offer start from $2000 and above. These packages vary from mid-range to luxury Kilimanjaro Climb Packages and range up to $4000 or even $7000. Various factors are influencing this Climbing Mount Kilimanjaro expenses. Some of them have been explained below:
Price Factors that we have no impact on:
The minimum Kilimanjaro Climb Price apart that is charged by any tour operator is $2000 - $4000. Apart from the tour operator costs, numerous other factors are affecting the Kilimanjaro Climb Cost, and some of these include:
Duration
Number of Climbs
Choice of Kilimanjaro Routes
Choosing a longer itinerary helps you acclimatize well. Choosing a shorter itinerary will help you save some Kilimanjaro Tours Prices but it's an option that we do not recommend as it reduces the Kilimanjaro Success Rate.
As the starting point of the Rongai route is further away from Moshi, a 7-day climb over the Machame route will be cheaper than a climb of the same duration over the Rongai route.
The 6 days on the Marangu route will have a slightly different kilimanjaro Hike Price than the 6 days on the Machame route as the first offers in huts and the other offers stay in tents.
The Cost To Climb Kilimanjaro is majorly affected by the national park and rescue fees and costs around 413 USD per person.
Some other costs include - hut fees equal to 283 USD per person, around 700 USD per person for access to the park, and the sleeping facilities.
The Marangu route cost could be around 20 USD per person for a group of 6 climbers.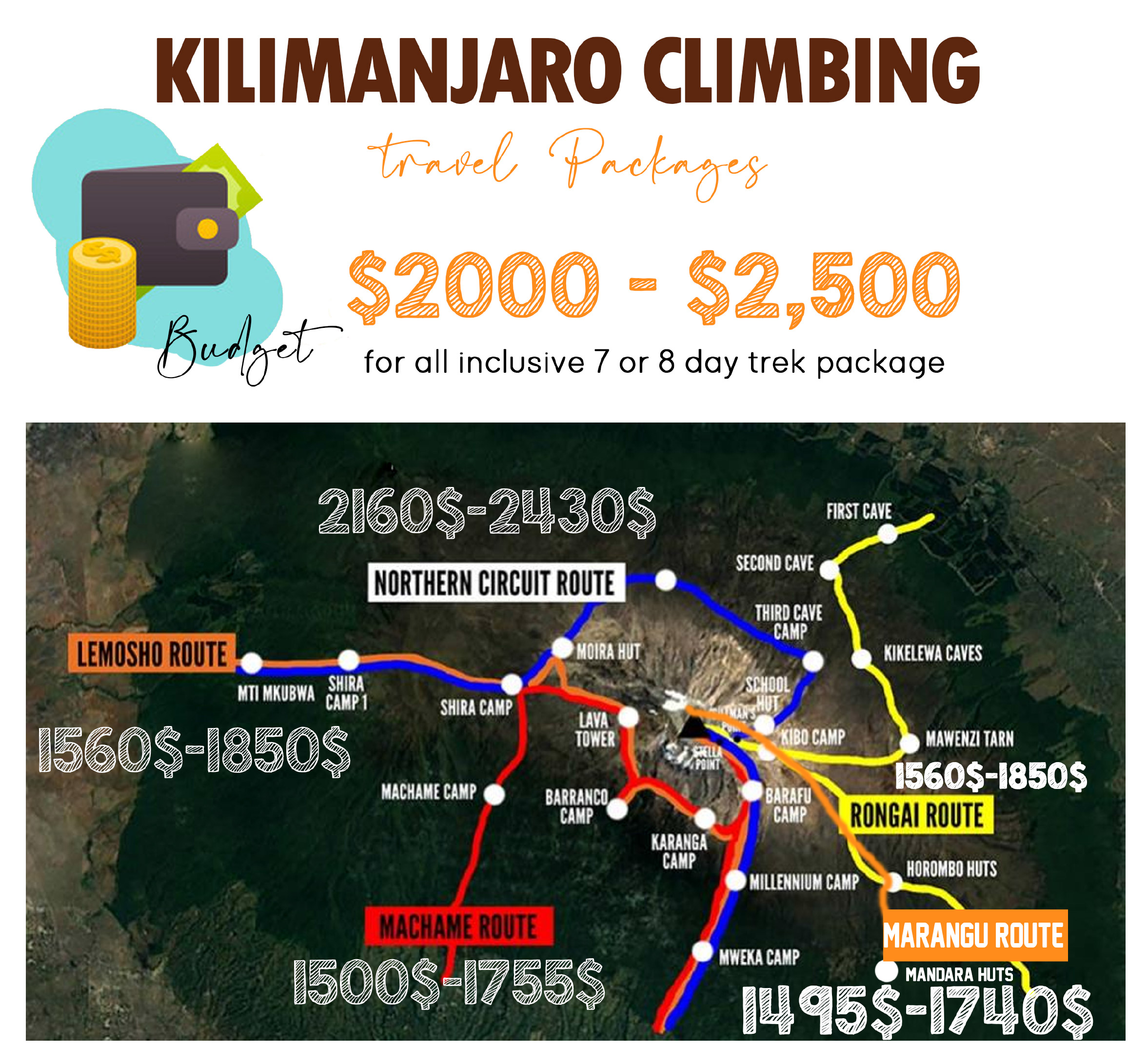 Kilimanjaro Climb Price As Per the responsible tour operators
You may get offers to climb with Budget tour operators who provide Kilimanjaro hikes at cheap Kilimanjaro Climb Price of $1000 or less. But it important to understand from where they cut this Kilimanjaro Trekking Price to provide you cheap tours. They cut the salaries of Kilimanjaro Porters.
As responsible tour operators, we at Jerry Tanzania Tours provide you more than what is promised. The following are some advantages of climbing Kilimanjaro with us.
The Kilimanjaro food isn't the biggest cost factor in your climb, however other factors like food itself, the kitchen gear, tables, and chairs, etc. add to the budget.
We provide our climbers with high-quality Kilimanjaro food which is varied and healthy adding to the Cost To Climb Mt Kilimanjaro.
We do not recommend you to choose cheap tour operators and compromise on your Kilimanjaro Food as it provides the energy to climb the mountain.
Apart from this we also provide you decent chairs to sit on while having your meals in common tents.
Not only this, but we also provide gear that is in good condition and tents that are adapted to the conditions on the mountain, etc.
There is one last aspect that makes up a big part of the Climbing Mount Kilimanjaro Cost, and it's one that can make all the difference: crew salaries, and the way they are treated.
We at Jerry Tanzania Tours treat our staff fairly and do not compromise on their salary.
We are responsible for tour operators and provide good Kilimanjaro food and tents for our crew members during the climb adding to the Kilimanjaro Climb Cost.
Why does your Kilimanjaro climb Price that much?
The Kilimanjaro Climb Price may seem huge at first but knowing the intricate details helps you understand why the Kilimanjaro Climb Cost that much. The biggest difference that we at Jerry Tanzania Tours make is in the Kilimanjaro Crew Salary. We make sure to pay them the complete salary as it is their only source of income. The crew salary is as recommended by the Kilimanjaro Porters Association Project (KPAP), who strives to defend the right of porters on Kilimanjaro.
Many Kilimanjaro cheap tour operators pay as little as 50 or 60% of this recommended amount, to reduce the Kilimanjaro Hike Cost.
Bearing in mind the recommended salaries for a Kilimanjaro Hike of 5 days the total Kilimanjaro Crew Salary is around 1000 USD per group or 170 USD per climber. This adds to the total Cost To Climb Mt Kilimanjaro.
Providing decent and respectful working conditions to all our crew members is our utmost priority.
We hope you understand now, why the Price To Climb Mount Kilimanjaro and its factors are so essential to understand to avoid the idea that Kilimanjaro Climb Cost is expensive.
We prepare your Kilimanjaro climb Price logically
We strive to include everything that can be logically expected into the standard Kilimanjaro Climb Price of the Kilimanjaro climbing packages that we offer. Before deciding the budget and finalizing our Kilimanjaro Hike Cost we suggest you have a thorough look into the packages that we offer. Our Kilimanjaro Travel experts will help you to customize your tour packages as per your choice.
We do not include Kilimanjaro Tipping into our packages, however.
Tipping is a customary ritual on the mountain and even though it isn't compulsory, it is expected.
Kilimanjaro Tipping is a way to show gratitude to the dedicated porters and guides and other crew members who strive to make your Kilimanjaro Hike successful.
We follow the KPAP guidelines thoroughly, adding to the Cost To Climb Mt Kilimanjaro.
The following is the suggested Kilimanjaro Tipping guide for the crew members:

Guides: 20 USD per guide per day, to be divided by all climbers (minimum according to KPAP: 12 USD)
Cooks: 15 USD per cook per day, to be divided by all climbers (minimum according to KPAP: 10 USD)
Porters: 10 USD per porter per day, to be divided by all climbers (minimum according to KPAP: 6 USD)
We recommend you to keep in mind your Kilimanjaro Safety while considering the right tour operators. The more reputable tour operators who provide sustainable climbs (like Jerry Tanzania Tours) provide a high success rate and add to your Kilimanjaro Climb Cost.
So what's a Reasonable Kilimanjaro climb price?
Let's find out the complete Kilimanjaro Climb Price after considering each aspect of the factors affecting the Kilimanjaro Trek Price:
The Kilimanjaro National Park fees, rescue fees, and camping fees cost around 800 USD per person
Business fees (licenses, taxes, office costs, etc.): difficult to give an exact amount but easily 400 USD per person
Other costs like the Kilimanjaro Food, kitchen gear costs, etc. is 150 USD per person
Apart from this, Salaries for mountain crew cost around 300 USD per person.
This brings the total cost for this climb to around 1665 USD per person, including taxes.
What's included in the Kili Trek price?
Flights & transfers

All flights from the UK and transfers while in Tanzania are included.

Accommodation

First night's accommodation in Tanzania and final night in hotel in Moshi.

Catering

3 meals a day whilst on trail and all meals in accommodation.

Experienced guides

Our experienced team, led by our local qualified guides, will make sure you're safe out on the trail.

Training weekend

Join our optional mountain training weekend. This will put you through your paces with an overnight camp in Scotland prior to the trip.

Great fitness benchmark. (£150 fee).

Information sessions

2 information sessions will arm you with enough knowledge to make important decisions on the trek. The topics covered include: intro to the trek; kit & training; trail conditions & safety.

Equipment

We'll supply 2- person tents. We'll also provide a comprehensive kit list on sign up and will be there to keep you right.

Online support

We're with you every step of the way from sign up until you're home. Our UK-based team are available 24/7.
How much does it cost to climb Mount Kilimanjaro?
As Kilimanjaro Climb Price for individual climber ranges from $2000 to $4000, many believe it is a luxury climb that few can afford. But that is not the case.
Climbing Kilimanjaro can be done by any traveler whether a budget, mid-range, or a luxurious climb; to determine the exact Price To Hike Kilimanjaro you just need to know how to choose the best routes, accommodations, and other factors.
In case you are unaware of which Kilimanjaro Route you wish to choose, you may end up paying a lot more than the actual Cost To Climb Mt Kilimanjaro.
We advise you to speak to our travel experts directly to understand and your Climbing Mount Kilimanjaro cost and plan the dream hike of your life in the most affordable manner.
Kilimanjaro Budget Climb Vs Kilimanjaro luxury climb
The Kilimanjaro Climb Price for both Budget and Luxury climbs differ vastly and the factors influencing this cost difference is what we shall discuss below:
Group size: the cost for solo climber versus group climbers.
The Kilimanjaro Hike Cost differs greatly for solo climbers and group climbers. The former costs relatively higher while the latter is more affordable as the total price gets divided amongst the group members.
Climbing Kilimanjaro Solo, includes variable costs like airport transfers, and other transport costs, equipment, accommodations, food, and gears, and tipping will be liable to a single person while it can be divided among the group members if climbing is a group. Therefore the larger the Kilimanjaro Climb group the better are your chances to save your Kilimanjaro Climb Cost.
Choose Kilimanjaro Routes - Short route vs long route, & its facilities.
The Kilimanjaro Trip Price is also affected by the Kilimanjaro Routes you choose. Longer itinerary costs more compared to the shorter itinerary. But it is essential to keep in mind that the shorter itinerary offers a lower Kilimanjaro Success Rate compared to longer ones. This is because the more time you spend on the mountain, the higher are your chances of reaching the summit.
Apart from this, there are numerous facilities provided by many routes like the Marangu route that offers Kilimanjaro Hut accommodation in cabin huts with beds and mattresses. This is where the cost factor on this route increases. However, this is not the same for any other route as you will be staying camps and tents erected by the Kilimanjaro porters on the mountain. The cost of this camping equipment is inclusive in your Kilimanjaro Climbing Packages.
Choose The Best Kilimanjaro Routes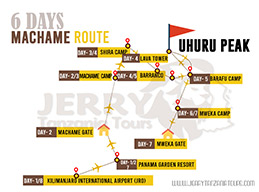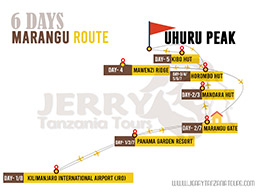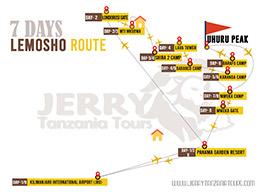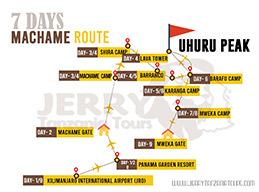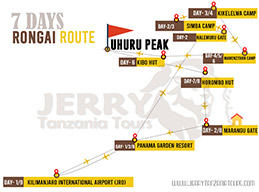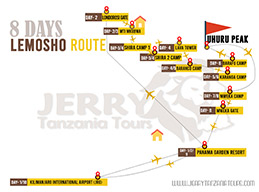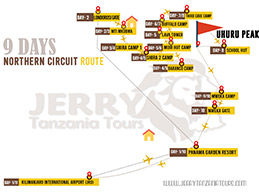 No of days spent on Kilimanjaro: A case study of 5-days vs 8-days climbing.
The Price To Climb Kilimanjaro will vary with the number of days you spend on the mountain. It is essential to give your body sufficient time to acclimatize to avoid Kilimanjaro Altitude Sickness. It usually takes 5 to 8 days to complete Kilimanjaro Climb. However, the cost for 5 or 6 days is relatively lower than the cost for 7 or 8 days climb. So choose wisely.
The Tour operator price:
The major factor influencing the Kilimanjaro Climb Cost is the tour operator cost. As discussed above we at Jerry Tanzania Tours offer Kilimanjaro Hikes at $1665 and above depending on the route of the climb and the duration you spend on the mountain. The price also differs from standard, budget, mid-range, or luxury climbs.
Choose Jerry Tanzania Tours to get the right Kilimanjaro Price
We at Jerry Tanzania Tours are the number one tour operator in Tanzania. We provide the best Kilimanjaro Guides, Porters, and the most affordable Kilimanjaro Hike to climbers all over the world. To know more about the Full moon climb Kilimanjaro, or the best Kilimanjaro Climb packages, the Best Time To Climb Kilimanjaro, etc., we suggest you contact our travel experts you will give you the complete insight about Climbing Mount Kilimanjaro.
Related Kilimanjaro Searches
Get your FREE eBook
Enter your name and emailto get your FREE eBook
You can unsubscribe anytime For more details. review our Privacy Policy