At a staggering height of 5,895 meters above sea level, Uhuru Peak is the highest free-standing peak in Africa. With beautiful scenic views, Uhuru is a breathtaking hike. Uhuru means freedom in Kiswahili. The Uhuru Peak represents the hard earned freedom of Africa.
Climbing Kilimanjaro is not only good for your physical health, but it can also allow you to see beautiful places and learn gratitude, patience, and persistence.
Where is Kilimanjaro National Park?
Mount Kilimanjaro is the tallest mountain of Africa. The Kilimanjaro National Park is located 300 kilometers (190 mi) south of the equator and in Kilimanjaro Region, Tanzania. You can see it in the map below.
Kilimanjaro National Park covers the mountain from nearly 6,000 feet to the summit along with the surrounding montane forest belt above 1,820 meters (5,970 ft). At 2°50'–3°10'S latitude, 37°10'–37°40'E longitude, the park covers a missive area of 1,688 square kilometers (652 sq mi). The Tanzania National Parks Authority (TANAPA) oversees the administrative duties of Kilimanjaro National Park.
How tall is Mount Kilimanjaro?
Mount Kilimanjaro stands proudly at a staggering height 5,895 m (19,341 ft) above sea level. It is the tallest mountain of Africa. Also the tallest free-standing mountain in the world, sanding 4,900 m (16,076 ft) above its plateau base.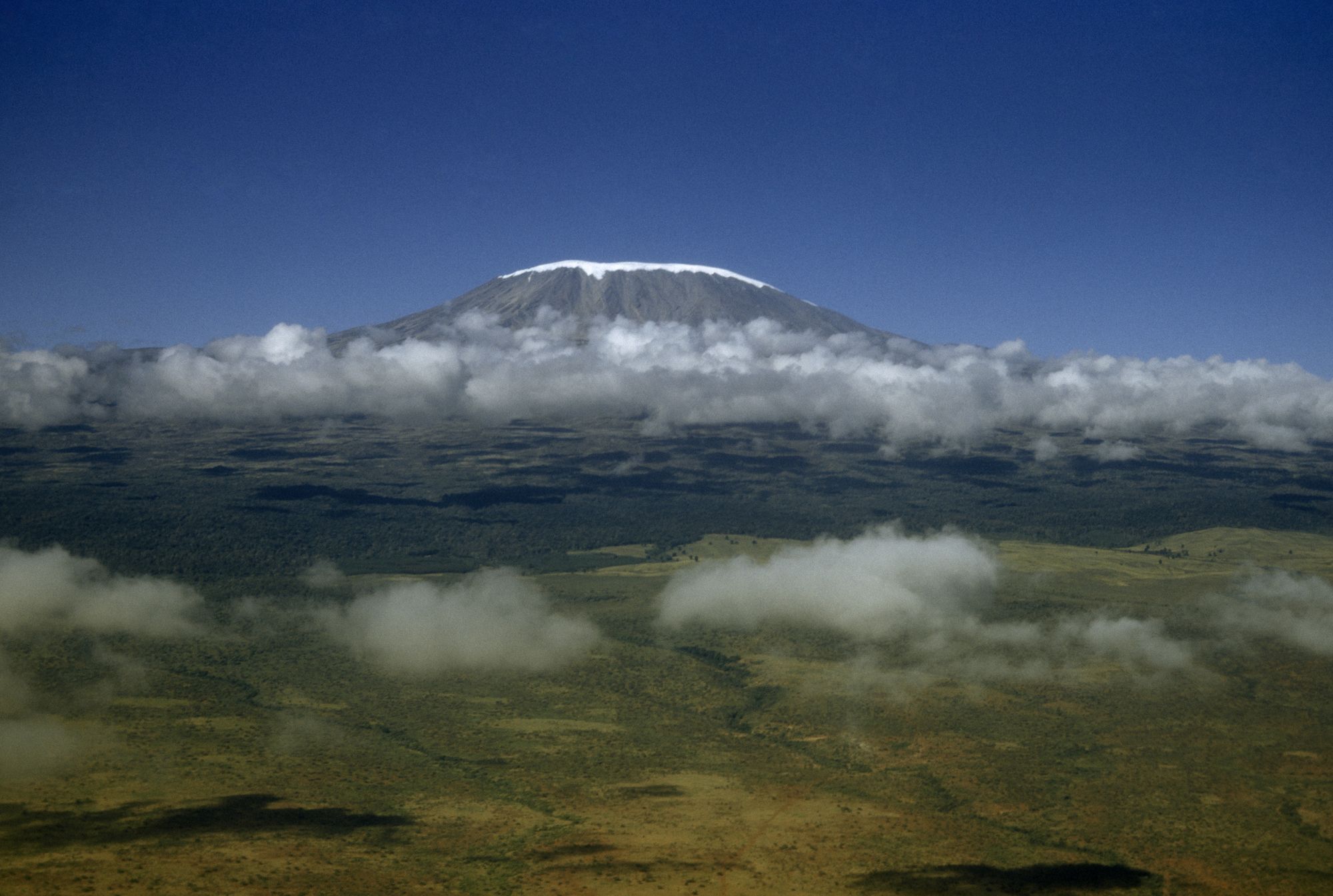 Unfortunately looking at the picture and admiring it's beauty doesn't do justice to this majestic mountain. It is a thrill you experience only when you're on the mountain itself, taking one step after another, to Kilimanjaro Climb. That's when its wild size of Mount Kilimanjaro comes fully home to you.
Geology of Kilimanjaro
Rising 4800m above the East African plains, measuring up to 40km across and, 270km from the shores of the Indian Ocean, Mount Kilimanjaro is a bizarre geological oddity. Kilimanjaro is actually a volcano, or rather three volcanoes, with the two main peaks, Kibo, Mawenzi and Shira.Shira are extinct, Kibo is merely dormant. Uhuru Peak is situated in the Kibo cones.
The last major eruption on this mountain occurred around 150,000 years ago. You shall not expect an eruption to occur unannounced. Although dormant it has fumaroles emitting gas into the crater.
Why is Kilimanjaro famous?
Kilimanjaro is famous due to several reasons. Firstly, it is the tallest peak in Africa, making it one of the Seven Summits. Second, the mountain has a permanent yet dwindling ice cap which appears unusual for being in a place with such a diverse climate. And, thirdly, in 1936 Ernest Hemingway wrote a short story entitled "The Snows of Kilimanjaro," which was made into a film in 1952.
How is Mount Kilimanjaro different from other summits?
Standing at 19,341 feet (5,895 meters) Kilimanjaro is the highest mountain in Africa. But it isn't exactly a mountain! At least not in a traditional sense. Actually, It's a giant strato volcano that began forming about a million years ago. This mountain is composed of many layers of hardened volcanic ash, pumice, lava, and tephra — fragmental material fell out during volcanic eruption.
At nearly 6000meters, Mount Kilimanjaro has its own weather. It experiences five different Kilimanjaro Climate Zones.
The Kilimanjaro Temperature is highly unpredictable and fluctuating. One moment you're climbing Kilimanjaro in baking sunlight, and the next you'll be layering up against a bitter wind. In fact, Mount Kilimanjaro's Average Temperature is dictated by the altitude rather than by the time of day.
Kilimanjaro certainly has its own climate zones and weather, along with that, the flora and fauna, change drastically as you ascend the mountain.
How do you get to Kilimanjaro?
The most convenient way to reach Kilimanjaro National Park is to take a flight to Kilimanjaro International Park. The airport is just 90mins outside the city of Moshi. Moshi is also called the 'gateway of Kilimanjaro'. Because most of the Mount Kilimanjaro Hike begins in Moshi.
You could fly to Julius Nyerere International Airport, Tanzania's main airport and drive from there to Kilimanjaro. The airport is just outside of Dar es Salaam, the country's largest city. Dar es Salaam is over 500 km south of Kilimanjaro National Park. It's a 9 hour journey by road.
Another option is to fly to Jomo Kenyatta International Airport in Nairobi, Kenya.From there, it's just a 200 km drive. But you will, of course, have to get a Kenyan visa and deal with border control when entering Tanzania.
Jerry Tanzania Tours provides pick-up and drop-off services to all our clients. But we strongly encourage pre-booking for a hassle-free ride. In case of your transfer booking, look for the friendly driver wearing a blue-white Jerry Tanzania Tours shirt and holding a sign with your name on it. He will assist you, carry your bags to the vehicle then drive you to your hotel.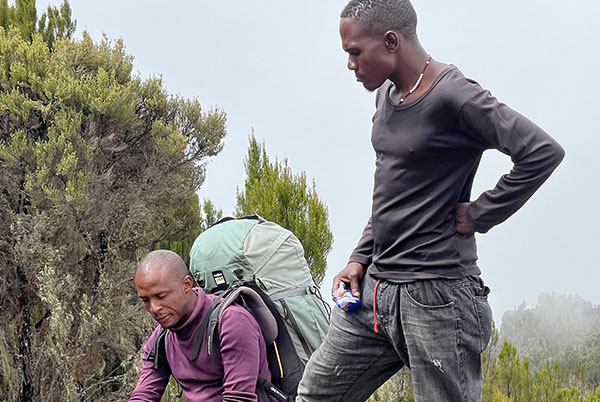 Kilimanjaro Travellers Experience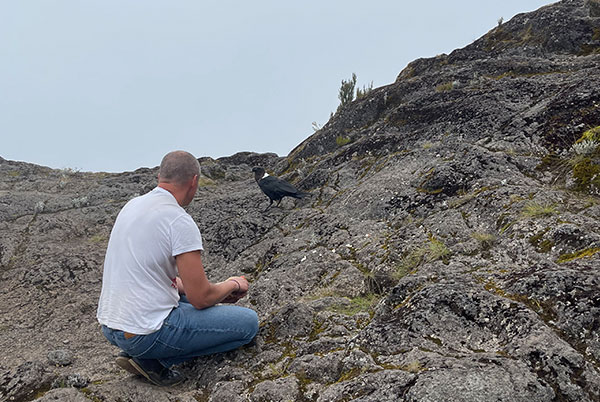 Kilimanjaro Travellers Experience
Kilimanjaro National Park accommodation
You don't really stay inside the park, except when Climbing Mount Kilimanjaro. Your best option is to stay either in the city of Arusha, or the town of Moshi.
As you know Moshi is very close to the park, especially if you enter from the southern entrance. Arusha is over two hours away by road. But if you are planning for both Kilimanjaro Trek and the Tanzania Safari then it is the best option.
We have excellent accommodations in both Moshi and Arusha, depending on your needs. The lodges we provide are comfortable and beautifully situated. Our outdoor swimming pools and lounging areas, which are welcome delight after the major exertions of a Kilimanjaro Hike!
Where to sleep while climbing Kilimanjaro
Sleeping is the most important aspect of your Kilimanjaro Climb. Not only it is essential for rest and to regain strength but also it is a vital role in acclimatization. That's the only way to beat altitude sickness.
Though you're sleeping arrangements on Mount Kilimanjaro depend on your hiking routes, basically, you will be sleeping in either a mountain hut or tainted camps. Kilimanjaro Porters will carry all of the camping equipment and also set up your camps for you. So all you need to concentrate on is Hike, Eat, sleep and relax.
Mostly, you will be sleeping in tented camps. Except on the Marangu route, where we provide only hut accommodation. As per the rest of the seven, Kilimanjaro Routes, you'd have to camp. We provide luxurious, high-quality, and more comfortable tents than the Marangu Huts.
As for Marangu Route, we offer shared hut accommodation with dormitory-style bunk beds. Meaning you'll have a firm roof.
Jerry Tanzania Tours put great emphasis on sleeping arrangements. We provide clean hygienic Private Toilet Tents. Our high-grade domed tents are cozy, comfortable as well as hygienic. We take extra care of your hygiene and always provide Private Toilet Tents to all our guest Climbing Kilimanjaro.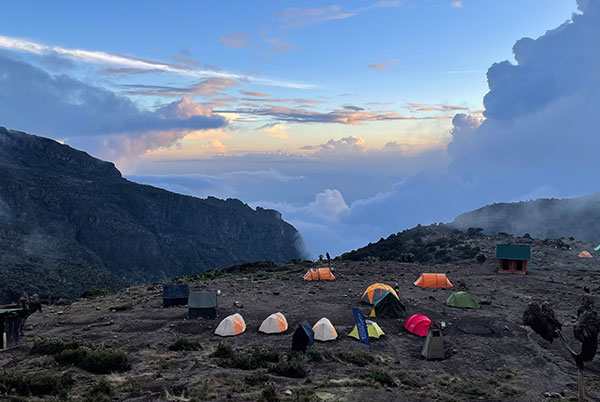 Kilimanjaro Tent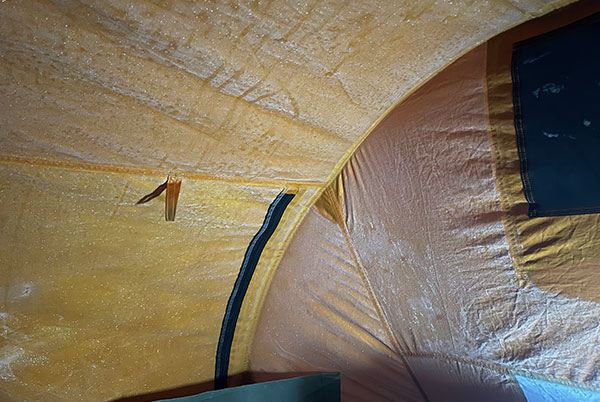 Kilimanjaro Tent
Is Kilimanjaro National Park safe?
Kilimanjaro National Park is pretty safe. As this is a region dedicated to eco-tourism, you'll find warm friendly and welcoming people here.
But Is Climbing Kilimanjaro Safe? That's the question we get asked a lot. And with good reason. Every year there are a lot of tourists who suffer fatal injuries during the hike. Statistics show that only 60% of total hikers summit successfully.
But with little training and under the watchful guidance of our Kilimanjaro Guide it is absolutely possible to successfully summit Uhuru Peak.
The biggest concern about Kilimanjaro Altitude Sickness. However, with proper precautions and getting proper acclimatization you can beat this. Firstly, you should choose Kilimanjaro Routes with a good acclimatization profile. One of our favorite routes is the Lemosho. It's both beautiful and a good acclimatization route.
Secondly, a good reputable tour operator is the key to your safety. Because they hire qualified staff and offer them regular training such as how to detect, assess and treat symptoms of altitude sickness.
Jerry Tanzania Tours offers safety which is the top most priority. Our handpicked team of lead guides, guides, porters and cooks are very friendly, knowledgeable, and reliable and are well-trained.
Having said that, Climbing Mount Kilimanjaro is going to be the most demanding, challenging endeavor you will ever take. Difficult but not impossible! And at the end when you reach the summit it will all be worth it. With Jerry Tanzania Tours start your life altering adventure today!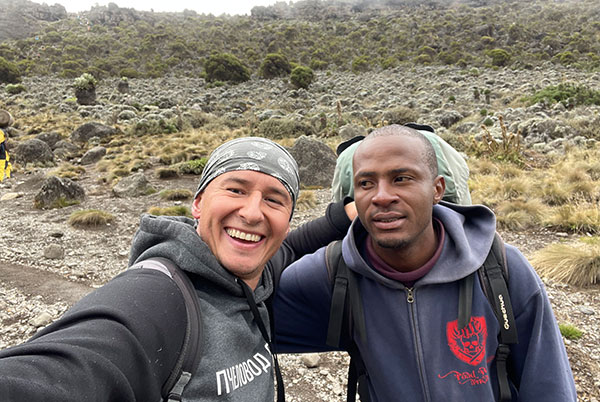 Kilimanjaro Travellers Experience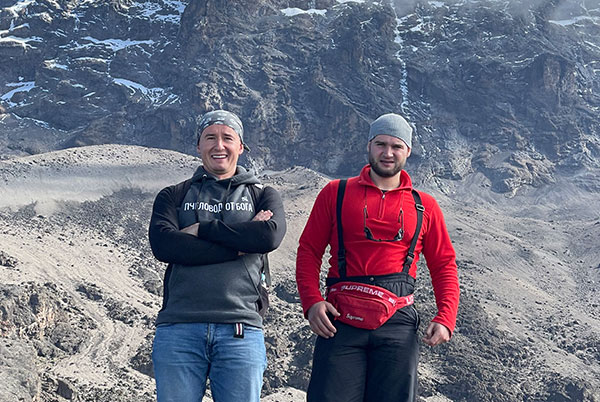 Kilimanjaro Travellers Experience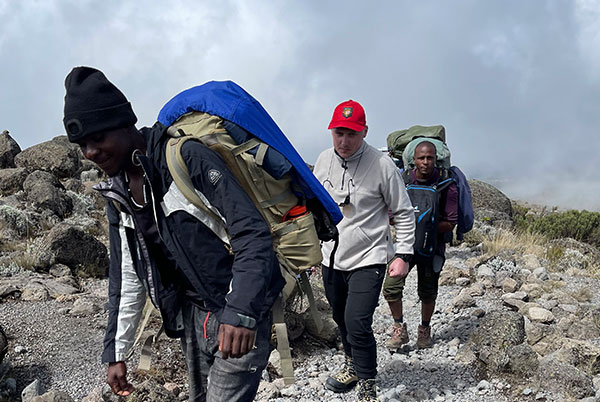 Kilimanjaro Travellers Experience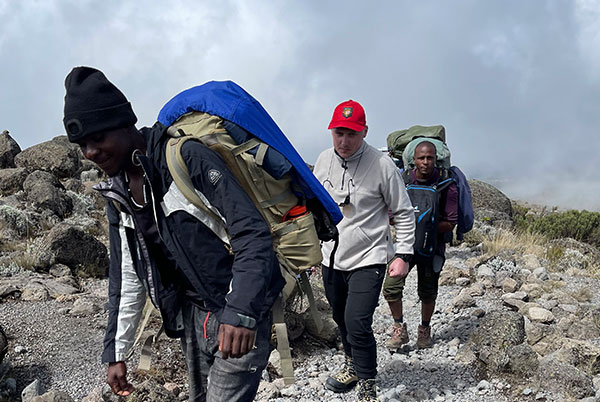 Kilimanjaro Travellers Experience
Get your FREE eBook
Enter your name and emailto get your FREE eBook
You can unsubscribe anytime For more details. review our Privacy Policy