When you look for Climbing Mount Kilimanjaro, your first impression would be nothing more than big smooth piles of Kilimanjaro Glacier almost like a block of monotonous ice sitting on top of a volcano. Yet these cathedrals of gleaming blue-white ice glaciers are the lifeline of our ecosystem.
Does Kilimanjaro have glaciers?
Yes, Mount Kilimanjaro has glaciers. It is called Furtwangler Glacier. It was named after Walter Furtwangler. In 1912 he and his friend Siegfried König ascended to the summit of Kilimanjaro 1912. But since then almost 80% of glaciers have been found disappearing.
In Africa, you'll find only Mount Kilimanjaro, Mount Kenya, and the Ruwenzori range along the border of the Democratic Republic of Congo and Uganda to have tropical glaciers.
Kilimanjaro is situated at a high altitude of over 5,000 meters above sea level. Meaning the Kilimanjaro Summit Temperatures remain below freezing point most of the year.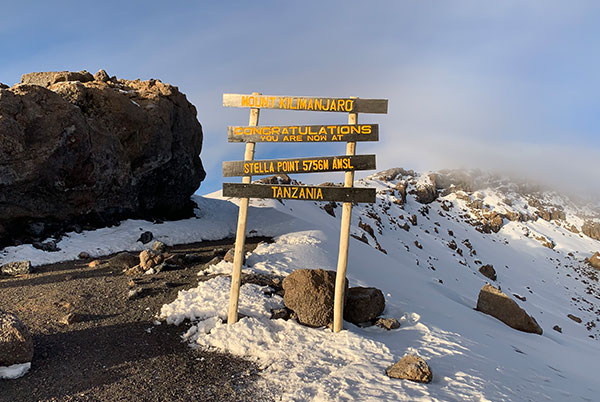 Kilimanjaro Glacier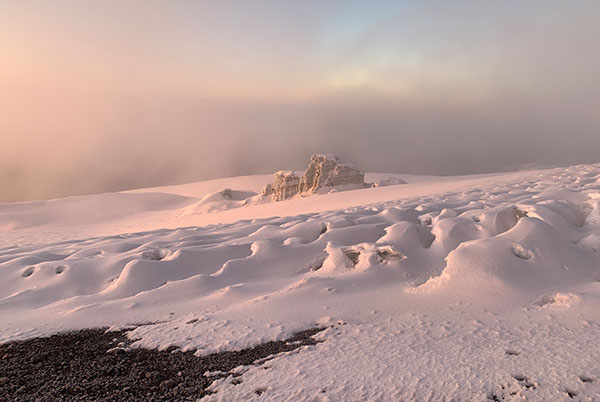 Kilimanjaro Glacier
Kilimanjaro's Shrinking Glaciers Could Vanish by 2030?
A recent survey shows that over 80% Kilimanjaro Glacier have already been melted away. Scientists further claim that at this rate Kilimanjaro will not have any glaciers left by 2040. And at this rate, there will be no remnant of ice on Mount Kilimanjaro By the year 2060.
But why are the Kilimanjaro Glacier melting?
Well, we all know that the Kilimanjaro Glaciers are sitting on top of dormant lava rock. Though the bright white color of ice reflects most of the heat, the dull black color lava rock absorbers the heat. So, even though the glaciers are unaffected by the sunrays, the heat generated by the sun-baked rocks underneath leads to glacial melting.
As a result, the ice at the bottom which is in direct contact with the rocks melts. Eventually, the glaciers lose their grip and start to shot of, overhang. Gradually the ice fracture breaks away exposing more rocks to the sun causing further melting.
Doug Hardy, a glaciologist from the University of Massachusetts claims that melting and sublimation both contribute to the ice loss of Mount Kilimanjaro. However, the main culprit of this rapid degeneration of Kilimanjaro Glacier is no doubt the deteriorating global warming. Which further has a strong impact on Kilimanjaro Climate change.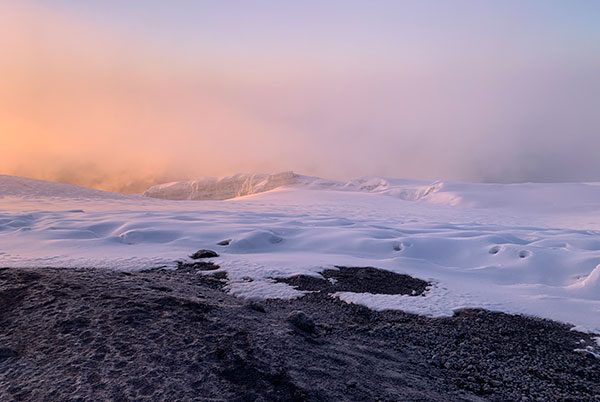 Kilimanjaro Glacier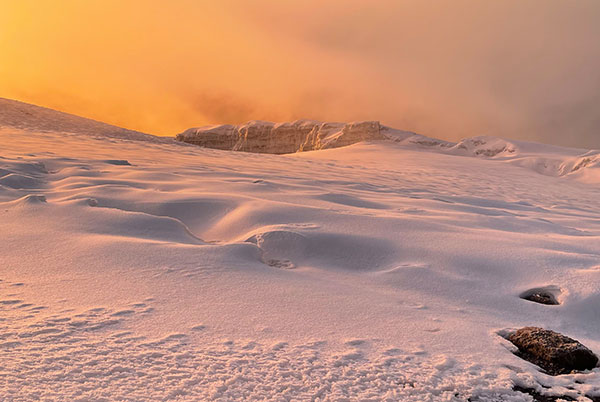 Kilimanjaro Glacier
Mount Kilimanjaro Glaciers loss facts.
From 1912 to 1953, the glacier surface area was shrinking by 1% per year.
But the rate increased to 2.5 percent each year from 1989 to 2007.
Thus 85% of the Kilimanjaro Glacier have melted away between 1912 to 2000.
Whereas between 2000 to 2009, 26% of the remaining ice cover melted away.
The glaciers have survived a 300-year drought 4,200 years ago.
Researchers believe that the recent melting was never seen within the last 11,700 years
At this rate, the glaciers could disappear completely within a few decades.
Does Kilimanjaro still have snow on top?
Contrary to the speculations of prominent scientists, Mount Kilimanjaro is slowly building up its snow cover. Elbit at an excruciatingly slow pace. Thus, giving new hopes to tourists and therefore the Mount Kilimanjaro environmental watchdogs that the peak might not lose its beautiful snowy cap after all.
The once disappeared snow is beginning to pile up again. You should see the view from the Kibo peak; it's absolutely marvelous! But, you cannot overlook the effects of Mount Kilimanjaro's climate change and global warming. For it is the main reason the peak's snow layers become thinner and thinner.
To put it simply, snow comes and goes each year on Kilimanjaro. Every year you will see snowfall during the four months of the wet season and it starts to melt away during the rest of the year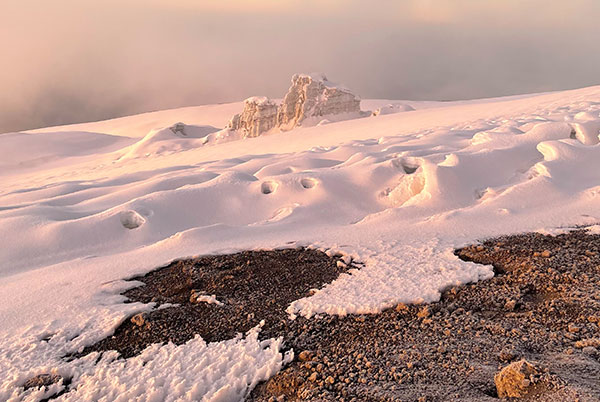 Kilimanjaro Glacier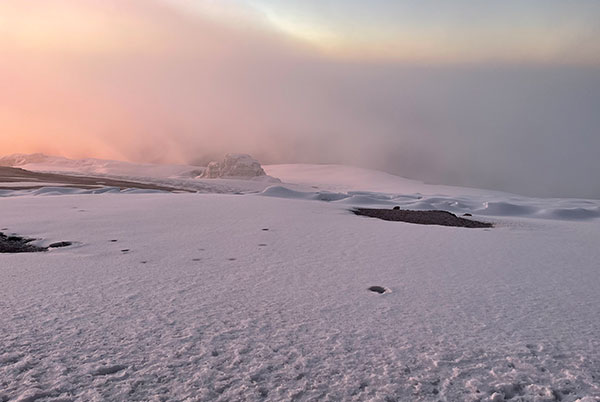 Kilimanjaro Glacier
Area of Kilimanjaro's glaciers, 1880–2016
| | |
| --- | --- |
| Year | Area |
| 1880 | 20.0 km2 |
| 1912 | 12.1 km2 |
| 1953 | 6.7 km2 |
| 1976 | 4.2 km2 |
| 1989 | 3.3 km2 |
| 2000 | 2.6 km2 |
| 2003 | 2.5 km2 |
| 2007 | 1.85 km2 |
| 2011 | 1.76 km2 |
| 2016 | 1.7 km2 |
What Is The Temperature On Top Of Mount Kilimanjaro?
Mount Kilimanjaro is always snowy and cold at the top. Despite such close proximity to the equator, Mount Kilimanjaro stands at a height of 5,895 meters. And we all know temperature decreases with an increase in height.
Temperature at the Top of Kilimanjaro is extremely variable and impossible to predict. Kilimanjaro Temperature of Uhuru Point, can range between 20 and -20 degrees Fahrenheit (-7 to -29 degrees Celsius) at night time.
Jerry Tanzania Tours offers great Kilimanjaro Expedition that gives you special tour to the Kilimanjaro Glacier with excellent photography. Visit our website today.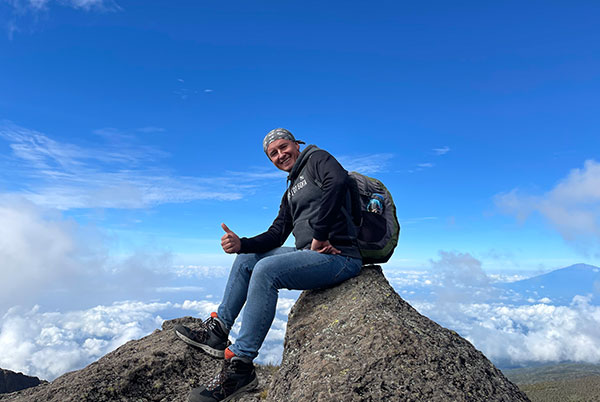 Kilimanjaro Travellers Experience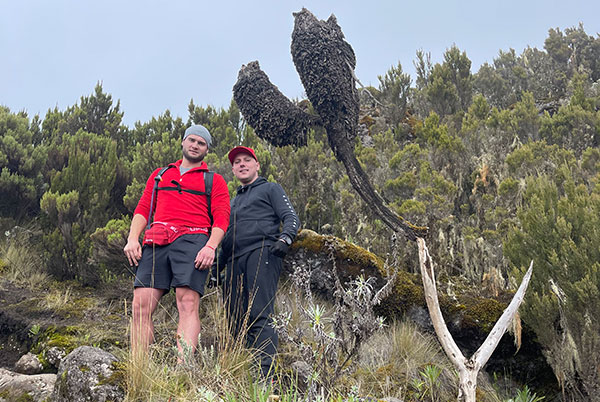 Kilimanjaro Travellers Experience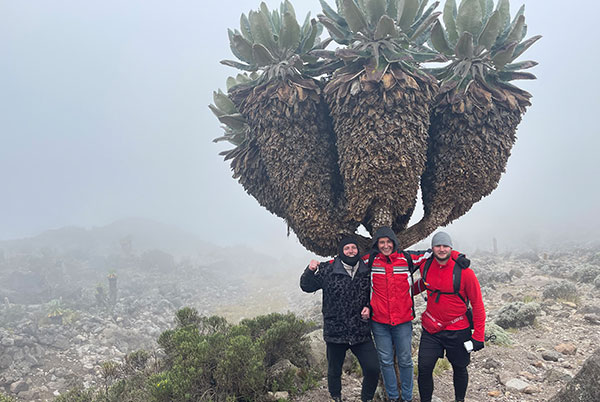 Kilimanjaro Travellers Experience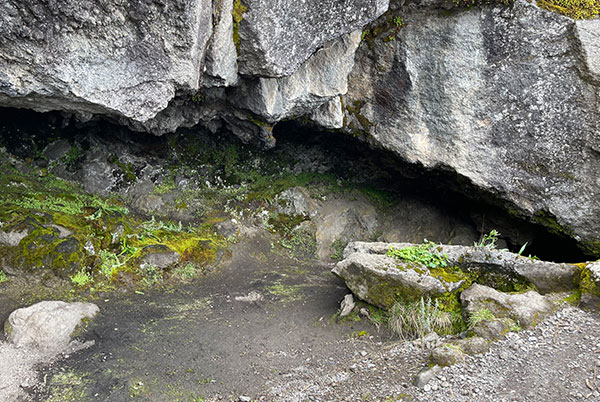 Kilimanjaro Travellers Experience
Related Kilimanjaro Searches
Get your FREE eBook
Enter your name and emailto get your FREE eBook
You can unsubscribe anytime For more details. review our Privacy Policy