Mount Kilimanjaro is mainly famous for its high peaks and of course, the Natural Park surrounding the famous mountain. The Kilimanjaro National Park covers an area of 291 square miles. It has been declared a UNESCO World Heritage Site. So, contrary to popular belief a tip to Kilimanjaro has a lot to offer than just Climbing Mount Kilimanjaro.
Conquering the tallest free-standing mountain in the world is no small feat. You'll take hours or even days of travel. So obviously, we encourage you to make the most of your time! That's why, we often take our guests on a Tanzania Safari after their Kilimanjaro Hike, traveling a few hours west to epic locations like Serengeti National Park.
But in case you're on a time crunch, there are plenty of fantastic and affordable things to do even more locally too. So read on to find out the 10 best Kilimanjaro Activities around that region.
Table of contents
Support the local Kilimanjaro coffee industry

Best Coffee shops and restaurants to visit
Local crafts

Olpopongi Maasai Cultural Village & Museum
Highlights

Highlights
Mt. Meru Trek itinerary
Climate and vegetation

A unique park
Wildlife of Arusha National Park
Kilimanjaro Coffee plantation
Location:north of Moshi
Duration: Around 2 hrs.
Cost: Can Be Incorporated Combo With A Guided Materuni Waterfall Hike.
Thanks to melt water from its arctic summit, the lower slopes of Mount Kilimanjaro are good fertile farming land. The cultivation of 100% Arabica coffee is famous around these parts. Especially its fresh flavor and smooth texture are to die for. We see a very high demand for coffee farms Tours post-Kilimanjaro hiking. After all, who can deny an expertly brewed cappuccino or Americano post a week of roughing it on the mountain?
A coffee farm tour entails a visit around the farm to learning how the coffee is grown and harvested. Beans harvesting takes place between July and September. So, if you're coming to Kilimanjaro Climb around October and November, you'll get to see the coffee bushes in bloom, with the flowers giving off a jasmine-like fragrance. Next, we'll show you the roasting and grinding process. Also, you're welcome to take part in the process and enjoy a freshly brewed coffee near the end using the beans you processed!
A visit to Coffee plantations will give you a great chance to experience the traditions of the Chagga people, who have lived for centuries along the southern-eastern slopes of Kilimanjaro.
Support The Local Kilimanjaro Coffee Industry
You'll be surprised to know that most of the farms are supported by smallholdings. So a farm tour from your end can help and support a lot of them. In case you don't have time, we highly recommend at least picking up a bag of Arabica beans as the perfect souvenir.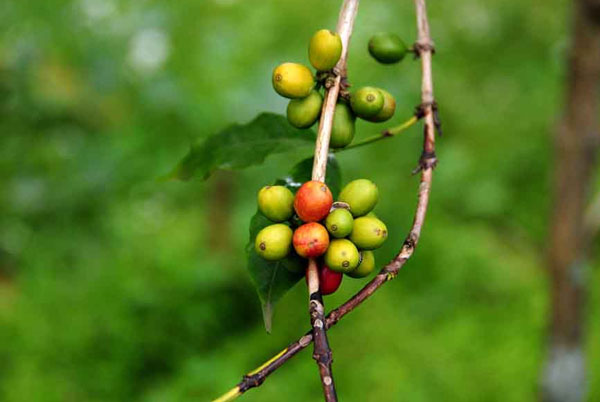 Kilimanjaro Coffee plantation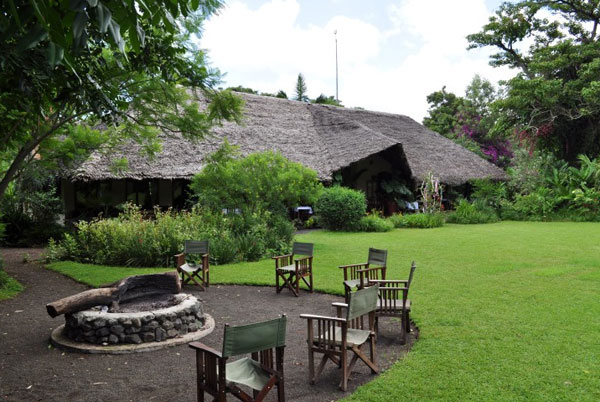 Kilimanjaro Coffee plantation
Go on the Materuni Waterfall hike
Location: North Of Moshi
Duration: 45 Minutes Of Hiking
Difficulty: Medium
Cost: $65 Per Person With Packed Lunch And Bottled Water Plus English-Speaking Guide
The Materuni Waterfall is a spectacular 90 m waterfall situated just around the foothills of Mt Kilimanjaro. You'll take less than an hour hike along a forested footpath to reach the waterfall. Here the water reserves in a beautifully clear little pool that's safe to swim. You'll be passing through coffee and banana farms on your hike to Materuni Waterfall. On your way, you'll also traverse streams and small footbridges. Just keep your eyes open and you can easily spot monkeys, duikers, birds, and other small creatures.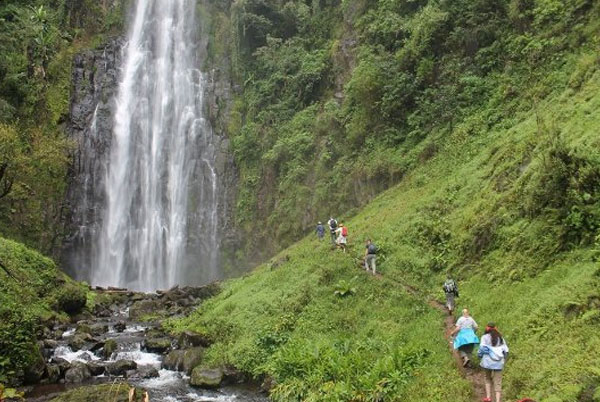 Materuni Waterfall hike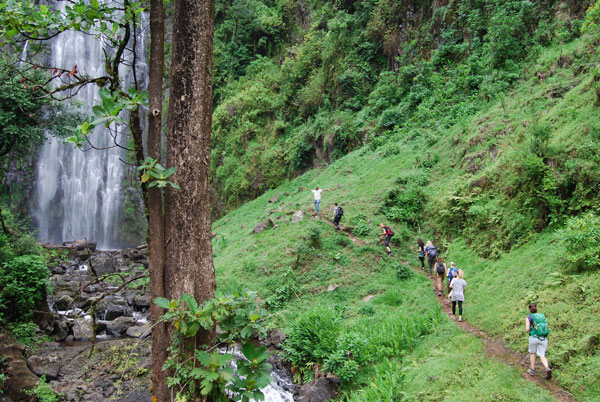 Materuni Waterfall hike
Dive in Kikuletwa Hot Springs
Location: Chemka Hot Springs Campsite, an hour drive southwest of Moshi
Duration: an entire day
Cost: $95 per head
Swimming within the Kikuletwa thermal spring is certainly one of the simplest yet the most amazing things to try in the Kilimanjaro region. The Chemka Hot Springs is well encircled by trees, thus giving you a feeling of seclusion or of being tucked far away from the planet and its demands.
In my opinion, a hot spring is the perfect post-Kilimanjaro Activity. All you've to do is to slip your weary body into the nice cozy water and relax while the fingerlings (small fish) nibble the dead skin off of your feet. Chat with your friends and neighbors, enjoy the birdlife within the fig trees around you. If you want, you can even take a swing on the tree rope to drop into the water for fun.
If you feel hungry there also are food stalls in the spring selling delicious hot meals and snacks. So you can just rock up and stay as long as you would like.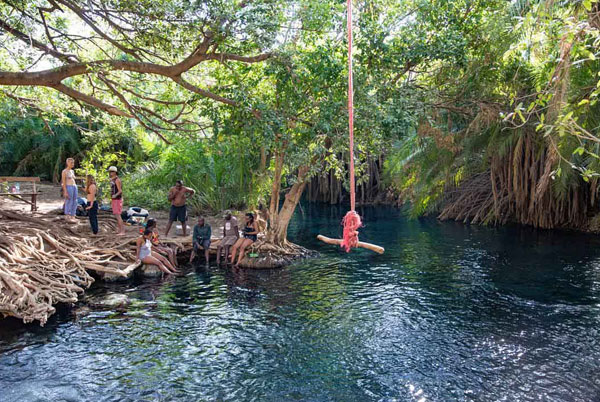 Dive in Kikuletwa Hot Springs
Dive in Kikuletwa Hot Springs
Chance to explore Moshi and its hidden treasures
Duration: Half-day
Cost: Around $30 per head
Moshi is the capital of the Kilimanjaro region. It's roughly a 40 km drive from Kilimanjaro Airport (JRO). Moshi is also called the gateway to Kilimanjaro Park. So, often it's a mandatory stopover destination for Kilimanjaro Climbers.
We always advise our guests to arrive one day early for your Kilimanjaro Hike to avoid any unforeseeable delays.
So if you're in Moshi, either before or after your Kilimanjaro Climb, then you should definitely explore this beautiful little city and its hidden gems. Imagine sitting on a cafe or restaurant chair and gazing with heroic eyes at the mountain you just conquered.
Best Coffee Shops And Restaurants To Visit
Moshi has some fantastic eateries of both locally authentic and international flavor depending upon your preference.
The Cafe On Hill Street is undoubtedly the best café in Moshi. It serves the best Arabica coffee, along with various other hot and cold drinks, and many tasty snacks.
Aroma Coffee House On Boma Road is a stylishly decorated refuge that serves tasty meals and snacks, its vegetarian options are the best in the city.
Honey Badger is just 6 km east of Moshi. Famous for its fashionable ambiance restaurant and outdoor bar serving some of the Tanzanian cuisines. Do not forget to try its stone-baked pizzas.
Indoitaliano Restaurant on New Street is a fantastic evening option. But be sure to arrive early otherwise you may not get a seat. Sit on the verandah rimmed with leafy pot plants, and enjoy the best of Indian or Italian cuisine!
Local Crafts
Moshi markets are the best place to buy local art, jewelry, crafts, coffee beans, or other souvenirs.
The Central Market is the working heart of Moshi. It is the busiest and most interesting part of Moshi. So we advise you to come at your leisure. You'll find the best local spices, coffee beans, and teas sold alongside cheap Chinese imports.
Heritage crafts shop inside The cafe on Hill Street which sells coffee beans, teas, cheeses, jams, and honey among other things. Most of its products are produced locally so the money goes in support of various community initiatives.
Shah Industries on Karakana Street is a crafts workshop in an old mill known for its highly creative leatherwork pieces and other artworks. This mill is the livelihood of many physically disabled fellows.
Mama Africa novelty shop in Selous Street is a fantastic, vibrant little shop of great locally made handicrafts and artworks, including paintings, dresses, Kanga and Kitenge materials, carvings, bags, and jewelry. It also stands for great initiatives, like Tumaini for Africa, Jiendeleze Women Group, and Tuleeni Orphanage.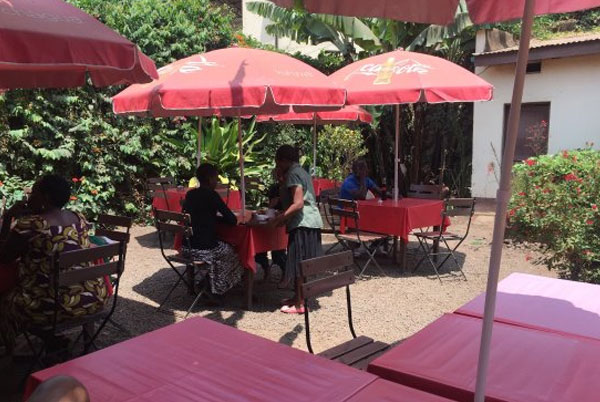 Explore Moshi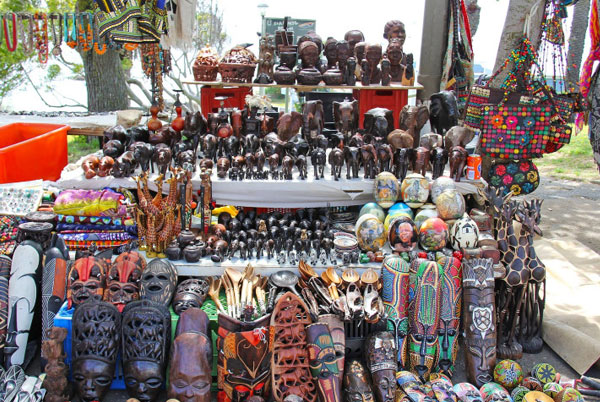 Explore Moshi
Maasai Cultural Village tour
Location: 2 hours drive to northwest Moshi
Duration: overnight
Cost: approximately $50 for the full-day option
You can't miss a visit to Maasai village during your Kilimanjaro hiking expedition. The Maasai tribes mainly reside in Kenya and northern Tanzania. They are the most famous tribe of East Africa. Maasai are known to possess great hunting prowess. Enjoy impressive jumping dance, vibrant clothing, and intricately beaded jewelry on the tour.
Olpopongi Maasai Cultural Village & Museum
There are several Maasai villages in northern Tanzania with fantastic visitor experiences. These tours are run by and are benefited solely by the Maasai tribes. The Olpopongi Maasai Cultural Village & Museum on the western edge of the Kilimanjaro region is a prime example of one such place.
Highlights
You can either opt for a day-long or overnight tour. The Olpopongi tours include:
Welcome drinks and traditional home-cooked meals
Chance to learn the traditional jumping dance
A guided safari walk, where you learn about Maasai's warrior culture and other customs.
A cultural museum tour, which showcases some of the most beautiful Tanzanian artworks
Try some common Maasai phrases
Visiting a Maasai village visit is often the highlight of many of our guest's Tanzania visits, along with hiking Kilimanjaro and safari. So, we strongly encourage you to visit a traditional Maasai village for a unique, enriching, and once-in-a-lifetime experience!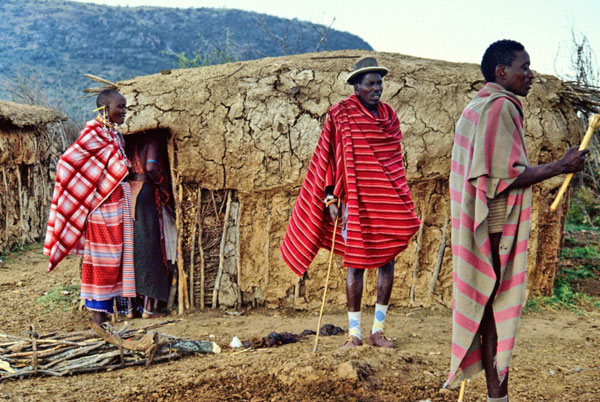 Maasai Cultural Village tour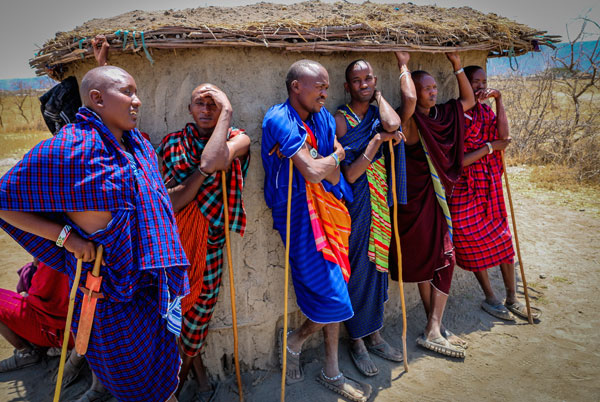 Maasai Cultural Village tour
Mountain biking in Rau Forest Reserve
Location: 10 km northeast of Moshi
Duration: 7 hrs. Hike or 6-9 hrs. on a mountain bike trip
Cost: Around $60 for hiking tour and $90 for bike riding tour (excluding transport)
Interested in Mountain biking or hiking in a pristine forest near the base of Mt Kilimanjaro? Rau Eco & Cultural Tourism is a community-based youth tourism enterprise that offers well-organized mountain biking/hiking day trips across the underground water forest of Rau.
Highlights
Explore the rice paddies and a chance to gimp at the daily life of rice farmers
Passing by local villages like Mnono and Mabogini village
Chance to spot black and white colobus monkeys and blue monkeys up close
See the African teak tree which is believed to be 196 years old that's a sacred site of prayer among locals
Spot many different water birds that love this forest
Take a swig of the local banana beer
Enjoy a delicious homemade lunch (vegetarian option available)
Take part in the one trip one tree initiative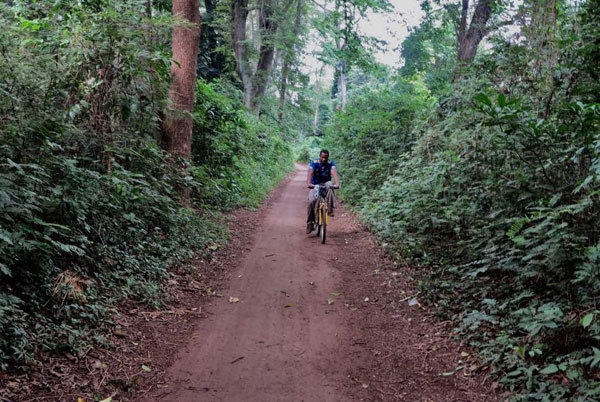 Mountain biking in Rau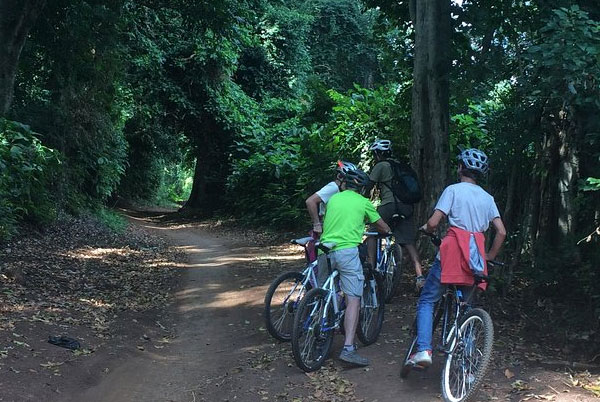 Mountain biking in Rau
Hike to the top of Mt Meru
Mt Meru is a very beautiful volcanic mountain situated on the western edges of Arusha National Park. At 4,566 m, Mt. Meru is the second-highest mountain in Tanzania and the fifth-highest in Africa. According to popular belief, it was once taller than Kilimanjaro, but an eruption blew off its top.
Highlights
This dormant volcano is a popular three- or four-day trek.
Those who are not yet strong enough to Kilimanjaro Climb can start with Mt. Meru hike.
It is a good option for quieter mountain trekking.
Great chance for a challenging mountain climb without any high risk of altitude sickness
This hike will be a good chance for acclimatization and further preparation for Kilimanjaro Climbing.
Although Mt Meru isn't as tough or long as Kilimanjaro, it's still a challenging trek. The scenery is exceptional, offering a great view of Kilimanjaro 70 km to the east! Plus the wildlife is also arguably better than on Kilimanjaro, and much easier to spot. You can expect to spot animals like buffalos, bushbuck, duikers, black-and-white Columbus monkeys, giraffes, warthogs, and tawny eagles.
Mt. Meru Trek itinerary
You can hike Mt Meru over three or four days. The first two days are for ascent, and the third day serves as summit day. You can either hike back down the same day or spend another night on the mountain for a more relaxed descent. Your night stay will be arranged in mountain huts.
Climate and vegetation
The climate and vegetation zones of Mt. Meru are similar to Kilimanjaro. A dense forest, followed by meadows, then giant groundsels and giant lobelias, and finally montane desert. Only the top zone of the arctic world of ice fields and glaciers is missing on Meru that you're going to see at the summit of Kilimanjaro.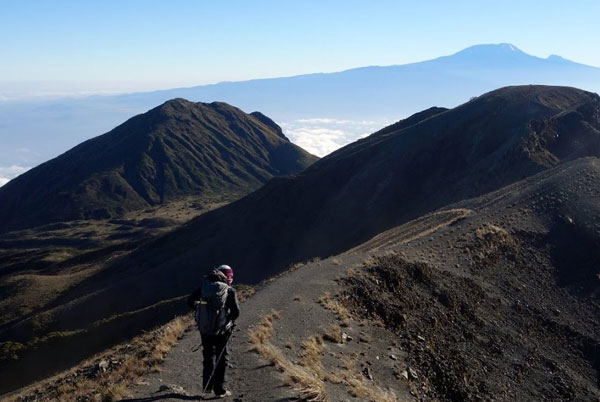 Hike to the top of Mt Meru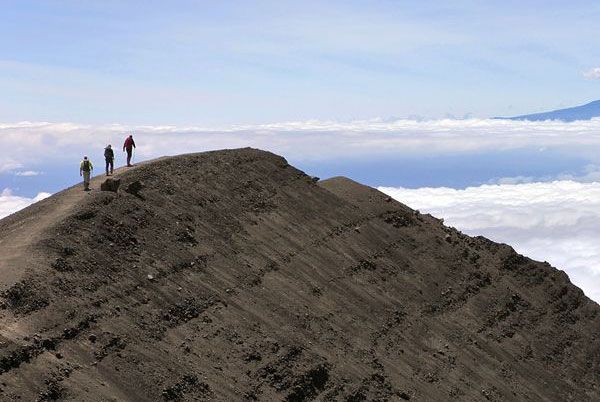 Hike to the top of Mt Meru
Game drive in Arusha National Park
Location: 40-minute drive from Arusha
Duration: Half-day or full-day, and can be combined with Momella Lakes and/or Ngurdoto Crater
Cost: $490 per head
Arusha National Park reserve of northern Tanzania offers a less crowded and more rewarding safari experience. Moreover, the park is just a stone's throw away from the city of Arusha. Therefore, if you don't have time to travel west to the bigger, more famous game parks like Serengeti, then this park is the perfect option for you. As it will be our pleasure to take you on a game drive in this beautiful game park before or after your Mount Kilimanjaro Climbing!
A unique park
The Arusha National Park offers a really delightful and unique landscape. You have volcanic mountains and calderas, with Mt Meru and Ngurdoto Crater, and the Momella Lakes inside the park's borders, along with Mt Kilimanjaro to the east.
Wildlife of Arusha National Park
The park is home to the most fantastic wildlife. On your safari, you should look out for elephants, zebras, wildebeests, warthogs, antelopes, black-and-white colobuses, giraffes, hippos, baboons, and blue monkeys along with leopards and hyenas.
If you're a bird lover then you'll be delighted to see the flamingos flocking the lakes. Approximately, there are over 574 other known bird species in the park. So, we recommend you visit with a bird guide and don't forget your binos!
Ngurdoto Crater
Location: 40 min drive north of Arusha
Difficulty: Moderate
Cost: $45 per head (excluding transport and guide)
Ngurdoto Crater is situated in the far eastern corner of Arusha National Park. This 4 km-wide caldera is known for its beautiful and lush oasis of wildlife. Sometimes called the 'little Ngorongoro Crater' though this crater differs from its famous counterpart in being a no-go zone. Because the visitors are only allowed to hike along the western and southern rims of the crater and look down on the animals.
The floor of the crater contains both swamps, grassland, and forest. Thus, offering various pristine habitats for its inhabitants. Trekking the rim of Ngurdoto is truly one of the best day hikes and walking safaris in Tanzania.
Ngurdoto Crater wildlife
This crater is home to giraffes, buffaloes, warthogs, baboons, zebras, and black-and-white Colobus monkeys. If you're lucky then you can spot elephants, leopards, rhinos, and spotted hyenas too.
You've got the best chance of spotting the rare black-and-white Colobus monkey within Arusha National Park than anywhere else in Tanzania. Mainly because it's a quieter park, as most visitors to the Northern Circuit like Serengeti National Park over Arusha National park. So overall, Arusha National Park is actually a sublime park and a perfect safari destination if you're on a tight budget or time.
Canoe trips on Little Momella Lake
Location: 40 min drive north of Arusha
Duration: Half-day
Cost: $360 per head (including guide, park fee, canoe fee, packed lunch, and bottled water)
Basically, the Momella Lakes are seven shallow, alkaline lakes that are fed by underground water. It is located in the northeast section of Arusha National Park. These lakes are a sanctuary for various resident and migratory waterbird species.
Guided canoe trips on Little Momella Lake can be a fantastic experience as the guides are very knowledgeable. Look out over grassland, bush, and forest, with Mt Meru to the west while paddling on the lake. Expect to spot giraffes, buffaloes, zebras, hippos, waterbuck, and duikers grace the scene with their presence. Plus, you'll find incredibly abundant and impressive birdlife on and around the lake.
Birds of Momella Lakes
You can spot both resident and migrant birds in The Momella Lakes. In fact, you'll see flamingos and pelicans everywhere around the lakes! No less than thick stands of hundreds of greater and lesser flamingos looking as if pink water from afar is a very common sight. Other bluntly seen water birds are Egyptian geese, southern pochards, Macao ducks, great crested grebe, and African jacanas.
Some of the Kilimanjaro Activities we discussed above are a half-day affair, while others can take up an entire day, and just one is a multi-day affair. With plenty of culture, nature and scenery to enjoy in the Kilimanjaro region, Jerry Tanzania Tours offers customized multiple day trips suitable to your Kilimanjaro Climb itinerary.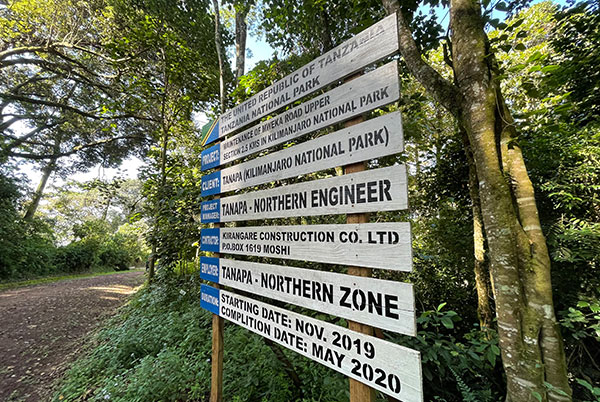 Kilimanjaro Travellers Experience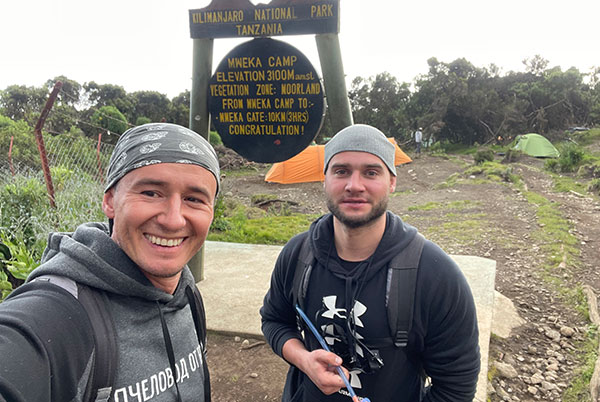 Kilimanjaro Travellers Experience
Related Kilimanjaro Searches
Get your FREE eBook
Enter your name and emailto get your FREE eBook
You can unsubscribe anytime For more details. review our Privacy Policy