Soaring above the African scrublands of Tanzania and Kenya, the Kilimanjaro Climb is sure to be the journey of a lifetime. Among the mountain's three volcanic cones—Mawenzi, Kibo and Shira—Kibo anchorages the highest point in Africa. It ranges into the sky until its end at Uhuru Peak. The Kilimanjaro Summit stands at 19,340 feet (5,895 meters).
Subsequent to the first expedition to Kilimanjaro by Europeans Ludwig Purtscheller and Hans Meyer in 1889, the mountain became a major alpinism destination for adventurer seekers worldwide. This prompted its protected designation in 1973 within the bounds of Kilimanjaro National Park.
Table of contents
The complete Beginner's Guide to Climb Kilimanjaro
We at Jerry Tanzania Tours provide the best and most helpful Climbing Mount Kilimanjaro For Beginners which are as follows:
The ideal preparation
Here are some ideal guide for Preparing To Climb Mount Kilimanjaro which are pretty basic, but it never hurts to be reminded:
Choose a registered tour operator
Our Travel experts provide you the best Kilimanjaro Training Schedule to help you prepare well for the climb. These training schedule is well researched and is the expert opinion of many experienced past trekkers.
Our guides will provide you with all information regarding emergency evacuation checks, they will be conducting your daily health checks, and provide you with the most high quality trekking equipment on the mountain.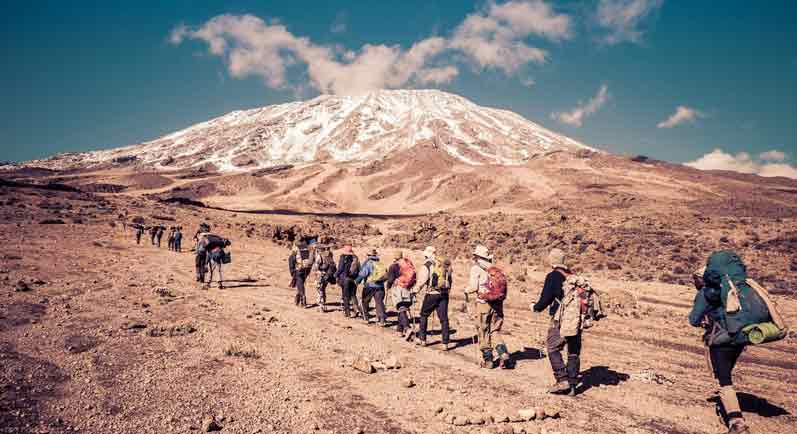 Make sure you're physically fit
Our Climb Kilimanjaro Guide suggests that you are well trained and physically fit to climb Kilimanjaro. For this climb your level of strength and fitness matters a lot and even helps determine your Kilimanjaro Success Rate. For Climbing Mount Kilimanjaro you'll be sleeping at high altitudes and that's why a few weeks before your trip, it is essential to prep your body by doing strength training exercises such as jogs, squats, push-ups, and sprints.
Plan ideal climbing times
The best Kilimanjaro Climbing Season is from mid-June to mid-October when the weather is at its best and numerous crowd flock in to climb Kilimanjaro during this peak season.
The summit experiences more rainfall in the months of March to May even though you can climb Kilimanjaro all year round. Except during the period from December to mid-March when there is plenty of snow and cold on the mountain. The Best Time To Climb Kilimanjaro therefore are the driest and warmest months which are considerably from mid-June to October and December to mid-March.
What to pack for your trip
Body wear – As it gets extremely cold on the mountain you'll need as many layers of clothing as possible. We suggest you to pack some long and short sleeves shirts, skiing underwear and light cotton trousers for your Kilimanjaro Climb. You are also suggested to carry Fleece and Gore-Tex jackets that help to keep you warm.
Footwear – Taking plenty of socks, hiking boots and running shoes for the climb is essential on the mountain as it helps you immensely to climb the summit successfully.
Headgear – You can also take some warm head protection such as beanie (warm hat) and sun hat to protect yourself from the Sun on the mountain.
Camping gear – We at Jerry Tanzania Tour provide you with Kilimanjaro Camping Gear such as - blankets, an inflatable pillow, and a sleeping bag, tents, chair, etc.
Water and snacks – Jerry Tanzania Tours includes three times Kilimanjaro meals everyday on the mountain. You can carry some Kilimanjaro Snacks and a large water bottle as well.
Miscellaneous – You will be provided with baby wipes, medications, toilet paper, raincoat, sunglasses, binoculars, torch and batteries, and sunscreen.
Check out our Kilimanjaro Gear List for more information.
What to Expect on the Mountain?
Kilimanjaro Climb is the best thing you will ever do in your life and if you have already decided to take up this challenge to climb the tallest free-standing mountain in the world, many Congratulations! Here are some things you may expect on the mountain:
The climate – The Mt Kilimanjaro climate is varied with many rainy periods. In the months of December to mid-March you will experience snow and rainfall on the mountain. On the mountains the mornings are warmer while rain tends to fall in the mid-afternoons.
Altitude sickness – At high altitudes some people get affected. These symptoms come in the form of nausea, exhaustion, headaches, insomnia, and rapid pulse.
Porter service – There are strict porter weight limit allocation on the mountain. They are restricted to a baggage allowance of 15kg.
Emergency Evacuation protocol – Apart from this your Kilimanjaro guides are there to ensure your Kilimanjaro safety. In case a climber experiences severe symptoms of Kilimanjaro Altitude Sickness the guides may suggest them to descend and we suggest you to respect this decision.
What are the ideal routes?
There are numerous Kilimanjaro Routes among which five are the most common one – Machame route, Lemosho route, Rongai Route, Marangu Route and Northern Circuit Route.
Lemosho Route
The Lemosho Route has lower gate and giving climbers more time to acclimatize to the altitude. This route offers incredible panoramic views and is without doubt the Best Route To Climb Kilimanjaro.
Marangu Route
Among the numerous Kilimanjaro Routes, Marangu Route is the only one to offer sleeping huts. This route is also known as the Coca-Cola route. On this route the huts sell bottled cola, giving it the nickname. This route offers a gradual Kilimanjaro climb and very easy to ascend to the top.
Machame Route
The Machame Route also known as the whiskey route, and is a bit difficult to reach the top of the mountain due to its strenuous and steeper trails. The route however offers beautiful views as you navigate through different ecosystems of Mt Kilimanjaro. Machame route very popular as it helps you summit faster on the mountain.
Rongai Route
Rongai Route is a much milder route. This route summits the mountain from remote north where there's less rainfall. Descend may take longer through this route however the route is isolated and great for climbers who wish to avoid the crowd. This route also has some great wildlife view on the path.
Northern Circuit
The Northern Circuit Route is a rather newer route and starts along the Lemosho route. It crosses the Shira route and circles around the slopes in the North. This route is comparatively very isolated.
How much does it cost to climb Kilimanjaro?
The average Kilimanjaro climb cost is of three varieties depending on the facilities you wish to opt on the mountain:
Standard Kilimanjaro Climb:
In the standard Kilimanjaro Climb Packages you will come across numerous choices of affordable yet of good quality Kilimanjaro Hikes that range from - US$1500 and US$2000. Among these the number one tour operator is Jerry Tanzania Tours as we have partnered with KPAP (i.e. there is a guarantee that they will treat their staff well). The quality of the treks that we provide are start excellent. We provide you with private toilets and mess tents, great quality of Kilimanjaro food and much more. Our Kilimanjaro Guides carry oxygen along with them.
Mid-range Kilimanjaro Climb:
The mid-range Kilimanjaro Climbs range from US$2000 and US$3000. Here you get great valued mid-range companies (including Jerry Tanzania Tours) where the services are of even higher quality providing great value for money. You are provided with greater quality Kilimanjaro Hotel stays, better equipment facilities, better camping and lodging facilities, etc. You are provided with complete care and guidance starting from the day you pass through customs at the airport to the moment you fly out at the end of your trip.
Luxury Kilimanjaro Climb:
If budget is not an issue that you can get the best of offers as part of the luxury Kilimanjaro Climb. We at Jerry Tanzania Tours provide some of these luxury Kilimanjaro Climb packages as well. Most of our Kilimanjaro Guides has summited the mountain for over 80 – 100 times in their lifetime and are basically Kilimanjaro Specialists. These guides have been summiting the mountain for over 7 – 8 years and started their career as Kilimanjaro Porters.
As part of Luxury Kilimanjaro Climb packages, we partner with KPAP, providing fair treatment to the Kilimanjaro Porters. We also provide more luxurious Kilimanjaro gears such as inflatable furniture in the mess tents, proper beds set up at each campsite, wifi hotspots on the mountain and smartphone chargers.
Download PDF Guide
Kilimanjaro Climd
Other Costs affecting the Kilimanjaro Climb Cost
Costs away from the mountain
Apart from these above factors, there are numerous other factors affecting the Kilimanjaro Climb expenses. The Total Cost To Climb Kilimanjaro is affected by the following other factors.
flights to Kilimanjaro
Tanzanian Visa
inoculations before you go
Kilimanjaro food and accommodation
And any other activities that you plan to do before/after the trek such as going on safari or visiting Zanzibar.
If you wish to travel to other locations away from the mountain and the other national parks, the best place to be in Tanzania is Zanzibar. The Kilimanjaro Trip extensions will add to your Kilimanjaro Climb Cost.
Let's discuss some other factors that affect the cost to climb Kilimanjaro:
Elsewhere, you'll find transport, food and accommodation, the big three day-to-day expenses of the traveller's life, are pretty cheap in Tanzania and particularly in Moshi and Arusha:
Kilimanjaro Stays
Accommodations are part of the Kilimanjaro Climb Packages. We provide you with Kilimanjaro Accommodation Before and After Your Climb and on the mountain in tented camps.
Following this you can also book extra night stays but that would cost more adding to the total accommodation expenses.
You can get some cheaper, non-tourist accommodation, which are both sleazy and unhygienic and should only be considered as a last resort.
If you are booking luxury stays, you can get hotel rooms from up to US$2000 per night in the high season as well.
Kilimanjaro Food
On your Kilimanjaro Trek the most important aspect is Kilimanjaro Food. It is the most essential part of the climb and provides you energy to climb Kilimanjaro. We at Jerry Tanzania Tours provide you with great quality, hygienic food. At any descent Kilimanjaro Restaurant you could get great Kilimanjaro Food starting at £3/US$4.80.
Domestic transport in Tanzania
If you are planning - Climbing Kilimanjaro On A Budget then you would be expecting to encounter public transport in Tanzania. But it is difficult to find public transport on a regular basis on Tanzania. We at Jerry Tanzania Tours therefore arrange for roundtrip airport transfers and transfer from hotels to Kilimanjaro National Park gates.
If you are wondering – can one Climb Kilimanjaro For Free? Then sorry to break this news to you, it is not possible.
What to Expect on a Kilimanjaro Climb?
Kilimanjaro Climb is no mere feat but it provides some of the most unforgettable memories and are the best ways to explore the scenic and mind-blowing African adventure. You are not only climbing the tallest mountain in Africa, but also view the most spectacular scenery ever. Of you are wondering what Climbing Mount Kilimanjaro is like? We have presented a detailed overview for the same:
Changes Your Body May Experience On a Kilimanjaro Hike
During your Kilimanjaro Hike you may experience some of these changes that occur to your body:
#1. Trouble breathing.
At the height of over 12,000 feet above sea, there is almost 40% less oxygen for every breath you take on the mountain.
It is natural to therefore feel shortness of breath because you're not getting as much oxygen as you normally do per inhale.
This causes your body to increase your respiratory rate or the number of breaths you take in per minute. This is when your body is trying and forcing more oxygen into your lungs.
Using Diamox to summit Kilimanjaro is quite common on the mountain and many hikers choose to bring Diamox along with other essential medications.
#2. Rapid heart rate.
There could be chances of rapid increase in heart rate during your Kilimanjaro Climb. Your heart will beat more times per minute to transport more oxygen as your body adjusts to higher altitudes. Your body generates more oxygen to supply to the faster pumping heart generating higher heart rate.
Research shows that as a way to acclimatize to the decreased oxygen levels, your body will create 30-50% redder blood cells as soon as the first night you spend in a high altitude environment.
#3. Shifting fluid levels.
Your body will direct all power and oxygen to the brain, lungs and heart, the organs that need the most amount of oxygen on the Kilimanjaro climb.
There are other symptoms of swelling of fingers and feet. It is therefore necessary to leave your rings at home and to never carry out your Kilimanjaro hike in new boots, as these may cause blisters as your feet swell on the trail.
#4. Dehydration and dry skin.
During your Climbing Mount Kilimanjaro your body may get dehydrated causing dry skin. This very common on the mountain. Over 6000 feet above the sea level, your body sweats twice as much moisture as it does when you're at sea level.
Apart from this the low air pressure evaporates the other remaining moisture your skin has. Therefore it is essential to drink plenty of water on the mountain.
What Won't Happen To Your Body on a Kilimanjaro Hike?
For the avid hikers, the experiences your body goes through on high altitudes is not uncommon. Some of these symptoms are mostly myths and your body may not experience these on the mountain.
#1. Losing a crazy amount of weight or body fat.
Numerous hikers who make their way across the AT, PCT or any other long hikes may take long weeks or even months to finish their journey. This is the primary reason why they go through staggering weight loss. But that does not mean that Kilimanjaro Climb may cause weight loss in just 6-7 days on the mountain.
The longest hikes are still only around two weeks long and many may experience weight loss during this Kilimanjaro climb but that will probably be due to dehydration.
#2. Dealing with major injuries.
According to some studies over 60% of trekkers report at least one injury, like lost toenails, shin splints, sprained knees, broken ankles, or fractured joints on their (very long) way to the finish line.
This is not the case on the Kilimanjaro Climb however as you will be constantly guided by our team of experts who will ensure you are well prepared and safe through the entire way up and down the mountain.
How to Prevent Acute Mountain Sickness When Climbing Kilimanjaro?
To prevent acute mountain sickness on the mountain which is all too common at elevations over 10,000 feet (3,048 m) we suggest you to take time to acclimatise on the mountain. Giving it one or two days will automatically reduce Kilimanjaro Altitude Sickness.
The following are some of the signs and symptoms of Kilimanjaro Altitude Sickness:
Symptoms and signs of altitude sickness include:
Loss of appetite
Nausea
Vomiting
Headaches, dizziness or light-headedness
Tingling in your nose, face and fingers
Shortness of breath
Fatigue
Swollen hands, feet and face
Thankfully these symptoms usually go away within 36-48 hours.
Plan the most incredible Kilimanjaro Climb
We at Jerry Tanzania Tours value our clients and thrive to constantly support them with 24*7 call Assistance to enhance their Kilimanjaro Climbing journey experience. We at Jerry Tanzania Tours are a fully registered local company operating under travel and hospitality rules and regulation of Tanzania governments. We have made Climbing Mount Kilimanjaro possible for thousands of climbers.
To know more about Kilimanjaro Climb, contact our travel experts today!
Get your FREE eBook
Enter your name and emailto get your FREE eBook
You can unsubscribe anytime For more details. review our Privacy Policy