When on your dream Kilimanjaro Hike, you will witness, dreamy landscapes, pensive lands, unpredictable environment, and clear skies with clean trails. If that has struck you, we are here to fulfil your dream. We at Jerry Tanzania Tours will clear all your doubts and miss-conceptions of Hiking Kilimanjaro once and for all.
The Mount Kilimanjaro Hike is not that tough as it may seem. The right planning and knowledge is essential to achieve maximum Kilimanjaro Success Rate on the mountain.
After scrolling down this page you will know about:
How long does it take to hike Kilimanjaro?
How many days does it take to hike Kilimanjaro?
When to hike Mt Kilimanjaro, and more.
These are just a glimpse of queries we will be solving. Let's dive into the Climbing Mount Kilimanjaro journey right away:
key highlights of Kilimanjaro Hike:
Attempt Africa's highest peak!
Mount Kilimanjaro is the tallest freestanding mountain in the world and the infamous Kilimanjaro Hike is every travellers' dream. Its summit, Uhuru Peak, is Africa's highest peak. Are you ready for the thrilling adventure?
World-class hiking with amazing views
Hiking Mount Kilimanjaro with Jerry Tanzania Tours helps you can experience world-class trekking with amazing views on the mountain. You will be living each and every moment of your life, and counting memories.
Premier camping accommodations
During your Mt Kilimanjaro Hike we at Jerry Tanzania Tours provide you with premiere location for stay before and after the climb and also offer luxury stays at the mountain camps.
Fresh, local & organic cuisine
Choose from our luxury Kilimanjaro Hiking Package and enjoy fresh, local and organic cuisine prepared by our special Kilimanjaro Cooks and served hot on the cold and chilly mountains.
Amazing natural and cultural history
The mind-blowing natural and cultural history of the mountain attracts thousands of travellers from across globe.
Song & dance with our crew on the mountain
Form the first day itself, you will love the joy and happiness that the Kilimanjaro Crew share with their song and special dance which you will be part of!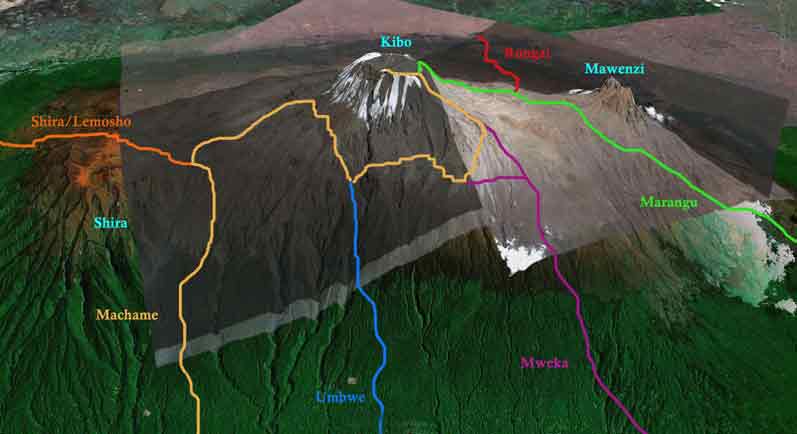 Kilimanjaro Hike: Opportunity of a lifetime
Soaring above the Tanzanian bush lands on your Kilimanjaro Hike, you are sure to experience an adventure of a lifetime. On your Kilimanjaro Trek you will come across three volcanic cones—Kibo, Mawenzi and Shira—its Kibo that harbours the highest point in Africa. It extends into the sky until its end at Uhuru Peak, the summit of Kilimanjaro, standing at 19,340 feet (5,895 meters).
Hiking Kilimanjaro has become a major destination for adventurers worldwide, prompting its protected designation in 1973 within the bounds of Kilimanjaro National Park.
Kilimanjaro Travel
Getting There
Most climbers Hiking Mount Kilimanjaro begin their journey in Tanzanian base towns like Moshi, Marangu and Arusha where the most awaited Mt Kilimanjaro Hike begins. Tourists typically arrive by way of a nonstop or transit flights to Arusha, which is accessible from regional international capitals like Nairobi and Dar es Salaam. As part of your Kilimanjaro Hiking Package you are provided with car transfers which can be made in advance from Arusha to Moshi and Marangu.
Mount Kilimanjaro Hike: The Journey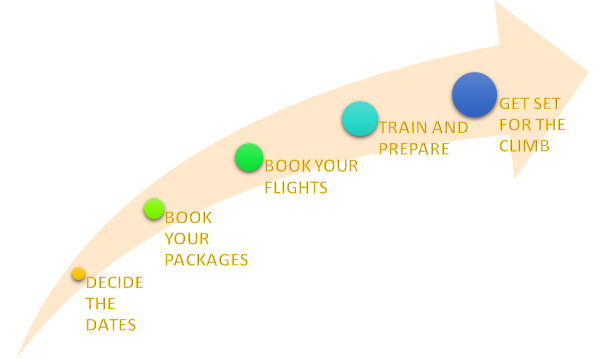 Best Time to Visit Kilimanjaro
The Best time to climb Kilimanjaro is mostly during mid-June to mid-September when the weather is at its best to support your Kilimanjaro Hike. The prime location of the mountain (near the equator) makes Mount Kilimanjaro Hike possible all year round.
Hiking Kilimanjaro during the rainy season must be avoided. This period ranges mainly from March to May and November to December. The trail conditions during this time, tend to be slippery.
How to Prepare for Your Kilimanjaro Hike
Getting in Shape: To make your Hiking Mount Kilimanjaro dream a reality, it's vital to be physically fit to climb Kilimanjaro. To prepare for the journey we suggest you spend at least a few months doing cardio training like walking and running hills and biking long distances leading up to your adventure of a lifetime.
Altitude Acclimation: Before your Mt Kilimanjaro Hike we suggest you ask your doctor about any medications that may assist in your climb and increase ease of altitude acclimatization on the mountain. Kilimanjaro Altitude Sickness is common on the mountain. Over 90% of the trekkers experience the symptoms while Climbing Mount Kilimanjaro. As part of your Kilimanjaro Hiking Package we suggest you to add an extra day to acclimatize in case you are new to altitude, to avoid altitude sickness.
What to Pack
On your Kilimanjaro Hike you will be going through different ecological zones that harbor variable weather conditions, from tropical showers to piercing winds. This makes plenty of layers extremely essential to protect you from cold and chilling winds of the mountain. It is important to remember that Tanzanian law has strict regulations regarding Kilimanjaro Porter association. According to the law porters are only allowed to carry 32-pounds of your gear. We therefore suggest you to pack light while Hiking Mount Kilimanjaro.
Hiking Mount Kilimanjaro with a guide
Did you know that Mt Kilimanjaro Hike without a Kilimanjaro Guide is against Tanzanian law? Apart from the physical endurance that is essential to reach the summit, you need a guide to help you overcome altitude sickness and sustain at below-freezing temperatures while Hiking Kilimanjaro.
We suggest you choose Group travel for your Mount Kilimanjaro Hike which is the easiest and most affordable path to the summit. In case you need additional privacy, you can opt for private Kilimanjaro climbs as well. As part of the Kilimanjaro Hiking Package that we offer the Kilimanjaro Climb Cost is approximately $2,000 USD for a full package, while longer climbs can cost up to $6,000 USD.
The Importance of Kilimanjaro Crew
If you have made up your mind to climb Kilimanjaro this year, you must be wondering – how are the Kilimanjaro Crew members on Mount Kilimanjaro? How are they treated?
The fact remains that you will be encountering some of the best, friendly and joyful lot of people as part of your Kilimanjaro Crew members who constantly accompany you and support you during the climb.
You will be provided with:

Kilimanjaro Guide (1 per person)
Kilimanjaro Porter (3 per person)

Kilimanjaro Cook
Guides and porters, etc.

The Kilimanjaro Guides are your lifeline on the mountain. They provide you with knowledge, mental support, health-checks and make your summit possible.
Kilimanjaro Porters are those dedicated lot of people, without whom, Climbing Mount Kilimanjaro would be impossible. They put up your tents, provide you with warm water and carry your luggage up the summit throughout the trek.
Kilimanjaro Food is the most important part of your Kilimanjaro Climb. This is why experienced Kilimanjaro Cooks are so important.
Tipping on Mount Kilimanjaro:
Tipping On Kilimanjaro is a customary tradition on the mountain. The following are the tipping guidelines for Kilimanjaro crew:
Mostly the Kilimanjaro guides are tipped $15-$20 per climber per day.
The Kilimanjaro Porters are tipped $9-$10 per day, per climber
The Kilimanjaro Cooks are tipped $10-$15 per day per climber
Hiking Kilimanjaro Pluses and Minuses
While Mt. Kilimanjaro attracts numerous trekkers throughout the year there are numerous aspects of the mountain that you as a traveller need to be aware of. Some of these we have discussed below:
Pluses:
Experience 5 distinct climate zones at this iconic mountain
Kilimanjaro porters make the Kilimanjaro Hike more easy and achievable as they carry most of your baggage to the top.
The panoramic view that the mountain gives is a must visit place for all the wildlife lovers as the trekkers may meet some animals on the way.
Prior mountaineering skill is not necessary to Hiking Kilimanjaro
You will have choices of experiencing 7 different Kilimanjaro Routes which are all unique in their own ways.
Minuses:
With over 200 licensed tour companies choosing the right tour operator that suites your needs is a tough task. We at Jerry Tanzania Tours help offer you variety of choices regarding mid-range, luxury and standard climb Kilimanjaro Hiking Package.
The mountain routes are quite crowded in the dry season, as there are more than 30,000 climbers' treks the mountain each year.
During this period Mount Kilimanjaro Hike is quite expensive.
The wet season makes Hiking Mount Kilimanjaro quite challenging.
You need to pack a lot of stuff including proper gears and cloths as the mountain has changing climate zones.
Download PDF Guide
Kilimanjaro Hike
Mt Kilimanjaro Hike through 5 climatic zones
Mt Kilimanjaro Hike lets you experience 5 different climatic zones which are diverse and you feel like travelling from equator to the North Pole. Following are the climatic zones that you witness on the mountain:
Bushland Zone (At altitude: 2,600 to 6,000 feet)
In the Bushland zone one may experience typical rainfall patterns especially in the areas of open grasslands on Mount Kilimanjaro.
Making most of these mountain towns cold and misty, the glacial streams weave through towns like Arusha, Moshi and Marangu.
There are numerous Kilimanjaro porters and guides who live through these areas, where enterprise entails coffee and banana cultivation.
Rainforest Zone (At altitude: 6,000 to 9,200 feet
The rainforest zone is the period where the real Kilimanjaro Climb begins.
This zone is warm, humid and lush, and is home to diverse wildlife which climbers encounter during the trek.
These unique species include sightings of Blue and Colobus monkeys and even the rare opportunity to see leopards, rhinoceroses, giraffes, elephants, and buffalo near thinner patches of jungle.
The south and east trails offer thick vegetation, due to the excessive rainfall that the area receives.
Many climbers may encounter rain during their climb, in this zone.
Heath and Moorland Zone (At altitude: 9,200 to 13,200 feet)
The heath and Moorland Zones are sparser and drier than the rainforest.
This region is the low-alpine zone which is home to an arid desert environment.
This climatic zone begins where the rainforest zone ends.
This region is the exact location where you are likely to see your first views of Kilimanjaro's snowy peak.
You will also encounter abundant bird species, including bearded vultures, augur buzzards and crowned eagles.
Alpine Desert Zone (At altitude: 13,200 to 16,500 feet)
The Alpine Desert Zone offers inhospitable landscapes to which some climbers compare it to the surface of the moon.
Also Kilimanjaro Altitude Sickness is felt by climbers mostly at this height.
This is the zone where intense heat and solar radiation start to affect the climbers.
Before starting a midnight ascent up the Kibo cone most climbers spend a few hours in this zone.
Arctic Zone (At altitude: 16,500 feet and above)
Kilimanjaro's terrain transforms into a land of loose scree after entering the Kibo cone.
This makes the trails quite tough to traverse.
Creating a more stable surface to climb most summit pursuits to Uhuru Peak begin in the evening.
This is the period when the dew settles on the ground.
The landscape becomes a frozen world marked by ice and snow beyond the arctic zone's lower sections.
Kilimanjaro Hiking Package
Jerry Tanzania Tours offers numerous Kilimanjaro Hike Packages, some of the most popular ones we have listed below:
7-Days Machame Route Package
Climbing Mount Kilimanjaro through the Machame route, is the most beautiful experience as it is the most scenic and recommended routes on Kilimanjaro.
With paths through magnificent forests to gain a ridge this popular route leads through the moorland zones to the Shira Plateau.
The Kilimanjaro Climb Cost for this Kilimanjaro Route is $1730. The duration of the climb is 6 – 7 Days.
With difficulty level being medium on the route the sceneries are fabulous and attracts numerous traffic on the mountain.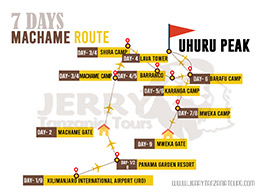 8-Days Lemosho Route Package
Among other popular packages is the 8-Days Lemosho Route which is a newer route.
It is more remote and arguably more beautiful, compared to other Kilimanjaro Routes.
This is a bit longer and but affordable with Jerry Tanzania Tours.
The Kilimanjaro Climb Cost for this package is $1910.
Starting from the Londorossi Gate, the route starts on the Western side of the mountain and is an alternative to the Shira route.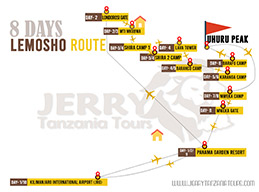 What is the best route to climb Kilimanjaro?
Climbing Mount Kilimanjaro can be either the most beautiful experience of your life or your worst nightmare. It all depends upon the right choices that you make. Among these choices are the choice of your Kilimanjaro route. There are seven different routes for Kilimanjaro Hike. We have discussed some of these below:
Lemosho Route
For your Mount Kilimanjaro Hike choosing the Lemosho Route which is a newer route is the best choice you could make. With Jerry Tanzania Tours Lemosho route is also the most affordable and exclusive Kilimanjaro routes for the following reasons:
Lemosho is a long route. It is however favoured by most reputable Kilimanjaro outfitters due to its smaller crowds.
This route offers scenic variety and a high Kilimanjaro Success Rate.
We provide a vehicle for all the climbers to take them to the gate, where the Kilimanjaro Climbing journey begins in the rainforest.
Machame Route
Hiking Kilimanjaro through the Machame route (also called the Whiskey Route) which is a more challenging route compared to the Lemosho route is a unique experience.
You will not find any sleeping huts for accommodation in the route and the trail is more challenging.
Trek through the Machame route begins in the south-west area of the mountain at Machame Gate.
Although this route takes about six days to complete, minimum of seven days are recommended.
This is to acclimatise well on the mountain.
While descending through this route you will descent down Mweka, on the south-east side of the mountain.
Due to the ascent from the west and the descent from east you will have numerous panoramic views on the trail.
Marangu Route
Hiking Mount Kilimanjaro through the Marangu route (also called the Coca Cola route) is another wonderful experience.
Marangu route is the most popular route on the mountain, and is considered "touristy".
This is because the route is the only one that offers sleeping huts, which serve beverages like Coca-Cola, on the way.
It is also considered the easiest route on Mount Kilimanjaro.
On this route the ascension profile is very gradual and steady, allowing for painless trekking for most of the way.
Northern Circuit Route
The Mt Kilimanjaro Hike through the Northern Circuit Route (which is the newest route on Kilimanjaro) is a unique itinerary choice.
This route is the only route that visits the northern slopes, while traversing around nearly the entire mountain.
The Northern Circuit is also the longest route on the mountain, in distance and time, making it a difficult route.
However, it has the best acclimatization profile which makes it the route with the highest Kilimanjaro success rate as well.
The Northern Circuit route is a 9 day route.
Rongai Route
As part of your Kilimanjaro Hiking Package you will be offered to climb through the Rongai Route as well.
Did you know that the Rongai Route is the only Kilimanjaro route that approaches the mountain Kilimanjaro from the north, near the Kenyan border?
As Rongai's ascent profile is very similar to that of Marangu, this route is one of Kilimanjaro's easier routes.
This route provides a gradual and steady climb.
Unlike Marangu route this route has low crowds and passes through remote wilderness areas.
You can complete your Kilimanjaro climb successfully through this route in 6-7 days on the mountain.
Summiting to the Uhuru Peak
Hiking Mount Kilimanjaro contributes to a huge tourism industry in Tanzania. It is an amazing experience for every climber.
Did you know that among the thousands of climbers who attempt Kilimanjaro Hike, only 55% of climbers reach the top of Uhuru Peak? This peak is also known as Kibo.
This statistic shows that only around half of the people who try the challenging Mount Kilimanjaro Hike, reach the summit.
It was here that I had one of the most emotional travel experiences of my life.
On the Uhuru Peak you will witness a strong icy wind, enveloping the atmosphere on the summit night.
You will be cold but overjoyed with triumph on the mountain while Hiking Kilimanjaro.
On the Uhuru Peak you will also notice the huge crater that sits to the right of the mountain.
There are immense glaciers few meters on the left of the mountain.
If you are doing the Mt Kilimanjaro Hike in a good weather, watching the sun rise over the immense plains will be the best view of your life.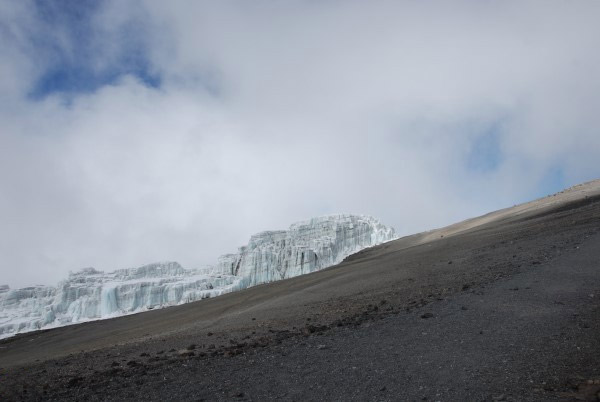 At the Kilimanjaro Summit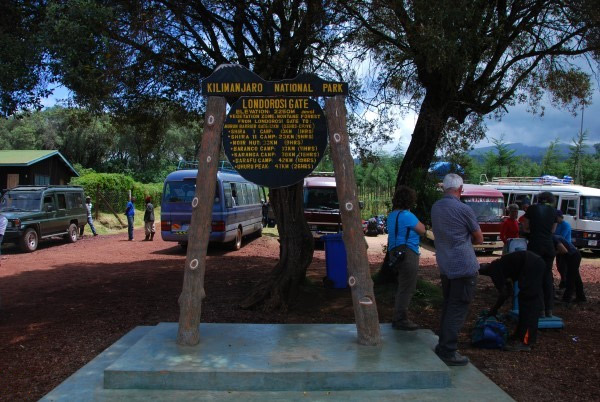 At the entrance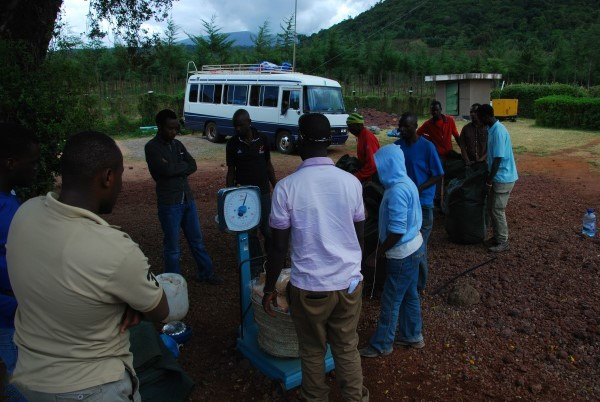 weight being checked near entry point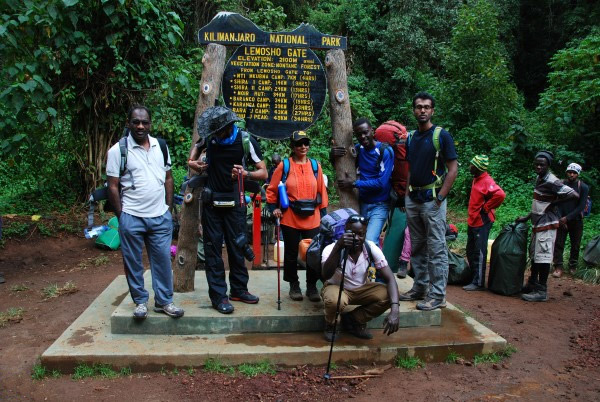 Lemosho Gate
Boulders enroute Kilimanjaro
Stella Point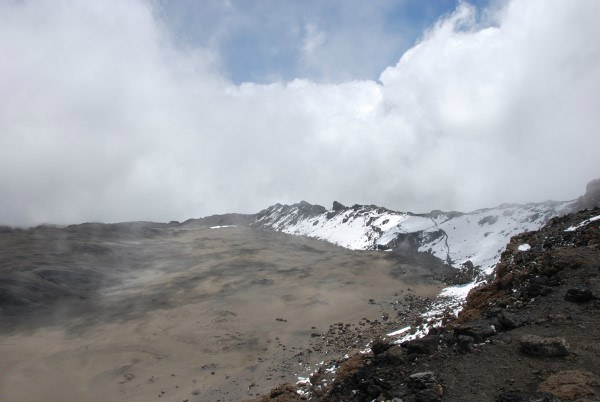 kilimanjaro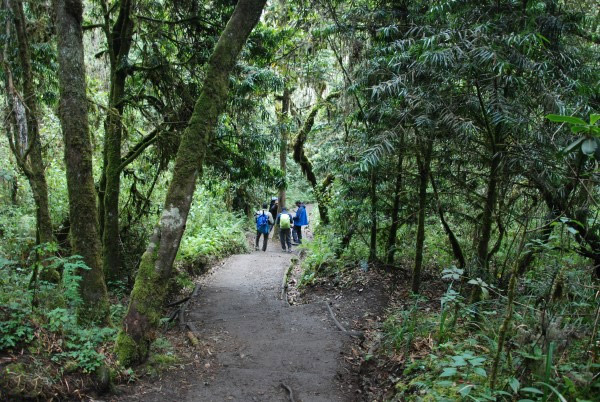 The descent enroute
Kilimanjaro Activities to enjoy during the climb
Among the many Kilimanjaro Hiking Package that we at Jerry Tanzania Tours offer, understanding the peaks, plateaus and cultural regions in and across the mountain is very essential for all climbers.
What is the Kibo Peak?
If you wish to climb to the top of the world Kibo Peak should be your next destination.
Kibo Peak is one of the three volcanoes of Mount Kilimanjaro, and is the highest peak of the mountain and of Africa!
This peak offers wonderful view all year round.
This is also the only peak which retains its snow throughout the year
The trek up to the Kibo peak is tough and is recommended for professional climbers only.
Shira Plateau
Did you know that the stunning Shira Plateau taht lies on one of the Kilimanjaro routes is a caldera?
While Climbing Mount Kilimanjaro you will be stepping on the remnants of a volcano that expired over 500,000 years ago.
If you are a wildlife enthusiast this is the best place for you due to the extremely rich biodiversity, especially among fauna.
In this region you can take your time and spot elephants, buffalos, elands, and lions.
Chala Crater Lake
The Chala Crater Lake which lies in the shadow of the Kilimanjaro, was most likely formed after volcanic activity on the mountain at the border between Kenya and Tanzania in a caldera.
The gorgeous clear waters of the lake might be turquoise blue, midnight blue, or even a stunning emerald depending on the time of the year you are Climbing Mount Kilimanjaro.
You can spot the endangered Chala tilapia while hiking around the lake, down the crater walls, which is indigenous to this place.
Despite availability of lifeguards on the mountain swimming is permitted here!
Olpopongi Cultural Village
At the Olpopongi Cultural Village you can discover the best of culture at the home to one of the most authentic Maasai experiences in all of Africa.
Here you can also see the Kraals in which these early settlers have lived in for a long time.
You will be able to learn more about the Maasai family traditions, enjoy the local foods, and interact with the Maasai about their heritage!
The authentic Maasai culture makes Olpopongi unique as you can experience the most genuine Maasai culture without disrupting their daily lives or intruding into their private homes and villages.
What a Typical Day on Kilimanjaro trek is like?
Wondering what a typical day on Kilimanjaro Hike looks like? Here's the complete picture of your mornings, lunchtime, afternoon snacks and evening supper looks like on Mount Kilimanjaro:
Mornings on Mount Kilimanjaro
On your Mount Kilimanjaro Hike your days usually start around 7:30 am in the morning. As you get dressed for the day, get your daypacks ready and have breakfast at 8:00 am. You then leave for the climb between 8.30 – 9.00 a.m.
You will be provided hot water for brushing teeth and having a wash every morning.
For breakfast, you will have diverse variety of dishes such as a mix of toast, butter, jam, porridge, pancakes, egg, sausages, bacon, and different types of fruits such as mangos and oranges.
You will also be provided with tea, water, coffee, and fruit juices during breakfast.
Following a big hearty breakfast you leave for the climb.
Lunchtime on Mount Kilimanjaro
The Mt Kilimanjaro Hike from camp to camp are diverse with regards to flora, fauna and terrain.
During the lunchtime you will be provided with a delicious meal as per your Kilimanjaro Hiking Package (standard, mid-range and Luxury climbs).
Although you will be asked to pause frequently to rest, drink and have some snacks, the lunchtime in Kilimanjaro is the most essential part of the climb.
You will be provided with lunch boxes that would be packed early in the morning before leaving the camp.
This meal usually consists of sandwiches, bread, fruit, dried meat, or potatoes.
What Kilimanjaro Afternoons are like?
While Hiking Kilimanjaro in the afternoon is quite common, you will be provided with afternoon snacks and tea after the long climb.
After Hiking Mount Kilimanjaro you will unpack, relax and enjoy the afternoon snack, which usually includes popcorn or peanuts and a hot drink.
This time is the best to interact with your fellow climbers in the camp.
You can play card as well as board games in the pastime.
What Evenings in Kilimanjaro are like?
After the long and tiring Kilimanjaro Hike you will have dinner around 7 pm on the mountain.
Your Mount Kilimanjaro Hike takes about 5-6 hours and after evening 7 pm it is already dark outside.
At altitudes of around 4,000 meters it is also considerably colder at night.
You will be therefore served dinner at a larger tent.
With a joyful convivial mood there could be some singing and dancing that boosts your spirit for the next day's climb.
You will also get to learn a lot about the Kilimanjaro as well as about the country and its people.
Kilimanjaro Climb Cost Factors
Several factors influence the Kilimanjaro Climb Cost factors such as:
Kilimanjaro tour operator costs
There are mainly three types of Kilimanjaro tour operators – such as those providing standard climbs, mid-range climbs, and luxury climbs on the mountain. The cost of these tour operators range from $2000 to $4000. We at Jerry Tanzania Tours provide the best Kilimanjaro Climb packages at $1910 and $1730 for 8-Days Lemosho and 7-Days Machame route climbs respectively.
Kilimanjaro Flight Costs
The Kilimanjaro Flight Cost depends on where you are travelling from. For USA citizens the flight costs range from - $1000-$1500. The flight costs for UK citizens is less than $1000 dollars. While for other citizens from Australia, Germany, Ireland, etc. the flight costs may vary from $1000 - $2000.
Kilimanjaro Visa Cost
A Tanzania Visa is Mandatory for all climbers. The Tanzania Visa cost is $100 for USA citizens and $50 for all non-USA Citizens.
Kilimanjaro Training and Preparation cost
There are numerous other expenses related to Kilimanjaro training and preparation cost such as joining the Gym, going on short hikes, eating healthy and nutritious food etc. We consider this cost to be around $100 - $200.
Kilimanjaro Travel Insurance Cost
The Kilimanjaro Travel Insurance Cost is $50 to $100 depending on which country you are travelling from and the coverage the insurance company is providing you such as:
Delay Expense
Cancellation
Emergency Rescue
Covering for a height of 6000m above sea level.
Kilimanjaro Gear Cost
If you have gone through our exclusive Kilimanjaro Gear List, you will know that there are numerous item you may need on the mountain and purchasing them all is quite expensive. The cost of purchasing all these gears is $800 (approx.). However, Jerry Tanzania Tours provides you the choice of renting these gears which will cost you less ($100 approx.).
Kilimanjaro Tipping Cost
As Tipping is the major aspect influencing your Kilimanjaro Climb Price, we suggest you carry $250 to $300 (in cash), up the mountain. This is the total tipping cost per climber. It can however be reduced in case you join group climbs.
Other Miscellaneous Cost are trip extensions, single supplements, etc., which may cost you around - $200 to $300.
The Total cost to climb Kilimanjaro therefore is $4000 - $6000, per person for a 6-7 days Kilimanjaro Climb.
Emergency Evacuation: Kilimanjaro Helicopter Rescue
What happens to someone who is unable to continue to summit Mount Kilimanjaro? Let's be realistic for a moment. Out of thousands of climbers attempting the climb only 5% to 10% succeed in Climbing Mount Kilimanjaro.
Among these climbers 95% face Acute Mountain sickness symptoms on the mountain.
Kilimanjaro Altitude Sickness is common for all climbers, unless you have acclimatised well or are acquainted to the higher altitudes.
For those who face worse symptoms of AMS, we begin the emergency evacuation procedure which is most commonly known as the Kilimanjaro Helicopter Rescue.
Some climbers are even brought down on stretchers that are carried by the Kilimanjaro Porters.
choose Jerry Tanzania Tours for the Best Mount Kilimanjaro Hike
For the best Mount Kilimanjaro Hike, Jerry Tanzania Tours is the best choice. We offer the best Kilimanjaro Climbing and are the number one tour operator in the country.
We provide you responsible and eco-friendly climbs on the mountain
We believe in giving back to the nature what we receive and strive towards sustainable climbs
You travel safe and secure with us.
We treat our staff like family and abide by all the KPAP guidelines regarding Porter treatment.
If you are dreaming of an unmatched experience on the mountain, we are at your service and guarantee you fun, safety and adventure.
Call us now in case of any doubts and start planning your Mount Kilimanjaro Hike plan with us today!
Related Kilimanjaro Searches
Get your FREE eBook
Enter your name and emailto get your FREE eBook
You can unsubscribe anytime For more details. review our Privacy Policy