On an average, Kilimanjaro Success Rate for summit is 66%. This is the data collected from over 30,000 climbers who attempt to summit the Mountain every year. For Climbing Mount Kilimanjaro, there are six routes offering various Kilimanjaro Routes Success Rates.
The Kilimanjaro Climb Success Rate only depends upon the suitability and acclimatization profile of routes, but also upon the experience, physical and mental fitness, high quality gears and the right guidance from experienced guides.
Why does the Kilimanjaro Success Rate differ for various Kilimanjaro Routes?
The two most important factors affecting the Kilimanjaro Success Rate are:
The amount of time spent on the mountain (rate of ascent): The duration of the climb affects the acclimatisation, and directly affects your Kilimanjaro success rate. For a climb of 7 Days, there is a lower chance of reaching the summit while if you add an extra day for acclimatisation, the chances are you will be definitely watching the sunrise from the top of the Uhuru Peak.
Your Body's ability to acclimatize: Much of the acclimatization rate is physiological. It depends on the considerable genetic variation in people's adaptation ability to acclimatize.
What Decides Your Kilimanjaro Success Rate Is Your Determination to Succeed Along With the Right Guidance of the Right Tour Operator
Top Kilimanjaro Routes Success Rates
While talking about the Kilimanjaro Success Rate, there are six Kilimanjaro Routes those have highest success rate with high acclimatization profile.
Lemosho Route Success Rate is 90% and has longer path which takes 7 to 8 days for summit. It starts from the west direction of Kilimanjaro.
Northern Circuit Route Success Rate is 95%, which is highest among all the routes. Approaching from the southeast direction of Kilimanjaro, this route is a straight route directly to the top having high acclimatization profile.
Machame Route Success Rate is 90% and has many ups and downs path. This route offers "climb high and sleep low" profile and approaches from south direction of Mt. Kilimanjaro
Marangu Route Success Rate is only 65% because of unpreparedness of hikers and famous as "tourist route". Famous for only route providing hut accommodations, this route approaches from southern direction of Mt. Kilimanjaro.
Rongai Route Success Rate is 85% and the only driest northern route which can be visited all around the year.
As the toughest route among all routes, Umbwe Route Success Rate is 75%. It is the most challenging and steepest route approaching from southern direction.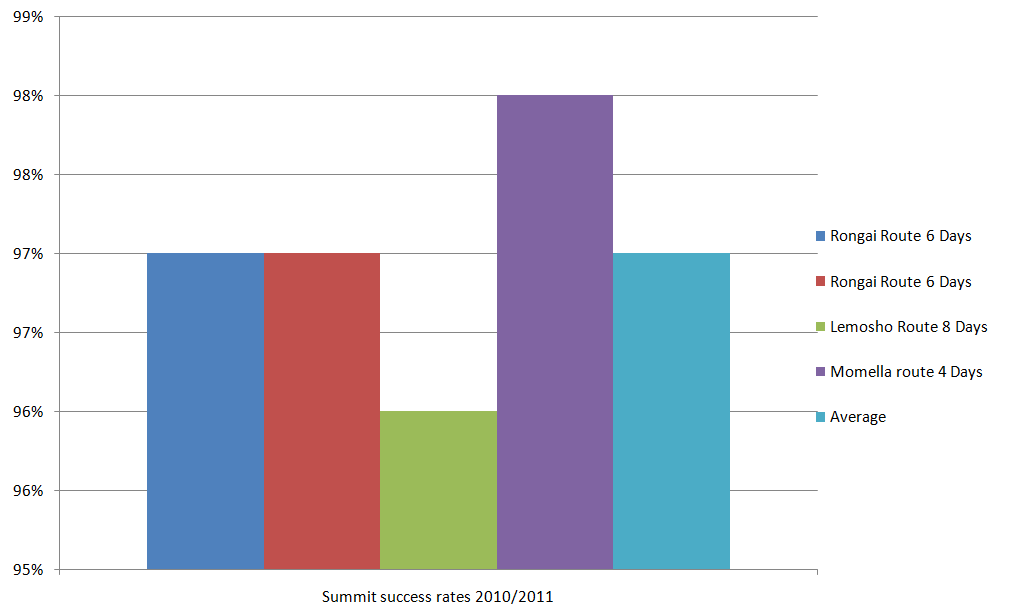 Comparison between Various Kilimanjaro Routes Success Rates
You can choose the most suitable route from 6 Kilimanjaro routes; Machame Route, Marangu Route, Lemosho Route, Northern Circuit Route, Rongai Route and Umbwe Route. The Kilimanjaro routes have panoramic views which make the climb still more attractive.
To see Kilimanjaro Success Rate on the view of route, you should go for itineraries and acclimatization profile of Kilimanjaro routes.
5 days route will give you 60% - 70% success rate.
6 days route will give you 65% - 70% success rate.
7 days route will give you 75% - 80% success rate.
8 days route will give you 80% - 90% success rate.
9 days route will give you 85% - 95% success rate.
Kilimanjaro Success Ratings Of Different Routes Are:
Lemosho Route Success Rate: 90%
Northern Circuit Success Rate: 95%
Marangu Success Rate: 65%
Rongai Success Rate: 85%
Machame Success Rate: 90%
Umbwe Success Rate: 75%

Which Kilimanjaro Route Has The Highest Success Rate?
Northern Circuit Route has the highest Kilimanjaro Success Rate which is 95% and approaches from south of Kilimanjaro. It is the newest and longest route which offers the most spectacular view of overall 360 degree scenery of Mount Kilimanjaro. Climbing Mount Kilimanjaro on this route takes 8 to 9 days for the summit.
Top Tips for Kilimanjaro High Success Rate
It's all about the right Kilimanjaro Route: There are 7 different routes to climb the great summit. Choosing the right Kilimanjaro Route helps you achieve a high success rate on the mountain.
Train Well For Kilimanjaro: Emphasise on training your body on the ability to adjust to changing atmosphere in the summit. Physical training such as a proper exercise regime including strength training, aerobics, climbing, running, and more are useful.
Go wild and expect the Unexpected: Uncertainty is the norm on the mountain so be prepared to eat Kilimanjaro food, sleep in camps and pee and go for loo outside of your comfort zone.
Carry The Right Gears: Quality equipment and gear are essential to help you reach the top of Kilimanjaro successfully.
Drink Plenty Of Water: The only way to avoid altitude-related sickness is to drink plentiful water. Carry at least 3-4 liters of water daily on your trek.
Be Aware of the Signs of Altitude Sickness: Jerry Tanzania Tours experienced Climb Kilimanjaro Guide will help you acclimatize well and check your health daily to detect the signs of altitude sickness. It can be avoided by taking time to acclimatize on the changing climates of the mountain.
Keeping a Slow and Steady Pace is Essential: walk slow and reach great heights. Climbing Kilimanjaro is not a competition and climbers need to take time to go in the long run.
Factors influencing Kilimanjaro Success Rate

01

Are you being accompanied by Expert consultants?

On Mount Kilimanjaro you need some of the best advices to cross all hurdles successfully. Where do you expect to get this from? Of course from our Kilimanjaro Experts who have climbed the mountain more than 200 times and have accompanied numerous group tours up the summit. This is also beneficial in enhancing your summit success rate on the mountain.
02

Are you giving time for Acclimatization on the summit?

The best thing to do on the mountain is to acclimatise well, to achieve the highest success rate. We at Jerry Tanzania Tours advice you to take a day or two to acclimatise well. Your body needs ample amount of time to adjust to the physical changes occurring in the immediate environment. This is essential on the mountain as you will be experiencing almost 5 climatic zones on the mountain.
03

Are you being provided with the right food, gear and Shelter?

What you need to make sure before Kilimanjaro Climbing is if you are carrying the right gear for the hike. The Kilimanjaro Food you eat, the tents on the mountain you spend your nights at are immensely essential to achieve maximum Kilimanjaro success rate.
04

Are you physically and mentally prepared to reach the peak?

Apart from this you need the best mental and physical preparedness to reach the peak. Why so? This is because even though you are extremely fit to climb the mountain but are doubtful or have thoughts of possibilities of not being able to reach the summit, then there are high chances you will return half way from the mountain.
Understanding Kilimanjaro Success Rate through recent studies
As per a research conducted by Wilderness and Environmental Medicine, on "Determinants of summiting success and Acute Mountain Sickness on Mt. Kilimanjaro (5895m)", the average Kilimanjaro Success rate on the mountain is 61% while over 77% of the climbers developed Acute Mountain Sickness (AMS).
Apart from this the research also showed that the trekkers who used acetazolamide were less likely to develop AMS and are more likely to summit compared to those who do not take acetazolamide.
In case of climbers who took an extra day to acclimatise, along with the use of acetazolamide, had a higher chance of avoiding symptoms of AMS compared to those without who didn't take a day to acclimatise.
Factors affecting ascent of Kilimanjaro
01

Physical characteristics and physiology

According to the findings:
There was no difference in physical or physiological behaviours of the successful or unsuccessful climbers on the summit.
However a higher level of SaO2 was seen in trekkers who took acetazolamide compared to those who didn't.
02

Comorbidities

Comorbidities is a condition in which there is more than one disease present in a person. As per the study:
Six trekkers had treated hypertension, of which 3 (50 %) made it to the summit (none taking acetazolamide, all on 4-day ascent route).
Ten trekkers followed up on summit day had asthma, 4 on the 4-day ascent route and 6 on the 5-day route, including 4 trekkers on acetazolamide.
Five (50 %) achieved the summit (3 on the 4-day route and 2 on the 5-day route).
Two out of 4 asthmatic trekkers taking acetazolamide achieved the summit (1 on the 4-day route and 1 on the 5-day route).
Download PDF Guide
Kilimanjaro Sucess Rate
Overall Kilimanjaro Success Rate Analysis
The overall Kilimanjaro Success Rate analysis showed that:
Over 61.3% climbers successfully reached the Uhuru Peak.
While the ones who did not reach the peak, accounted for 16%, who stopped at the Gilmans' Point (5600 m) on the summit crater rim but 1.5 hours walk to the summit.
Over 14.4 % of the climbers descended at various points between setting off from 4700 m and 5600 m (Gilmans' Point),
And over 8.3 % failed to leave the final hut at 4700 m.
The overall incidence of AMS during the summit attempt day was accounted to be 77 %.
Discussion the main findings of the study are as follows:
There is a high incidence of AMS on Mt Kilimanjaro;
Many trekkers will be unsuccessful in reaching the summit; and
Acetazolamide improves summit success and reduces the incidence and intensity of AMS, but only for those on a slower ascent profile.
Best Success Guide & Ratings for Summit Kilimanjaro
For the successful summit, we are providing Climbing Mount Kilimanjaro Guide which you should follow.
For successful summit, dry season from July to September is the Best Time To Climb Kilimanjaro.
Improve your chance for the successful summit by taking guided Training for Kilimanjaro.
Choose route as per your suitability.
Go slowly and take time for acclimatization.
Take essential Kilimanjaro hiking gears.
Keep yourself hydrated.
For successful Mount Kilimanjaro Climbing both physical and mental strength are the most important thing. We hope our given Climb Kilimanjaro Guide as Kilimanjaro Success Rate given by us can help you for a successful climbing.