Though there is no need of any technical skill to climb Kilimanjaro, Success Rate is low because of lack of physical fitness to avoid Kilimanjaro Altitude Sickness.
Kilimanjaro Summit Success Rate Overview
As the tallest mountain of Africa, Mount Kilimanjaro is famous for hiking or trekking activity. Overall, Kilimanjaro Success Rate for summit is 66% while each year, there are more than 30, 000 trekkers attempts for summit. For Climbing Mount Kilimanjaro, there are six routes for the summit.
Kilimanjaro Climb Success Rate not only depends upon the suitability and acclimatization profile of routes, but also depends upon the experience, physical and mental fitness, precaution taken, and quality gears of the trekkers.
What decides your Kilimanjaro success rate is your determination to succeed along with the right guidance of the right tour operator
Top Kilimanjaro Routes Success Rates
While talking about the Kilimanjaro Success Rate, there are six Kilimanjaro Routesthose have highest success rate with high acclimatization profile.
Lemosho Route Success Rate is 90% and has longer path which takes 7 to 8 days for summit. It starts from the west direction of Kilimanjaro.
Northern Circuit Route Success Rate is 95%, which is highest among all the routes. Approaching from the southeast direction of Kilimanjaro, this route is a straight route directly to the top having high acclimatization profile.
Machame Route Success Rate is 90% and has many ups and downs path. This route offers "climb high and sleep low" profile and approaches from south direction of Mt. Kilimanjaro
Marangu Route Success Rate is only 65% because of unpreparedness of hikers and famous as "tourist route". Famous for only route providing hut accommodations, this route approaches from southern direction of Mt. Kilimanjaro.
Rongai Route Success Rate is 85% and the only driest northern route which can be visited all around the year.
As the toughest route among all routes, Umbwe Route Success Rateis 75%. It is the most challenging and steepest route approaching from southern direction.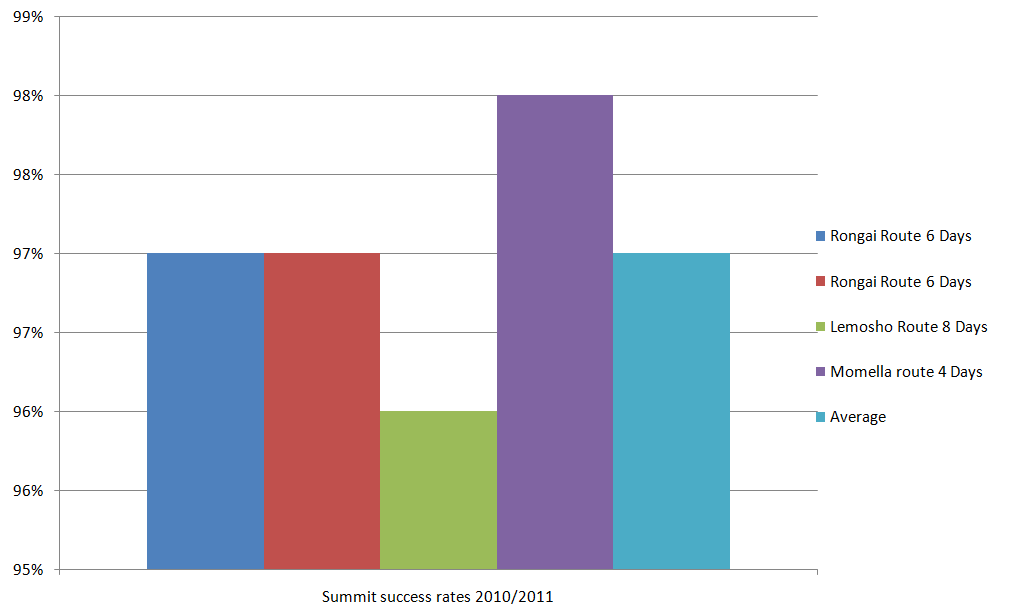 Comparison between Various Kilimanjaro Routes Success Rates
You can choose the most suitable route from 6 Kilimanjaro routes; Machame Route, Marangu Route, Lemosho Route, Northern Circuit Route, Rongai Route and Umbwe Route. The Kilimanjaro routes have panoramic views which make the climb still more attractive.
To see Kilimanjaro Success Rate on the view of route, you should go for itineraries and acclimatization profile of Kilimanjaro routes.
5 days route will give you 60% - 70% success rate.
6 days route will give you 65% - 70% success rate.
7 days route will give you 75% - 80% success rate.
8 days route will give you 80% - 90% success rate.
9 days route will give you 85% - 95% success rate.
Kilimanjaro Success Ratings of different routes are:
Lemosho Route Success Rate: 90%
Northern Circuit Success Rate: 95%
Marangu Success Rate: 65%
Rongai Success Rate: 85%
Machame Success Rate: 90%
Umbwe Success Rate: 75%

Which Kilimanjaro route has the highest success rate?
Northern circuit route has the highest Kilimanjaro Success Rate which is 95% and approaches from south of Kilimanjaro. It is the newest and longest route which offers the most spectacular view of overall 360 degree scenery of Mount Kilimanjaro. Climbing Mount Kilimanjaro on this route takes 8 to 9 days for the summit.
Best Success Guide & Ratings for Summit Kilimanjaro
For the successful summit, we are providing Climb Kilimanjaro Guide which you should follow.
For successful summit, dry season from July to September is the Best Time To Climb Kilimanjaro.
Improve your chance for the successful summit by taking guided Training for Kilimanjaro.
Choose route as per your suitability.
Go slowly and take time for acclimatization.
Take essential Kilimanjaro hiking gears.
Keep yourself hydrated.
For Kilimanjaro successful summit both physical and mental strength are the most important thing. We hope our given Climb Kilimanjaro Guide as Kilimanjaro Success Rate given by us can help you for a successful climbing.