Reaching the Kilimanjaro Summit is the end goal of your Kilimanjaro Hike. Summit day is the D day of your Kilimanjaro trekking expeditions. Standing on the Summit Of Kilimanjaro is one of the most rewarding experiences you can have in your lifetime.
Table of contents
If you can't sleep then better hike away
The Kilimanjaro summit view is absolutely worth the effort
Better time management
It's a long hike
What is the Kilimanjaro summit?
Kilimanjaro Summit Hike is the last leg of your Kilimanjaro Climb. It's the part where you set out to conquer the highest point of Kilimanjaro, Uhuru Peak. It's called summit night by some and summit day by others, and both are justified since the climb starts during the night and ends in the daytime.
In essence, you'll start the hiking from Barafu Camp at midnight and ends late in the afternoon. During this time you trek up to Uhuru Peak and then hike half of the way back down the mountain. It'll be a gigantic day of hiking.
Highlights of Kilimanjaro Summit Climb
Conquer the famous 'roof of Africa'
Embrace a truly life-changing journey
See the sunrise from the highest points in both Kenya and Tanzania
Follow the uncrowded Lemosho route to the peak
Trek through five incredible, unspoiled eco-systems
Walk above a stunning sea of clouds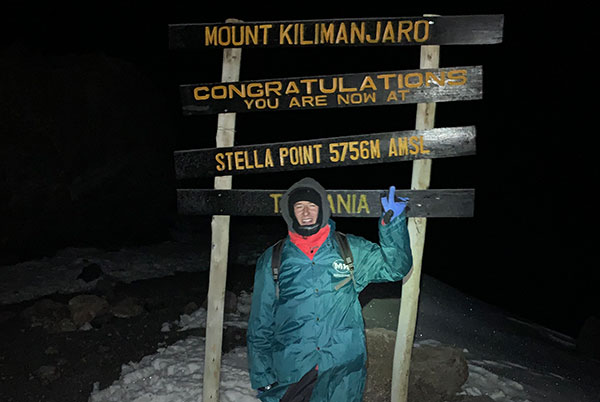 Kilimanjaro Summit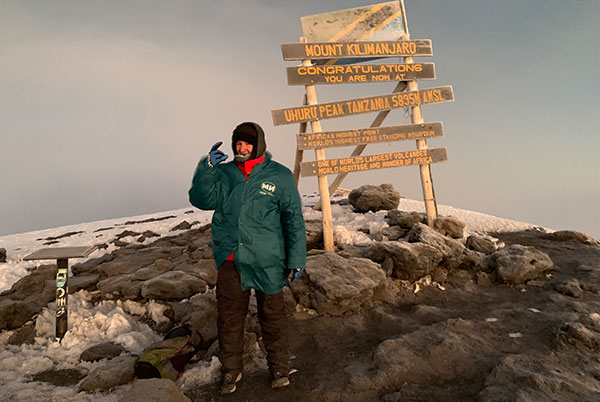 Kilimanjaro Summit
Why Kilimanjaro summit is challenging?
Actually, Kilimanjaro Hike is not difficult per especially if you compare it with other summit climbs. Infect pro-athletes have known to climb Kilimanjaro with ease. However, a Kilimanjaro Hike comes with its own set of challenges and levels of difficulties. And, no matter what, the Summit Night On Mount Kilimanjaro will be a challenge!
So, how difficult is it really to climb Kilimanjaro?
Well, it is a little difficult to answer because there are number of factors that make this a really tough challenge.
First, you will be hiking for at least 6-9 days continuously. This puts a big strain on all your muscles and joints.
Second, at a higher altitude, the oxygen content in the airdrops rapidly. This literally means that with every breath you are getting less and less power. At the Kilimanjaro Summit, each breath has almost 50% reduced oxygen than you would normally have.
Third, summit night is extremely hard. You'll be ascending over 1500m, a descent of nearly 3000m. You're looking at a minimum straight 16-18hours hike.
The hardest part of the Kilimanjaro summit climb
You'll be hiking in bitter cold and extremely harsh conditions!!
Be ready to face fierce winds, as there's no protection at the summit
The prospect of a might night trekking can be mentally daunting
The lack of sleep will make you extremely tired.
It's the steepest part of the entire trek
The scree might be default to walk on
You'll be hiking for around 13 to 16 hours (depending on your route)
The air is thin so breathing will be jiggered.
The altitude can make you feel dizzy or nauseous.
So basically, the major concerns behind a successful Kilimanjaro Summit are altitude sickness and lack of proper acclimatizations. You need to give time to your body to acclimatize to the lack of oxygen in the air while simultaneously getting acquainted with the Kilimanjaro Climate. One reason less than 60% of people make the Summit of Kilimanjaro is they pick the wrong itinerary.
Jerry Tanzania Tours provides the most successful itinerary and acclimatization to ensure a successful Kilimanjaro Summit attempt.
How To Beat Altitude Sickness During Kilimanjaro Summit Climb?
The hike to Uhuru peak is not a difficult hike per se. Experienced hikers are known to complete it in one day. But the real barrier is Altitude sickness. In fact, AMS or altitude sickness is a major concern for all the tourists attempting Kilimanjaro Climb.
Here are some useful tips on how you can beat altitude sickness.
Acclimatize well. Easier said than done if you live at sea level but if you are able to If you can spend time at a high altitude prior to your actual Uhuru climb then this is the very best way to avoid altitude sickness. Many of our tourists choose to climb Mount Meru prior to Kilimanjaro to get better acclimatization.
You should be in top health and excellent level of physical fitness. Because of fatigue, sickness, or stress, you are more likely to get altitude sickness.
Go as slow as possible during the hike. You probably will get sick of listening to your Kilimanjaro Tour Guides "Pole, Pole". But they are right! You are likely to get overexerted if you overdo yourself or push too hard.
Stay hydrated and drink plenty of fluids. Your body will need as much electrolyte as it can get to acclimatize.
Eat well even if you're tired and not hungry. Don't skip meals
You should relax, think positively and most importantly you must sleep well.
Kilimanjaro summit day or summit night?
You can attempt the Kilimanjaro Summit climb on both day and night spending upon your choice of itinerary. Both day and night summit will begin from Barafu camp. But we advise you to set out your summit attempt at night. At first glance, it might sound preposterous to you.
I mean the notion of waking up in the middle of the night to a 16-18 hour trek in extremely cold and harsh conditions is absolutely bonkers! Are we trying to make things even more difficult than they already are?!?
Actually, there's more to it than meets the eye. I promise there are solid reasons behind the early start …
If you can't sleep then better hike away
It becomes extremely difficult to fall asleep at a higher altitude. Because due to the lack of oxygen your breathing becomes shallow and labored. So it's better to set out for an early summit instated of lying awake fidgeting over the mega hike.
The Kilimanjaro summit view is absolutely worth the effort
We time your summit hike to perfection. So you reach the summit just in time for the sunrise. Standing on the roof of Africa, seeing the sun peeping from the horizon is something that can't be described, it has to be felt. Suddenly Climbing Mount Kilimanjaro at night won't feel like a terrible idea at all.
Better time management
By leaving at midnight, you get the luxury of time to go slowly. If you try to go quickly up Kilimanjaro then you're more likely to suffer altitude sickness. Which may cause you to turn back. Usually, the summit to Uhuru Peak takes 7-8 hours and then hike back down for another 2-3 hours. This gives you ample time to take a nap in your tent and regain the energy to make the trip down to Millennium Camp.
It's a long hike
You cover a lot of ground for your summit attempt. Regardless of your base camp, you'll have a long climb ahead of you, followed by a long descent. It's harmful to spend a longer period at a higher altitude. So, after a short resting spell, you must descend to a lower camp, meaning plenty of downhill hiking.
Schedule for Kilimanjaro Summit Hike
Summit attempt will be tough. It will be a 12-16 hour hike. But this mammoth effort is what makes climbing Kilimanjaro an achievement. It begins very early as Kilimanjaro guides try to time their trekking party to reach Uhuru Peak at sunrise.
After you arrive at the Base Camp for the final preparation, you will have an early dinner followed by our regular briefing on how to dress for the summit. On this day you will go to bed earlier than on other days.
Our Kilimanjaro Guide will wake you up a little after 11:00 p.m. then you will get ready and have a light snack. You will be beginning your summit attempt at midnight.
You'll begin your ascend in the cold and windy darkness. It goes without saying that under these conditions, climbing is difficult, especially on loose rock and very steep slopes.
You'll reach the Uhuru peak summit just in time of dawn. There you will enjoy the awesome sunrise and the view up from the top. After the due celebrations and superb clicks, you'll begin your descent to either Barafu or Kibo Hut. There, you'll be eating lunch. Then rest a bit to regain your strength.
It is unwise to descend immediately after summiting. Because that is where most people get tired. you need to consider last night's lack of sleep, the expenditure of energy required for the successful summit to the peak, and especially the strain put up by long-distance covered that day. After a while, we'll continue the descent to a much lower camp. This is completely normal.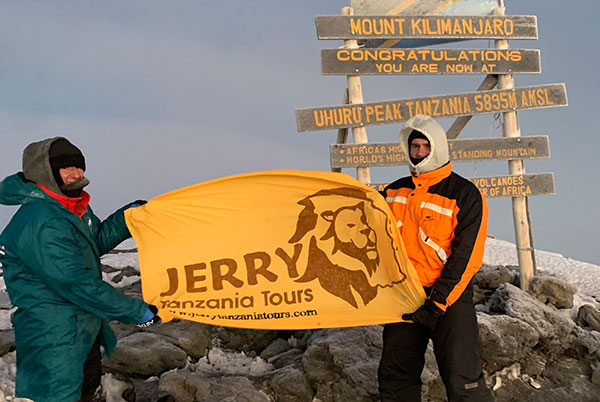 Kilimanjaro Summit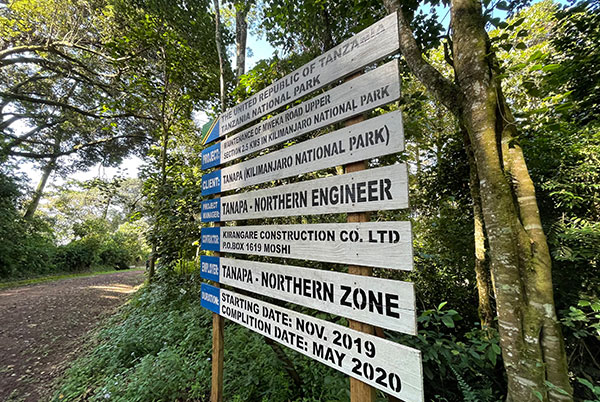 Kilimanjaro Summit
Summit day Kilimanjaro bid vs Kilimanjaro summit night bid
Kilimanjaro Summit Night Bid (approximate overview)
12 AM: After dinner, rest for a few hours; at midnight, our guide will wake you at might night. Freshen up, have some hot beverages and a snack. Put on your headlamp and head outside; you have a long night ahead of you!
3 AM: If you look up you'll notice the line of glowing headlamps snaking up the trail just like a human highway to the top.
4 AM: Take a long deep breath; for you're facing the foremost difficult section of your summit bid: the slopes are steep and are covered on slippery scree all the way up to Stella Point.
5:30 AM: You're beginning to get bone-tired from the steep slopes and therefore the altitude, but the sight of the sun rising behind the crags and spires of nearby Mawenzi gives you a renewed energy to keep going!
6 AM: You've done it. You've reached Stella Point: You're done with the steepest part of your climb! Take a break, have some drink or a light snack, feel the warmth of the morning sunshine on your face, and brace yourself for the final push to Uhuru Peak!
7-7:30 AM: Congratulations! You've reached the Summit! It will be crowded with other hikers, and therefore the air is very thin, after clicking few pictures, begin your descent back to Stella Point.
8 AM: It's so much easier descent from Stella Point, your pumping adrenaline will help at the "direct" route down the mountain… "scree-skiing!"
10 AM: Your body starts to feel better with the decreasing elevation. Refuel yourself with an early lunch for the remaining hours of hiking into camp.
3-4 PM: Arrive at your camp. Pounder upon the memorable hike over a cup of tea. After all, it was a long and difficult day, but you probably did it!
Daytime Summit Bid (all times approximate)
5 AM: Wake up, have some hot coffee/tea and enjoy breakfast in camp. You'll set out with the first light.
11 AM: Take a quick breather along the scree switchbacks that lead to Stella Point. Refuel yourself to some beverage and a picnic lunch.
12:30 PM: Phew! Finally, you've reached Stella Point, the steepest part of the trail is over now; from here it will get easier.
2 PM: Congratulation! You've done it. You've reached the Summit! Take your time at the top, click pictures, and celebrate with your fellow trekkers!
3 PM: Descend into Crater Camp in the quickest possible route: scree-skiing!
3:30 PM: Take some rest at Crater Camp. Refuel with tea and popcorn.
4 PM: Explore the sparkling glaciers, the ash pit.
6 PM: Dine in with your fellow trekkers. Have some hot tea to stay you warm and hydrated within the dry, cold air of crater camp.
How long would you be spending at the summit?
Most people get baffled they find out that you spend about 15 minutes or so at the summit. "But why?! We go all this way to spend just 15 minutes at the top?"
Again, there's a reason behind this. First and foremost, it is unwise to hang around at the summit for long because it's cold and you are at an alarming high altitude. Generally, after 15 minutes of high fives, photographs, and soaking in the view, people want to start moving again to warm up and avoid feeling sick.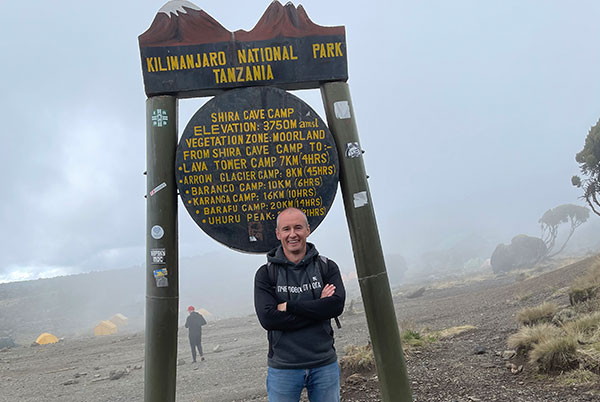 Kilimanjaro Summit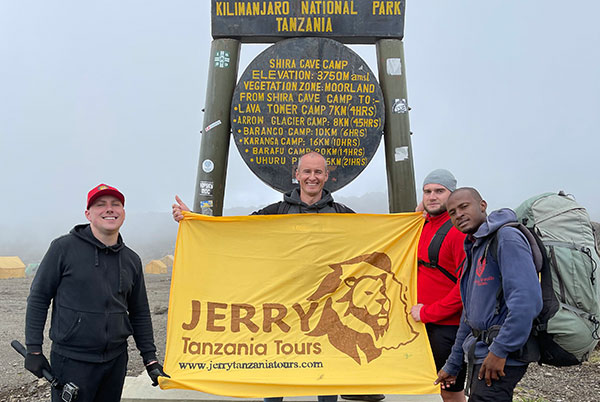 Kilimanjaro Summit
Top Tips To Increase Your Kilimanjaro Summit Success Rate
In order to attempt a successful summit to the breathtaking Uhuru Peak, it is important for you to prepare thoroughly. These are some preparation ideas that we think might help you.
We advise you to choose at least an 8-day tour. Granted it can be done in five days or less. But an eight days Kilimanjaro Tours offers the best chance for success, considering the struggle of altitude sickness, the most challenging aspect of the hike.
You should pack sensibly. You need to take into account wildly fluctuating Kilimanjaro temperatures. Warm layered clothes, air mattresses, and comfortable sleeping bags, and snow boots are a must.
Work on your fitness and build up your endurance label before starting your Kilimanjaro Climb.
Get proper vaccinations. Consult your doctor back home and go for a thorough check-up.
The best route for Kilimanjaro Summit Hike
You can travel to Uhuru Peak via a number of routes. Though all routes vary in degree of difficulty, scenic beauty, and traffic. The Marangu Route & Rongai Route is considered to be the best suitable route. While the Machame, Shira, and Lemosho routes are considered to be the most difficult.
Best time to for Kilimanjaro Summit Hike
The dry season is the best time for Kilimanjaro's Summit climb. January, February, July, August, September, October are ideal to increase your Kilimanjaro Success Rate.
Full moon Summit climb with Jerry Tanzania Tours
At Jerry Tanzania Tours we also offer full-moon summit climbs. True to its name, these Kilimanjaro climbs are timed so that summit night takes place under a full moon. This is a truly special way to climb Kilimanjaro, as the moonshine illuminates your entire path as if you're walking under the glitzy bed of diamonds.
Our Kilimanjaro Climbing Packages are specifically designed to time your arrival at the Uhuru peak just as the sun rises. The views are often overwhelming. In fact, a few of our visitors were so moved by the experience that they had tears in their eyes.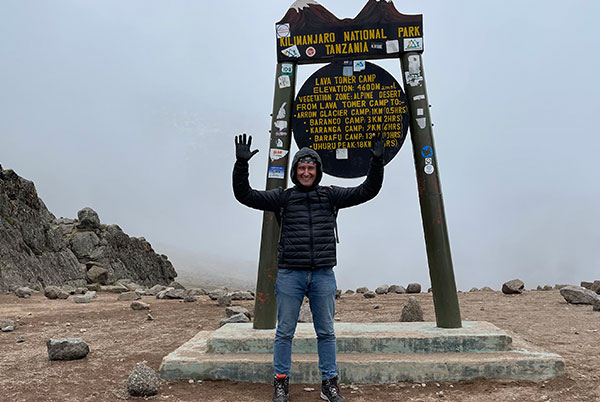 Kilimanjaro Travellers Experience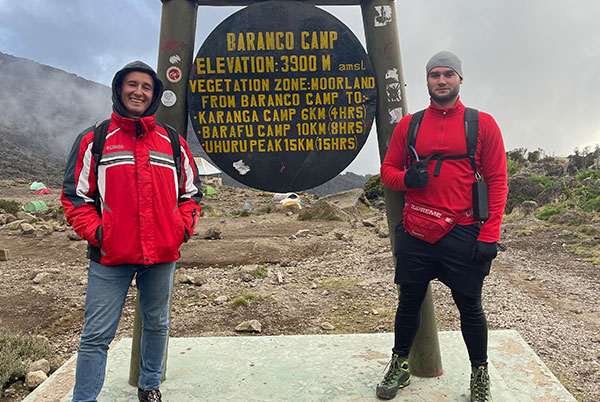 Kilimanjaro Travellers Experience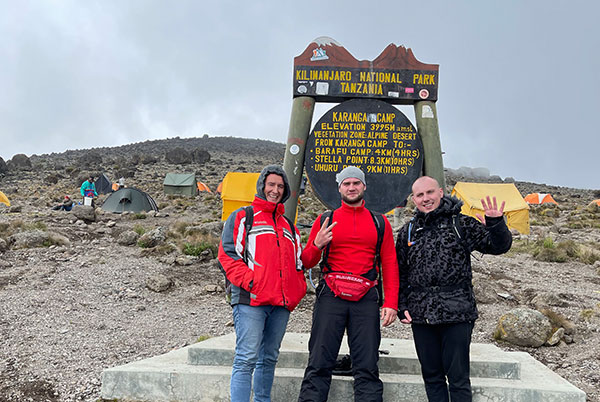 Kilimanjaro Travellers Experience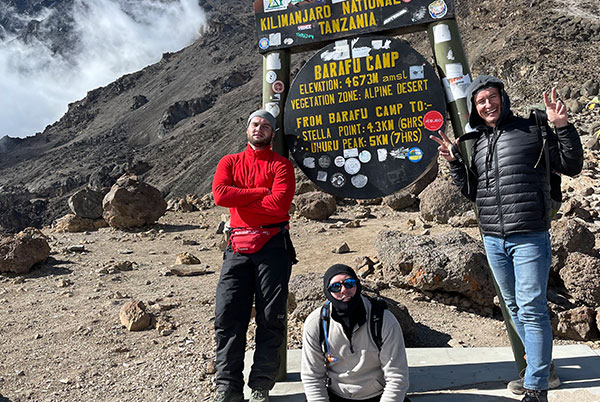 Kilimanjaro Travellers Experience
Related Kilimanjaro Searches
Get your FREE eBook
Enter your name and emailto get your FREE eBook
You can unsubscribe anytime For more details. review our Privacy Policy