How far would you go to fulfil your desire for Climbing Kilimanjaro Solo? We know thousands of climbers who make savings for years and prepare for months to accomplish this eternal desire of Climbing Mount Kilimanjaro. We at Jerry Tanzania Tours are here to fulfil this ultimate trekking dream of yours once and for all!
Does Kilimanjaro Solo Climb Mean You Are Climbing Kilimanjaro All Alone?
Many climbers believe that on a Kilimanjaro Solo Climb they will not be accompanied by any other climber. But what about the Kilimanjaro Guides and porters? There is no way you will be authorised to make the Kilimanjaro climb without the certified guides and experienced porters.
Why do many trekkers choose Climbing Kilimanjaro Solo?
Have you ever wondered why so many climbers are choosing Climbing Kilimanjaro Solo tours? We have been intrigued by this as well and here are some factors that affect the decision of climbers in choosing Kilimanjaro solo tours:
The desire for being alone all by themselves on the mountain. Yes, the solitary lovers will relate to this and are the ones who choose Kilimanjaro solo climbs just for being quiet and alone on the mountain.
For a more convenient climb. As the private climbs on mountain provide them with the utmost luxury climb choices helping them to choose the personalised itinerary, Kilimanjaro food of their choice and more.
Many travellers therefore simply love Climbing Mount Kilimanjaro all alone.
Climbing Kilimanjaro Solo is most of the times a private tour unless you choose to hop into a Group of fellow Kilimanjaro solo travellers. We have discussed the pros and cons of private and group climb in detail below. If you are Climbing Kilimanjaro Solo because you do not have anyone to climb with you, we would recommend you to join a group tour with us.
Many climbers ask us - Can You Climb Kilimanjaro Solo? As there are guides, porters, cooks with you, you are not alone on the mountain. For the beginners and hikers who want to climb Kilimanjaro solo, our Solo Traveller's Guide to Kilimanjaro will guarantee you success.
Fulfil Your Desire Of Climbing Kilimanjaro Solo With Our Detailed Private Tour Plans That Make Your Trip Affordable And Unique.
What are the Risks involved in Climbing Kilimanjaro Solo?
Mount Kilimanjaro at 19,341 feet is considered 'very high altitude', by the standards of mountaineering.
This means the chances of altitude sickness (vomiting, headaches, and fluid accumulation) or death (approximately 1 to 10 annually depending on who you ask) is high and increases with every 1,000 feet.
Mount Kilimanjaro trek can be completed in a week and there is no technical Kilimanjaro Climbing knowledge necessary making it the most assessable of the Seven Summits of the world.
Well, honestly there are three ways one could choose to end a Kilimanjaro trek – successfully summiting, being dragged off the mountain, or volunteering to end your trek.
The choice mostly is not in your hands but the right planning and preparation can make this dream a reality and we will tell you how!
Why are the Kilimanjaro Preparations necessary for solo climbers?
Preparing to climb Kilimanjaro in the right way is the most important aspect to keep in mind. This along with the Kilimanjaro training process is mostly time-consuming and determination-testing for many climbers.
But proper training and preparation are essential to minimize the chances of altitude sickness.
We suggest you focus on elevating your cardiovascular fitness, opt for strength training, and try more aerobic exercises.
The best exercise is hiking with a backpack. Although this should be done at least a month before the actual climb.
The reason this is essential is that it helps you minimise Kilimanjaro Altitude Sickness.
You can also use Diamox to minimise altitude sickness while on the mountain.
Why choose a Trekking company for solo Kilimanjaro climbs?
What Kilimanjaro Solo Climb can offer is long-standing stress regarding the entire trek planning. What you can otherwise choose to do is trek Kilimanjaro with the best tour operator in Tanzania such as Jerry Tanzania Tours.
With us, you will experience the ultimate joy of climbing Mount Kilimanjaro, save your Kilimanjaro Climb Cost, know the Best Time To Climb Kilimanjaro and get the most essential details of Climbing Mount Kilimanjaro Guide for Beginners.
The reason why we are the best at planning for some of the amazing treks on the mountain is we do not give you a chance to complain and organise every single detail on our own.
You will have an ample amount of time to get on with your life and organising the nice things like buying your Kilimanjaro gear and trail snacks.
What are the factors we need to consider for Kilimanjaro solo climbs?
Kilimanjaro Safety For Female Solo Travellers
Best Time To Climb Kilimanjaro
Kilimanjaro Success Rate For Solo Climbers
01

Kilimanjaro Climb Cost

What impacts most Kilimanjaro solo climbers is the Single supplement for accommodation in the hotels in Moshi/Arusha or camps on the mountain.
But how about being paired with another traveller of the same sex to share a room & tent during your adventures?
This is a great Kilimanjaro climb cost-saving solution for Kilimanjaro solo climbers.
You won't have to pay anything extra. But if you do prefer your room or tent you can pay a little extra.
02

Kilimanjaro Safety for Female Solo Travellers

Wondering if Climbing Kilimanjaro Solo is safe for female travellers?
With Jerry Tanzania Tours climbers of all age group and sex are completely safe and we assure them fully guided tours from start till the end of Mount Kilimanjaro climb.
Also, we are aware of the concerns that female solo travellers may have and therefore we keep their Kilimanjaro Safety as our top priority.
03

Private or Group Climbs – which one to choose from?

If you are a Kilimanjaro solo climber, you will be provided with choices of private or group climbs on the mountain and both have their pros and cons.
While Climbing Kilimanjaro on private tours may be expensive, the group tours help you save on your Climb Kilimanjaro Cost to a great extent.
But on group climbs you will not be Climbing Kilimanjaro Solo. You will be accompanied by 8-10 other climbers.
Choosing cost over privacy or vice versa is always your choice.
04

Best Time To Climb Kilimanjaro – During Peak Or Green Seasons

If you are wondering if Climbing Kilimanjaro Solo is better during the Peak or the Green seasons, we have some specifications for you:
While Mount Kilimanjaro Climbing is cost-effective during the Green season (December to mid-March) it is quite the opposite during the Peak season (June to mid-October).
Also if you wish to avoid the crowd we suggest you climb Kilimanjaro during the Green season as it is less crowded during this time.
05

Kilimanjaro Success Rate For Solo Climbers

There is no specific study to prove if Kilimanjaro solo climbers are more successful in summiting the mountain compared to the group climbers or not, but we have an observation.
The private tours that we arrange for Kilimanjaro climbers are more successful compared to group climbs.
The reason for this may be because the training, preparation and effort that goes into guiding a single person up the summit are way more than accompanying 10 other climbers in group climbs.
However, in group climbs as well Jerry Tanzania Tours has effectively offered a Kilimanjaro Success Rate of 95% on the mountain.
The Ups in joining a Kilimanjaro Group Climb
Group climbing has its advantages and disadvantages.
If you can find any Kilimanjaro group that runs on a particular date which would be convenient for you.
We would recommend you to join the group if you do not have anyone to join with.
Climbing Kilimanjaro Solo Femaleor male is the same thing whereas; in a group it's different.
The group cost will reduce the Climbing Mount Kilimanjaro Costas the cost of divided to each climber by the tour operator.
You can meet more people and also make bonds and relations easily as you will the like-minded people climbing together.
Being in a group you will get much-needed support from the fellow climbers and this will be a mutual motivation to the summit rather than Climbing Kilimanjaro Solo.
The Downs in Joining a Kilimanjaro Group Climb
When you are joining a group trek to climb Kilimanjaro, you will not have an option to customize your trip.
You will need to adjust to the trip which is chosen by other fellow climbers.
You may have to adjust to the walking pace of others. The pre-scheduled group tours run on a fixed scheduled and sometimes it may not be convenient for you.
In case of Climbing Mount Kilimanjaro For Beginners, we will suggest joining in a trekking group after received by your trekking operator.
However, you will be able to customize the private climbs. We can also guide you How to Climb Kilimanjaro without the Crowds for making your summit success.
The Pluses of Kilimanjaro Solo Climb:
The main advantage of Climbing Kilimanjaro Solo is; you can set your schedule and it means that you have the full flexibility to go where you like.
You can customize the itinerary if you have something which you do not like or need to change or schedule for any reason.
All items will be set according to your requirement
You can also take the tour at your own pace.
The Minuses of Kilimanjaro Solo Climb:
It is a bit more expensive compared to group climbs
You will need to pay a single person supplement
You will not get any group bonding experience
It can be a rather lonely experience if you go alone.
If you are Preparing To Climb Mount Kilimanjaro, here are some preparation tips whether you are Climbing Kilimanjaro solo or with a group.
Kilimanjaro Preparation Tips:
The training for Climbing Mount Kilimanjaro would test your determination.
To minimize the chances of altitude sickness, you will need to focus on cardiovascular fitness. You can opt for swimming, running, hiking and walking.
You can use Diamox, which is an altitude sickness medicine that causes frequent urination and every over the counter medication.
Your physical fitness is important while climbing Kilimanjaro and makes it easy to climb and increase the possibility of Kilimanjaro Success Rate.
You will need to start preparation before 2 weeks of climbing Kilimanjaro.
You can get into a normal in the park for 5-6 miles or hike a short hill or trek a short mountain.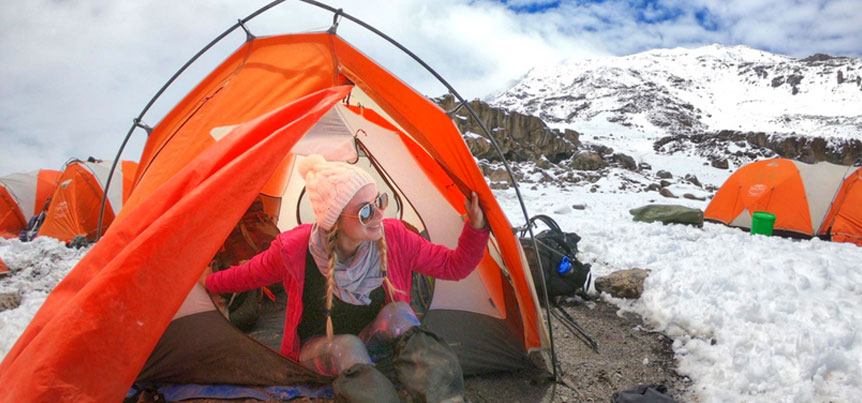 It's not only physical stamina also mental stamina which matters while Mount Kilimanjaro Climb. It will be a real help on your summit attempt.
The type of fitness is more important compared to others.
Jogging would also be beneficial for fitness level.
It is always recommended that you should warm-up before any exercise and do a lot of stretching movements to warm up, strengthen the ligaments, joints and muscles.
Why Plan a Solo Kilimanjaro Climbing trip with Jerry Tanzania Tours?
If you have planned for climbing Mt. Kilimanjaro solo, then we are giving you the best Climb Kilimanjaro Guide to make your summit success. Climbing Kilimanjaro without a Guide or Porter is not possible according to the rules, but the plus side is you are not going feel lonely up there on the mountain.
To know more about Climbing Kilimanjaro Solo with Jerry Tanzania Tours, contact us now and speak to our travel experts today!