Preparing To Climb Mount Kilimanjaro, the highest peak of Africa and the tallest free-standing mount in the world, one needs to gather information on Climbing Mount Kilimanjaro, and it's best routes. If you are wondering how to prepare to climb Kilimanjaro, we have the answers for you listed further here. Climbing Kilimanjaro to reach 5,895m above sea level is not an easy task to do. It is also one in the seven summits of the world and Kilimanjaro is the only mountain which do not require any technical skills or any special Kilimanjaro preparation.
So, How to Prepare to Climb Mount Kilimanjaro and what is the best time to climb Kilimanjaro? You will need to start months prior to prepare to climb Kilimanjaro.
It's important to strengthen your mind and body while preparing to Climb Mount Kilimanjaro.
How do I prepare to climb Mount Kilimanjaro?
There are several factors to be considered for Climbing Mount Kilimanjaro For Beginners as well as professional hikers. There are lot of answers but not that satisfactory. So, we have made a proper research and prepare a list of important things as Kilimanjaro Preparation Guide
When is the best time of the year to climb Kilimanjaro?
Climbing Mount Kilimanjaro can be possible all year around and all the Kilimanjaro routes will support climbing Kilimanjaro round the year. As Kilimanjaro is near to equator the region experiences a very less extremes of winter and summer weather, rather it has wet and dry seasons. Hence, the Best Time to Climb Kilimanjaro is dry season which is warm. It is advised to avoid climbing Kilimanjaro during wet season for beginners. However, if you are with a professional climber and have all the safety precautions taken, then climbing Kilimanjaro in wet season would be really adventures.
This also depends on your preference of Kilimanjaro Routes. You will need to choose best Kilimanjaro route and also choose a longer itinerary for better acclimatization.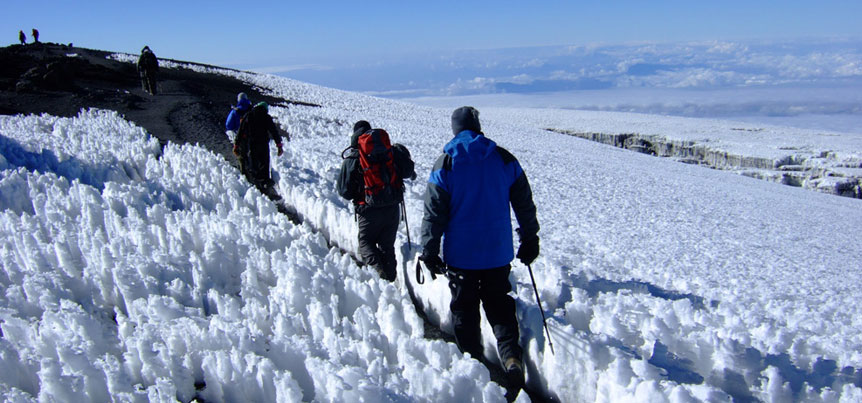 How long does it take to climb Kilimanjaro?
You can choose your comfortable and preferred time for Climbing Mount Kilimanjaro. However, we would highly recommend you to take an 8 days or 9 days itinerary if you are a beginner and 7 – 8 days if you are a professional climber. The extra days will give you time for proper acclimatization and allow you to get adjusted to the climatic and weather conditions on the higher altitude. Hence, prefer 8 – 9 days while climbing Kilimanjaro. The day's preference also depends on the route preference, the Lemosho Route and Northern Circuit Route gives you 8 – 9 days and Machame Route and Marangu Route gives you 7 days. However, you can opt for an additional day for proper acclimatization. The number of days also depends upon How Fit to Climb Kilimanjaro.
Which Kilimanjaro route of suitable for you?
All the Kilimanjaro Route has its own unique attractions. Some gives you more time to climb, while some allows you to ascend very quickly. Some of the routes has highest success rate with 97% while some has 60-70% success rate. So, you need to check the detail specifications of each route while Preparing To Climb Mount Kilimanjaro. The Machame Route is a bit difficult compared to Marangu Route but has the highest success rate with 80-85%. The Lemosho and Northern Circuit Route has longer itinerary which allows you to sleep in the lower elevation and spend more time on mountain. It also gives you more time for proper acclimatization which also helps in summit success rate with 95% and above. The Rongai Route is the only route starting from the north and cross the diverse wilderness at the starting point
So, it is your preference to choose the Best Route To Climb Kilimanjaro according to your choice.
Preparation for higher Altitude:
Preparation is better than regret. The best Kilimanjaro operator will give you all the details for Preparing To Climb Mount Kilimanjaro for Higher Altitude.
It is advisable to pre-acclimatize yourself before attempting Mount Kilimanjaro, Mount Meru would be a good option for pre acclimatization before Climbing Mount Kilimanjaro.
You will need to choose the Best Kilimanjaro Routes which will give you additional time for acclimatization. Make sure that the route allows for a good climb high, sleep low opportunity.
It is always recommended to go as slowly as possible, do not overexert yourself, even on the lower elevations to avoid Kilimanjaro Altitude Sickness.
Drink sufficient fluids (4 litres a day)
Avoid drinking alcohol, taking stimulants, smoking or consuming caffeine on the mountain.
Do You Need To Train for Kilimanjaro
Yes, you need training to meet the demand for fitness to climb Mt. Kilimanjaro; you need to join Kilimanjaro Fitness Program which should include physical stamina training, strength training, progressive resistance training, etc.
Include Aerobic exercises, running on treadmill, strength training, hiking, walking "up & down", and breathing exercises in Kilimanjaro Training Plan.
Hydration is so important on Kilimanjaro:
Yes, staying hydrated will definitely help to prepare to climb Kilimanjaro. It is advised to drink water regularly while you are Climbing Mount Kilimanjaro. Symptoms of dehydration is similar to Acute Mountain Sickness. You will need to drink adequate water and not extra water. Too much of water may also be harmful as it can dilute your body's sodium level which may further cause weakness, confusions, seizures, and coma. The best way to check your body's hydration level is to check your urine. Clear urine indicates adequate hydration and dark urine indicates dehydration and need to drink more water.
What are the toilets like on Kilimanjaro?
All the campsites have toilets and most of the toilets in Kilimanjaro are long drops. There are operators who provide you the hygiene toilets and you can also hire your own toilet and a porter to take it up to the mountain for you. It is also affordable and better if you are in a group and worth considering for extra comfort.
What gear should I pack for Kilimanjaro?
The right gear will help you to reach the summit of Mount Kilimanjaro in an ease. Your Kilimanjaro Gear List should consist of all the essential items rather than luxuries. Do not carry everything which you get to pack, as you should be carry it to the top of the peak. Make sure to leave behind all the expensive items, ornaments and other sensitive items.
There are few things which we have listed in your gear list as per Climb Kilimanjaro Guide:
Clothing
4-5 pairs of underwear
Top and bottom base layer
4 short sleeve and 20 long sleeve trekking
Shirts
2 pair hiking trousers
1 fleece jacket
1 insulated winter jacket
1 insulated trekking pants
1 hard shell jacket
Lightweight raingear
Headgear
Sun hat with neck cover
Fleece Headband
Bandana
Headlamp
Sunglasses
Hands and walking
Lightweight inner gloves
Warm outer gloves
Adjustable trekking poles
Footwear
Bags and daypacks
80-90L waterproof duffle bag
20-30L Daypack
Daypack rain cover
Travel bag Organisers
Sleeping
4 season sleeping bag
Insulated sleeping mat
Inflatable pillow
General accessories
Water bottle
Water purification tablets
Baby wipes
Sweat resistant Sun cream
Insect repellent
General medications
Technology
Camera
Spare batteries and Camera memory card
Others
Energy bars
Energy drinks
Trekking towels
Toiletries
What electronic gadgets should I carry to mountain?
When Preparing To Climb Mount Kilimanjaro, It is recommended to take only the essential gadgets which will be in real use on the top of Mount Kilimanjaro. The gadgets should be in your daypack and you will be the only one to carry your daypack throughout the climb. The gadgets will be helpful in various ways, like communications, music, photograph, longer view and many more. We have listed a few essential Electronic Gadgets on Kilimanjaro you should keep with you while climbing Kilimanjaro:
Mobile Phone– It can be carried as a multipurpose as mobile phones can be used as a mode of communication, used as camera, torch, navigation and many more.
Camera – It is the most important gadget to capture memories through the trip.
Power Bank – It can give your phone more life and help your communication to continue.
Solar Charges– As Kilimanjaro has more sunny days, a solar charger would be of real use as it do not require any external plugins. It charges from solar energy and can be useful at night time.
Earphone – You are climbing 5000 ft above sea level and Definity you will be bored at time. So, grab a earphone and listen to your favorite music.
This guided preparation can improve your possibility to reach at summit without facing any hurdle. It will be helpful for both new and experienced hikers. Enjoy Climbing Mount Kilimanjaro with us and leave the way for Preparing To Climb Mount Kilimanjaro up to us.