Ensuring that you will be amazed at the variety, quality & quantity of the Kilimanjaro Food we serve to you and fully fuelled for Climbing Mount Kilimanjaro is paramount - so you've enough energy to get to the top. As you are climbing between 6-9 hours a day, you'll be burning a lot of calories - and as you are at altitude - even more than you would at sea level.
Generally, there are questions related to food "What Do You Eat On Kilimanjaro", like who will cook and what quality of Kilimanjaro Food for us during the climbing.
Our professional and well-acknowledged guides, porters and cooks are fully responsible not only for your safety but also for your health. As our guarantee, you will get the best quality of delicious Kilimanjaro Food.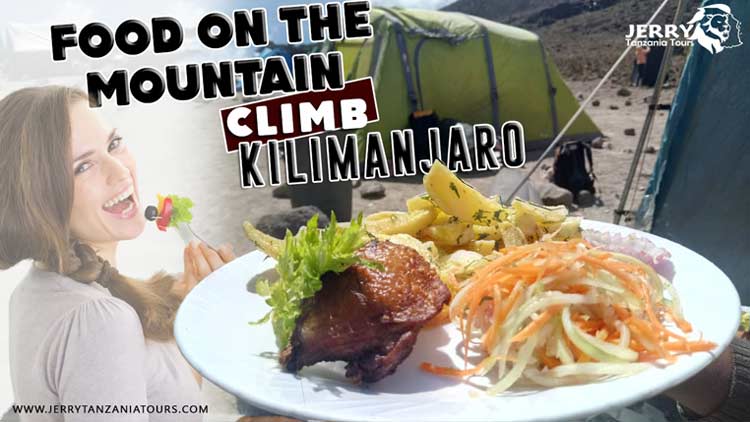 What drives all diligent trekkers up to the Uhuru peak is their optimism and of course even more precious – Kilimanjaro Food, that keeps them going.
What Do You Eat and Drink During Climbing Kilimanjaro?
Climbing Mount Kilimanjaro needs the physical fitness and strong willpower which you can only get from the hygienic nutritious food.
When you climb to the highest free-standing peak of the world with a responsible trekking company like Jerry Tanzania Tours we make sure everything goes perfect on the trip. While it comes to Kilimanjaro Food, we are not only conscious about your taste but also think about a proper diet that will supply enough energy.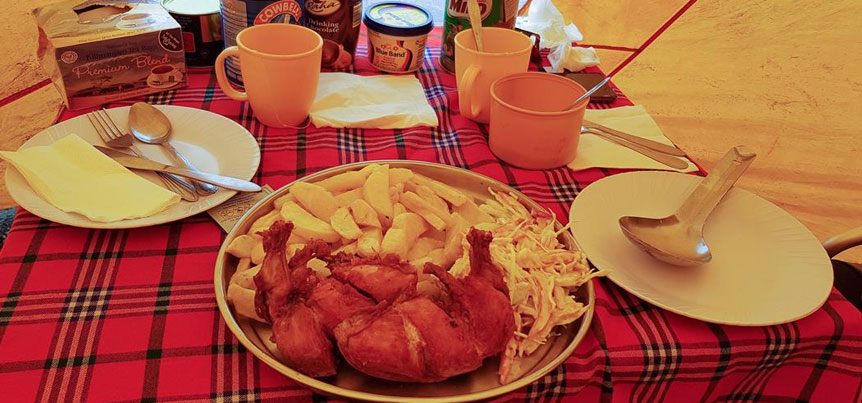 Kilimanjaro Food Price List provided by us is much lesser than the other cheap trekking operator and any standard hygienic restaurant of Moshi and Arusha town.
While you trek to the top along with you our guides, porters, and cooks hike as well. We choose an experienced cook who has enough knowledge about how much energy you need. Our cooks have great expertise in cooking delicious Kilimanjaro Food.
Our experts will cook your nutritious balanced specific Kilimanjaro Diet routine so you have the perfect measure of carbohydrates, proteins, and fats in Kilimanjaro Food. If you are following any special diet, let us know while booking your trip with us.
Listed below is a Sample Food On Kilimanjaro, you would be served amid your Kilimanjaro climb:
Daily Food Menu for Climbing Mount Kilimanjaro
The foods served on Mount Kilimanjaro are also included in Climb Kilimanjaro Guide for the sake of everyone's health and diet. The foods provided in the mountains are completely gluten free and a right menu is provided with quality guaranteed. Here is the Kilimanjaro Food Menu list which is for Breakfast, Lunch and Dinner.
| | | |
| --- | --- | --- |
| Breakfast | Lunch | Dinner |
| Tea, Coffee, Hot Chocolate | Tea, Coffee, Hot Chocolate | Tea, Coffee, Hot Chocolate |
| | Vegetable Soup | Vegetable Soup |
| Toast, Biscuits with Margarine, Jam, Peanut Butter, Honey | Bread, Biscuits or Pancakes with Jam, Peanut Butter, Honey | Bread, Biscuits or Pancakes with Jam, Peanut Butter, Honey |
| Eggs, Sausages or Bacon | Chicken Curry, Rice, Chapati, Green Beans | Spaghetti with meat sauce |
| Porridge or Pancakes | Snack: Peanuts, Popcorn, Cake, Cookies | Potatoes, Rice, Pasta |
| Fresh Fruit: Mango, Orange, Pineapple, Banana, Avocado or Watermelon | Fresh Salad: Tomato, Cucumber, Onion, Carrots, Green Peppers | Fresh Vegetables: Carrots, Peas, Tomato, Beans, Greens |
Kilimanjaro Snacks:
You may wish to bring your own snacks to provide well deserved treat, or energy boost! Chocolate is generally the best answer and if it has nuts, then even better, but whatever you choose make sure it is a favourite treat and not a 'power bar', or 'energy gel'. Dairy products and chocolates are the main source of energy while Climbing Mount Kilimanjaro for Beginners and professional hikers. If you are suffering from Kilimanjaro Altitude Sickness then your appetite may be suppressed and these snacks may become a good supplement to your meals, so make sure it is something that you enjoy eating!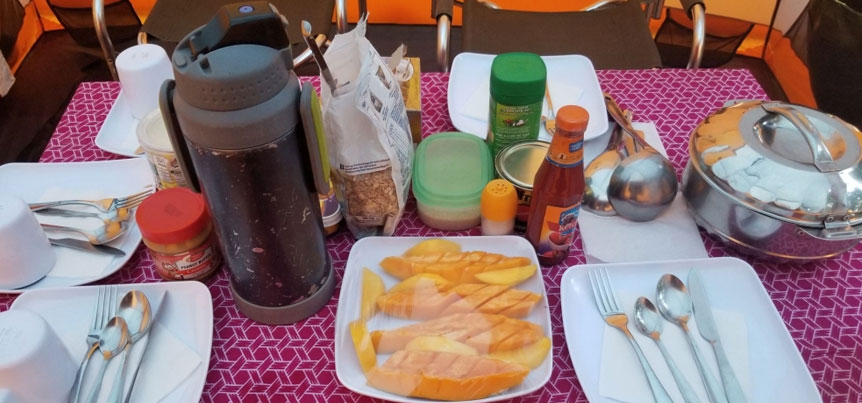 A powdered energy drink such as lucozade sport is also a good source of energy and will help with the taste of the water if you have been using iodine tablets.
Drink Enough Water and Stay Hydrated
When you are in higher altitude there are more chances of being dehydrated and the dehydration may cause Acute Mountain sickness. Staying hydrated will definitely help preventing altitude sickness. It is advised to drink water regularly while you are Climbing Mount Kilimanjaro. Symptoms of dehydration is similar to Acute Mountain Sickness. You will need to drink adequate water and not extra water. Do not worry, if you are feeling uncomfortable to carry water, Kilimanjaro Porters will be there to carry.
Too much of water may also be harmful as it can dilute your body's sodium level which may further cause weakness, confusions, seizures, and coma. The best way to check your body's hydration level is to check your urine. Clear urine indicates adequate hydration and dark urine indicates dehydration and need to drink more water.
Be our guest! Get a unique experience and enjoy the traditional hygienic foods made by special ingredients.
On all of our Climbing Mount Kilimanjaro, you will be fully supported by a team of Kilimanjaro Chefs, and cooking Kilimanjaro Porters whom will provide for every dietary requirement and you will have 3 hot cooked meals a day - plus a plentiful supply of water and hot drinks.