To maintain privacy over Kilimanjaro, we are emphasizing more on Private Toilet Tents on Kilimanjaro. This is one of the most exclusive gear carried out by your kindhearted porters
The sole purpose of Private Toilet Tents on Kilimanjaro is to make the journey of climbers convenient and private.
First things first! Toilets on Kilimanjaro
When talking about the Private Toilet Tents on Kilimanjaro, there are different Kilimanjaro Toilet Facilities as an options for you.
Using Wooden Toilets: Chosen by most climbers, this option is probably why so many people complain for no privacy. With a wooden shack, that surrounds a deep hole in the ground. For choosing this option, bring your own toilet paper and it's very unhygienic although the staffs of Kilimanjaro national parks try to keep its clean.
Kilimanjaro Portable Loo: Portable loos are nifty little devices that come with their own mini tent which you can see while Climbing Mount Kilimanjaro. Carried by a porter and setup at each camp, it costs $150 on rental. Only affordable for trekking groups with more than 3 members.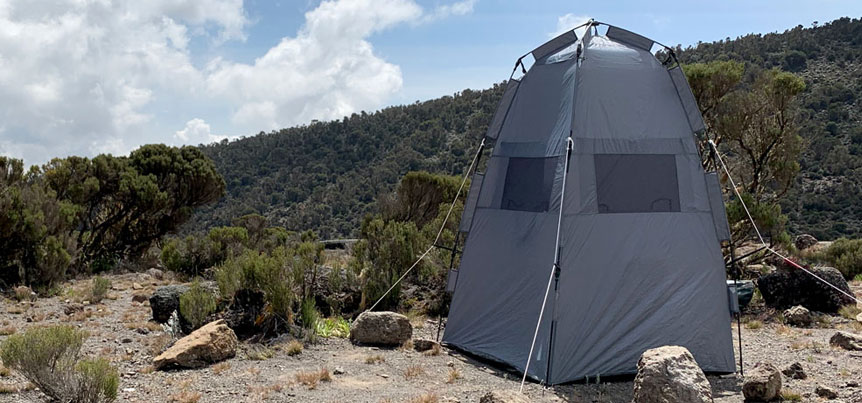 Are There Showers On Kilimanjaro?
There are no showers on Kilimanjaro. What you will get for bath is a hot bowl water daily by your trekking tour partner.
Public Toilets On Mount Kilimanjaro
"What Are the Toilets like on Kilimanjaro?" has became a common question asked by new hikers in Kilimanjaro Faq's.
The public toilet you will face when you are in Climbing Mount Kilimanjaro range from flush toilets at lower campsites to very basic wooden squat latrines. As it is located a walk able distance from campsite, it is not a good idea to go for the toilet in a temperature below freezing point.
Private Toilets On Kilimanjaro
Private toilets are the most favoured Kilimanjaro Toilets. It is a tall size stand-up size toilet tent with a chemical toilet unit that has a seat and a flush. It is easy to put up and dismantle. You can include this in Kilimanjaro Gear List.
Difference Between Public Toilets & Private toilets
When Preparing To Climb Mount Kilimanjaro, you should check out for daily use stuffs like toilets, bathrooms, and sanitizers.
Private Toilet Tents on Kilimanjaro is a tall size stand-up size toilet tent with a chemical toilet unit that has a seat and a flush.
In case of Hygiene on Kilimanjaro, Private toilets are more hygienic than poor public wooden toilet.
Private Toilets on Kilimanjaro are more convenient, comfortable and cleaner than Private toilet.
Stay Healthier and Happier On Kilimanjaro With Private Toilet Tents
If your question is "Are There Toilets on Kilimanjaro?" let us clear what you are going to encounter on your daily routine. After seeing the public outhouses that thousands of other trekkers use daily, you'll realize Private Toilet Tents on Kilimanjaro are essential to your hygiene and health on Kilimanjaro. Hygienic bathrooms mean less chance of illness. This allows your body to focus on acclimatization for successful summit.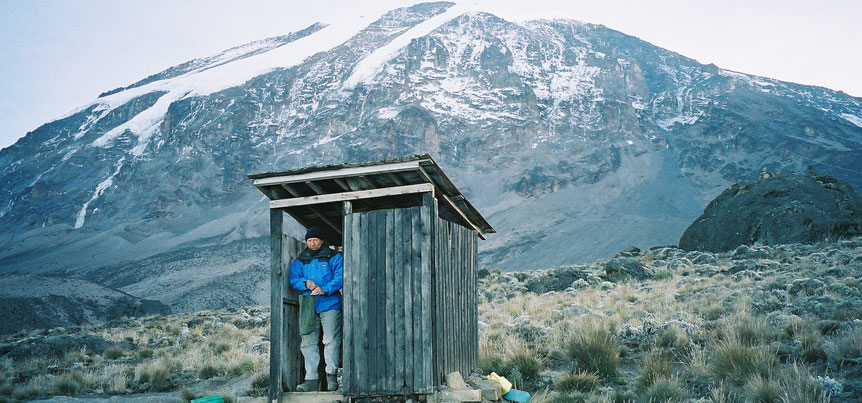 Jerry Tanzania Tours FacilitiesOnPrivate Toilets on Kilimanjaro
Toilet Tents provide well maintain privacy.
Jerry Tanzania Tours provides portable pump-flush toilets which are eco-friendly and sanitary.
Hand sanitizer provided to keep you healthy and hygienic.
High tents are clean and comfortable.
Is a Private Toilet on Kilimanjaro Worth the Extra Cost?
The cost of Kilimanjaro Private Toilet Tents is around $150 for the whole climb. In a group trekking, the cost split between two or more climbers across several days. The cost becomes reasonable a little more than $10/day per person if you assume in between 6 to 7 days climb for trekkers.
Stay clean and be healthy by using Private To ilets on Kilimanjaro.