On Mount Kilimanjaro, when you're hiking 45 miles up and down a 19,341-foot peak for about 7 days and 7 nights', the Kilimanjaro Tents where you'll spend your nights become your safe haven. Getting enough sleep is essential in recuperating and countering altitude sickness. Jerry Tanzania Tours offers added Private Toilet Tents ensuring the privacy of Kilimanjaro Climbers.
Beat the altitude sickness; Sleep tight in comfy Kilimanjaro tents.
When planning for the Kilimanjaro Trek, tourists often overlook the sleeping part. Sleeping is the most important aspect of your climb. Not only it is essential for rest and to regain strength but also it is a vital role in acclimatization. Not to mention a well-rested body and mind are much more likely to avoid altitude sickness. You just have to have the right attitude and of course the right equipment. Our Kilimanjaro Guide will provide you with the best equipment along with insightful stories during camping to help you sleep.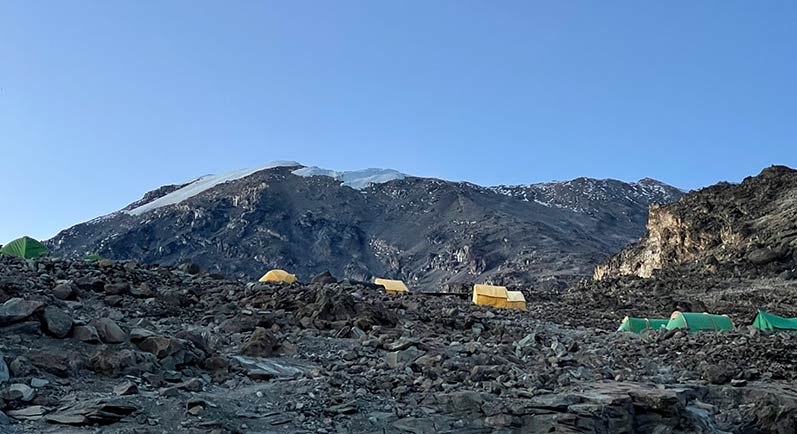 Where to sleep during the Kilimanjaro climb?
Your sleeping arrangements on Mount Kilimanjaro depend on your hiking routes as well as Kilimanjaro Climbing Packages. But basically, you will be sleeping in either a mountain hut or tainted camps. Don't stress about carrying your gears from camp to camp. Because our Kilimanjaro Porters carry all of the camping equipment and also set up your camps for you.
We use Mountain Hardwear Trango 3, to ensure you stay warm, dry, and comfortable on your Kilimanjaro Climb. They are designed to sleep three people, but we only ever sleep 2 in a tent, to ensure you have plenty of space for you and your gear.
Best Kilimanjaro camping options on each route
Mostly, you will be sleeping in tented camps. Except on the Marangu route, where we provide only hut accommodation. As per the rest of the seven, Kilimanjaro routes, you'd have to camp. Our Kilimanjaro tour operator will organize your sleeping tent and mattress.
As for Marangu Route, we offer shared hut accommodation with dormitory-style bunk beds. Meaning you'll have a firm roof. On other Kilimanjaro Routes, we provide luxurious, high-quality, and more comfortable Kilimanjaro Tents than the Marangu Huts.
On the Northern Circuit, Grand Traverse, or Rongai Route you'll get to enjoy more privacy, quiet campsites, and unspoiled wilderness.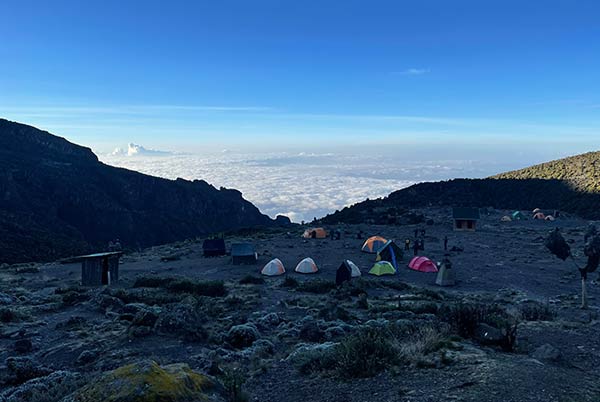 Kilimanjaro Tent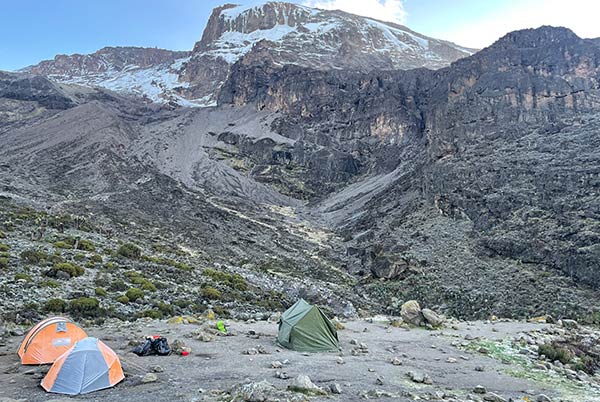 Kilimanjaro Tent
Tented Camps
We at Jerry Tanzania tours provide our climbers with high-grade domed tents that are cozy, comfortable as well as hygienic. Tented camps are the more fun option because it gives you a chance to meet and bond with your fellow climbers.
Mountain huts
These huts are provided by Kilimanjaro National Park. Mountain huts are wooden, A-frame structures. Even though there are beds with mattresses, we advise you to bring your own sleeping bag and pillow. These huts were built along the Marangu route.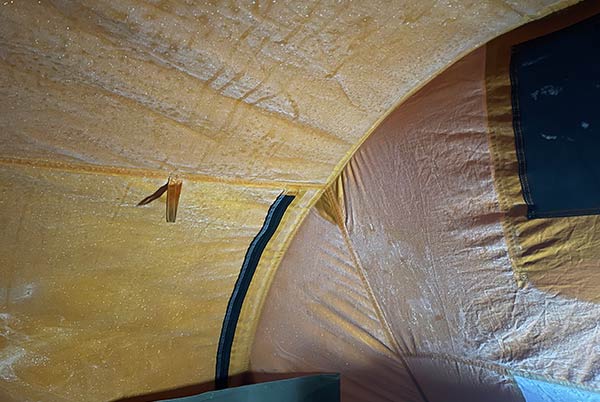 Kilimanjaro Tent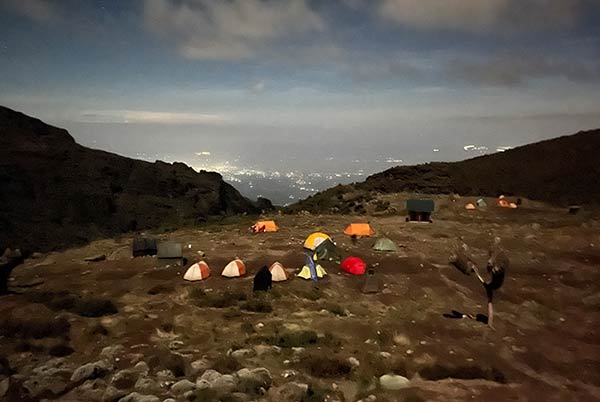 Kilimanjaro Tent
Range of accommodations on Kilimanjaro climb
We offer quality tents ranging from cheap locally produced to high-quality imported winter mountaineering tents (mid-range offers) or luxurious walk-in size tents with proper frame beds (VIP offers). Jerry Tanzania tours also offer Private Toilet Tents On Kilimanjaro as an added facility.
We use modern, mountain tents on all of our Kilimanjaro Climb. These are 3-man tents, meaning even when camping on a twin-share basis you will have plenty of room to stretch out after a long day of trekking!
Standard tents are usually shared. These Standard tour tents will be a little smaller and don't accommodate costs. So you will need a sleeping bag. A standard tent will approximately be 48 square feet.
1 or 2 people will share a 3-4 person Kilimanjaro Tents. So you will have plenty of space for yourself and your gear. But a word of caution, high-grade tents are designed to cope with extreme conditions and don't allow much room to stand up and walk around in your Kilimanjaro Tents.
The mid-range Kilimanjaro Tents are roomy 61 square feet. We provide a 27% increase in space. Here we will avail of mess dining tents with tables and chairs also our private toilet tents have become very popular.
"At Jerry Tanzania tours we provide four-season sleeping bags keeping you warm during the cold nights on Kilimanjaro."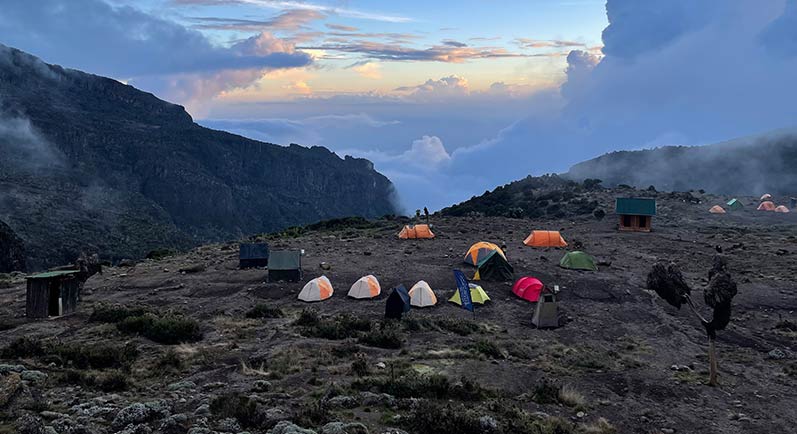 Can you choose a solo tent?
Can you choose a solo tent of your own during the Kilimanjaro climb? Yes, with Jerry Tanzania tours you absolutely can. Though sleeping alone or getting a walk-in tent may incur some additional cost. Our Kilimanjaro Travel guide will help you figure out the best Kilimanjaro Packages according to your suitability.
Can you take shower on Kilimanjaro Trek?
Sadly, there are no showers in Kilimanjaro. Instead, you'll get a hot bowl of water daily from your trekking tour partner.
What Are the Toilets on Kilimanjaro like?
When it comes to Private Toilet Tents on Kilimanjaro, we offer various Kilimanjaro Toilet Facilities options for you.
Wooden Toilets: this is the most preferred option among climbers. Basically, it's a wooden shack surrounding a deep hole in the ground. If you choose this option, then, bring your own toilet paper.
Kilimanjaro Portable Loo: Portable loos are nifty little devices. It comes with its own mini tent which you can see while Climbing Mount Kilimanjaro. It is carried by a porter and set up at each camp. You can rent a portable loo at $150 price. That's why it's ideal for 3 or more members of trekking groups.
Kilimanjaro Public Toilets: You'll find the public to be very basic wooden squat latrines. Also, it will be at a walkable distance from the campsite. A word of caution, it is not a good idea to go to the toilet at a temperature below freezing point.
Private Toilets on Kilimanjaro: Private toilets in Kilimanjaro are by far the best option. It comes with a stand-size toilet tent. The chemical toilet unit also has a seat and a flush. It is easy to put up and dismantle. You can surely include this in your Kilimanjaro Gear List.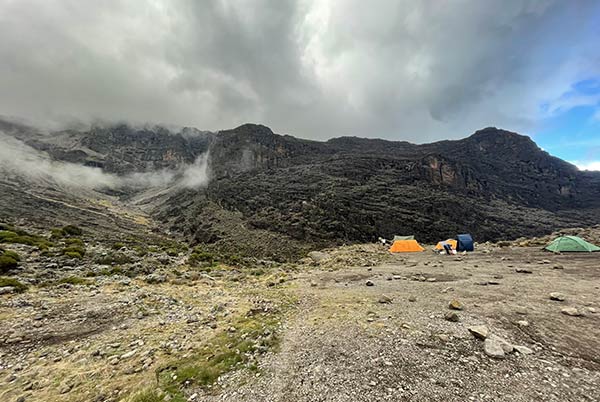 Kilimanjaro Tent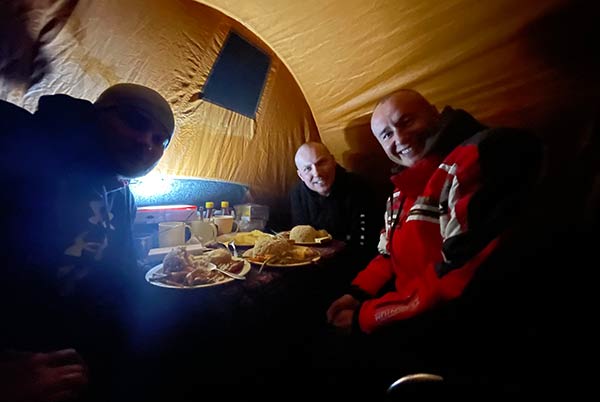 Kilimanjaro Tent
Privet tents is an added benefit on Kilimanjaro trek
"The idea behind Privet Tents is to provide our tourists a convenient hygienic and comfortable trekking experience"
Are you still skeptical about Kilimanjaro Privet Toilets? Let's give you a clear picture of what you are going to encounter in your daily routine. After seeing the public outhouses that thousands of other trekkers use daily, you'll realize Private Toilet Tents on Kilimanjaro are essential to your hygiene and health on Kilimanjaro Climb. Hygienic bathrooms mean less chance of illness. This allows your body to focus on acclimatization which further ensures a successful summit.
Jerry Tanzania tours provide Private Toilet On Kilimanjaro at no extra cost. Because we believe it to be a basic and must have facility that each tourist needs to have a comfortable and healthy Kilimanjaro Trek Experience.
What are the facilities available in Kilimanjaro tents?
All our Kilimanjaro tents provide well-maintained privacy.
Jerry Tanzania Tours provides portable pump-flush toilets which are eco-friendly and sanitary.
Hand sanitizer provided to maintain health and hygiene.
All high tents are clean and comfortable.
We serve three meals a day in our private mess tent.
We set up camp in secluded areas, where you can enjoy the most pristine views from Africa's highest mountain in peace.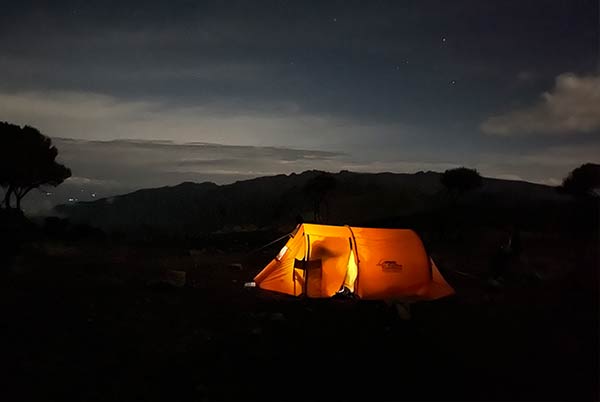 Kilimanjaro Tent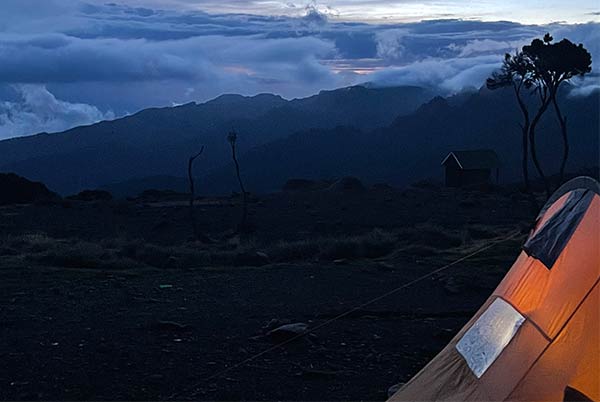 Kilimanjaro Tent
What to expect from Kilimanjaro Tents?
Nighttime is going to be chillier than you expect.
Be prepared to sleep in layers even from the first night. Also, bring your own warm sleeping bag liner to complement the sleeping bag given to you.
Don't expect the squat toilet bathrooms to be clean, but there will always be squat toilets available in a covered building of some guide, usually divided by gender and sometimes divided by "tourists" and "porters."
All trekkers are required to sign their names in a book at each campsite upon arrival, providing their names, ages, occupations, nationality, and number of people, guide name, and signatures.
One of the assistant guides or cooks will serve your breakfast and dinner in the "mess tent".
Bring your empty water bottles and camel packs to the mess tent during breakfast or dinner and your Kilimanjaro Guide will refill it for you.
Each morning, your assistant guide will give you a wake-up call 30 minutes before breakfast.
To wash yourselves, you'll receive a bowl of warm water about 30 minutes before dinner and breakfast every day.
Don't miss a chance of stargazing at camp once everyone has finished with dinner.
Pack hand warmers, foot warmers, body warmers for a quick good night's sleep.
Top tips for sound sleep in Kilimanjaro climb.
Don't drink too much water just before bed.
Go to the toilet just before hitting the pillow.
Always sleep in layered clothing.
Wear earplugs to muffle peripheral noise.
You should bring a soft, comfortable and warm hat.
Before getting in, give your sleeping bag a good shake to smooth out any inner clumping.
Why Choose Jerry Tanzania Tours To Arrange Your Kilimanjaro Tents?
All of our Kilimanjaro Travel have private camping. Jerry Tanzania Tours use the best available equipment on the mountain. Meaning that not only will you be dry, warm, and cozy but also you will get ample space and privacy. Thereby giving you the best camping experience possible. Every night our camps will be set up by our porters, in a reserved 'area' just for each group. Thus making sure you won't be mixing with other teams or groups unless you want to. Our Kilimanjaro camp 'manager' will be responsible for all aspects of the campsite and tents and keeping it all in order.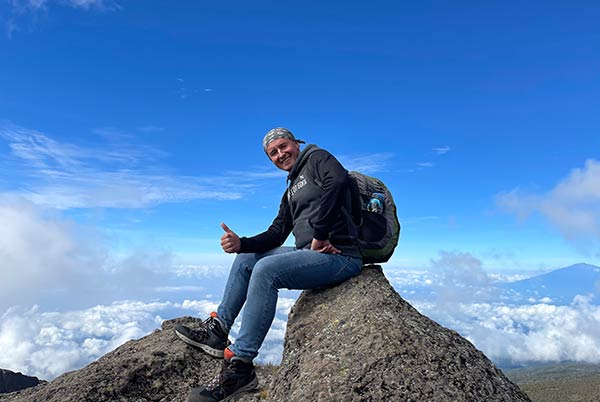 Kilimanjaro Travellers Experience
Kilimanjaro Travellers Experience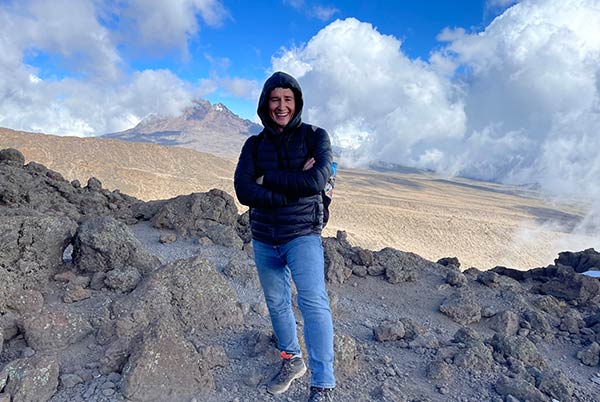 Kilimanjaro Travellers Experience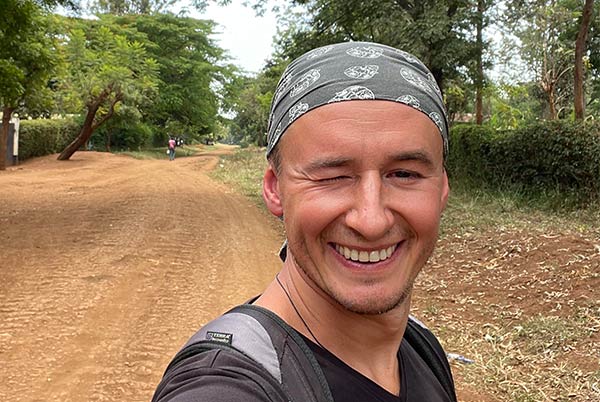 Kilimanjaro Travellers Experience
Related Kilimanjaro Searches
Get your FREE eBook
Enter your name and emailto get your FREE eBook
You can unsubscribe anytime For more details. review our Privacy Policy