That's one of the famous catchphrases of Jerry Tanzania Tours. You must be wondering what!? Why is Kilimanjaro At Night the best? Why Climbing Mount Kilimanjaro at night? We mean yes, the idea might sound bunkers to some; why summit Kilimanjaro at night? The notion of summiting in icy cold Kilimanjaro Climate where you can't see beyond the beam of your torch might seem preposterous to you, but we assure you 100%, here are solid reasons behind this madness.
Table of contents
Can't sleep? Then Hike away
You'll have a lot of ground to cover

Convenient timing
Enjoy the perfect sunrise view up above the Kilimanjaro
The trail up the hike is better at night
Better visibility
The more comfortable descent
Kilimanjaro at night is a sight to behold?
"Imagine standing on the banks of a cloud looking up and peeping into the heavens among the stars."
Well to put it simply, the lack of light pollution and the fact you're above the clouds means that the views of the stars above are simply, stupendously surreal!
Here, have a look and you will be amazed too...
Now is the Best Time To Climb Kilimanjaro off of your bucket list. 2021-22 is the perfect time to take on the most exciting Kilimanjaro Expedition. An adventure promising the most exhilarating experiences of your lifetime.
What is Kilimanjaro summit night?
Though you hike up the mountain under broad daylight. But you'll be attempting your summit ascent at midnight. Hence summit night. Summit night is the final leg of your Kilimanjaro Trek. It's the part where you'll be climbing to the highest point of Kilimanjaro, Uhuru Peak.
In essence, the climb starts at midnight and ends late in the afternoon. During this time you will be trekking up to Uhuru Peak and then hike back about half of the way down the mountain. Make no mistake, this mammoth day of hiking will test you in every way!
Why climb Kilimanjaro at night?
Can't sleep? Then Hike away
It is hard to sleep at higher altitudes. Because reduced oxygen causes labored breathing. So instead of lying awake in bed fretting over hike isn't it better to bite the bullet and set out for an early summit.
You'll have a lot of ground to cover
You'll be starting the final summit from Barafu Camp. Look at the map below to understand how far you must climb from Barafu Camp to reach the summit! Clearly, it's a long day of hiking
The hardest part about Kilimanjaro summit night
By far, Summit night will be the hardest and most challenging part of your entire Kilimanjaro trek.
You have to combat the harsh Kilimanjaro Climate!!
The wind might be fierce.
Can be mentally daunting.
It will feel like the steepest part of the entire trek
Expect the scree to be hard to walk on
You'll be hiking 13 to 16 hours straight.
The air will be thin so breathing might feel jiggered.
Benefits of Summiting Kilimanjaro at Night
If you cannot fathom the thought of a midnight hike in minus temperatures then not to worry we also offer daytime summit options. But think, what you could be missing out on? Here are some of the benefits of Kilimanjaro at Night Hike to further demonstrate the point.
Convenient timing
Primarily larger groups take the most of it. It might take approximately up to 15 hours to summit Uhuru Peak and get back down safely again. Thus, a midnight summit is essential.
Enjoy the perfect sunrise view up above the Kilimanjaro
One thing is for sure, the most memorable part about your Kilimanjaro Trek expedition is watching the sunrise up over the horizon and turning the midnight sky into the most breathtaking claret shade. Allow the warmth of the rising sun to seep into your body. Let your soul revel in it. You will feel certain energy you've never felt before. As if you can do anything to accomplish any goal.
The trail up the hike is better at night
Ideally, you'll be starting your summit from Barafu Camp. So, from there, the road to Uhuru Peak is made up of volcanic sand or scree. Which freezes slightly at the crack of dawn. Which in turn, makes it easier to walk on in comparison to the daytime hike, where it feels like walking on a hot beach.
Better visibility
When you start Kilimanjaro Climb under the illuminating midnight sky, chances are you'll get crystal clear skies by the time you reach Uhuru Peak. Because the mountain attracts clouds later in the morning, that can limit your view to a great extent.
Moreover, if you choose to plan your summit night on a full moon then that will take your Kilimanjaro experience to a whole new level. Plus under the clear illuminating moonlight and glittering glaciers beneath your feet you won't even be needing your head torch.
The more comfortable descent
After summiting Kilimanjaro, you have to walk back down again. And not just till Barafu Camp. You'll have a good 4 or 5 hours of hiking to do following a brief lunch break. So naturally, it makes sense to get up and down by early afternoon.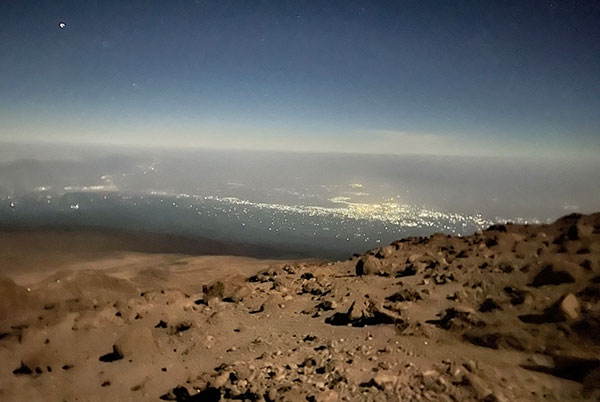 Kilimanjaro At Night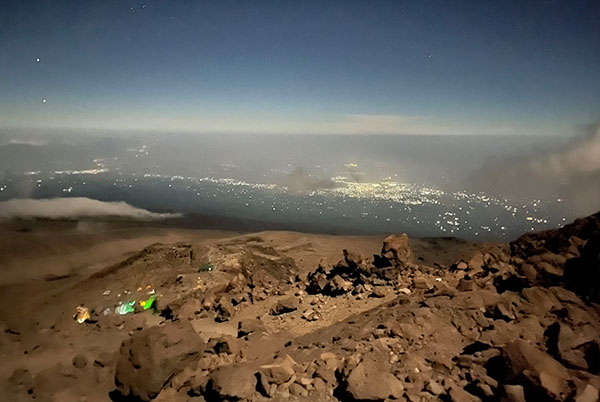 Kilimanjaro At Night
Kilimanjaro Night Summit Bid
This is an approximate time bid that we provide at Jerry Tanzania Tours.
12 AM: Rest for a few hours after dinner; your Kilimanjaro Guide will wake you up at midnight. Get ready, put on your headlamp, and grab a quick breakfast head out.
3 AM: You are moving at a slow, steady pace. And it has brought you far enough up the mountain.. Look around, you'll notice a line of glowing headlamps snaking up the trail equivalent to a human highway up till the top.
4 AM: Take a long deep breath; you're about to begin the most difficult section of your summit bid: the steep, scree-covered switchbacks covering all way up to Stella Point.
5:30 AM: The steep slopes and the altitude is making you tired, but the sight of the sun rising behind the crags and nearby Mawenzi spires gives you new energy to keep pushing further.
6 AM: Finally! You've reached Stella Point: the steepest part of your climb is behind you! Take a deep break. Have a drink, help yourself with some light snacks, and enjoy the morning sunshine on your face. Regain yourself and then summon your last reserves of energy for the final push to Uhuru Peak!
7-7:30 AM: Wow! You've reached the Summit! Enjoy the breathtaking view. Imprint the moment to your memories, take a few quick photos, and begin your descent back to Stella Point.
8 AM: It's easier to go down! After you reach Stella Point, you'll get your adrenaline pumping by taking the "direct" route down the mountain… "scree-skiing!"
10 AM: Your body starts to feel better as soon as the elevation drops. Grab an early lunch to fuel up for the remaining hours of the hike back to camp.
3-4 PM: Arrive at your camp. Have some afternoon tea. Get refreshed after all it was a long, difficult day, but you did it anyway!
Kilimanjaro night summit bid
6 tips for Kilimanjaro summit night
Rest as much as possible; Mostly, you'll head back to your tents around 7 pm the evening before the summit attempt. As you now know, you've to wake up at 11 pm to get ready for the Kilimanjaro Summit. So it's natural for you to not be able to sleep because of the stress. However, you should try to relax and avoid stress. We recommend lying down and resting as best you can.
Eat with gusto; It's important to eat a good dinner the night before the summit climb. Because high altitude can cause nausea or loss of appetite. Nonetheless, try to still try to take in as much as you can. You have a grueling climb ahead of you, and your body needs the fuel.
Don't forget to wear a balaclava; Balaclava is a part of your Kilimanjaro packing list. We strongly advise you to wear balaclava for summit night. You'll need protection from the harsh winds of the summit.
Leave your hose, and use a water bottle; On Kilimanjaro summit night, the hose and mouthpiece of your hydration pack will freeze over. Drink from your bottle during the early hours of the trek. One tip; place your water bottle in a thermal sock and keep it close to your body. As you know, water freezes from top to bottom. So, carry your bottle upside down. That way even if the top part freezes, you can still access some water.
Don't forget sunscreen, sunglasses, and a brimmed hat; Protect your face and eyes from the UV rays as soon as the sun starts to rise. You will burn much faster this high up. Also, apply some sunscreen on your lips too.
Always store spare batteries in your head torch; The extreme cold might drain the batteries' charge. So we advise you to sleep with your spare batteries in the hours leading up to Kilimanjaro summit night and then just before setting out place those in your head torch.
Jerry Tanzania Tours' Approach to Summit Night on Kilimanjaro
With maximum safety and success, Jerry Tanzania Tours has developed the best approach to Kilimanjaro summit night. If the weather allows and winds are at bay, we shall be taking off from the higher camp of Kosovo, just below 16,000 feet.
The reason that you can do this is that we have given you adequate time to acclimatize lower down. Having said that it would be highly dangerous to go all the way to Kosovo Camp for the night if you are only on a 5-7 day trip. AS your body would not be able to cope with the altitude after only a few days acclimatizing.
Our teams aim to reach Barafu camp by 11:00 am or Kosovo camp by mid-day. Indeed, this will give your body additional time to acclimatize and more importantly rest and sleep. On the plus side, staying at the higher camp means no noise from the main camp.
You'll get up and start getting ready at approximately 10:30 pm. It is important to start slowly and drink plenty of water. Try and drink at least 2 liters of water before you leave the camp.
At 11:30 pm/12:15 am we will serve breakfast in the mess tent. You can fill your bottles with boiled water for the night ahead. It is important that you keep well hydrated during the entire trip and even before starting your Kilimanjaro Climb.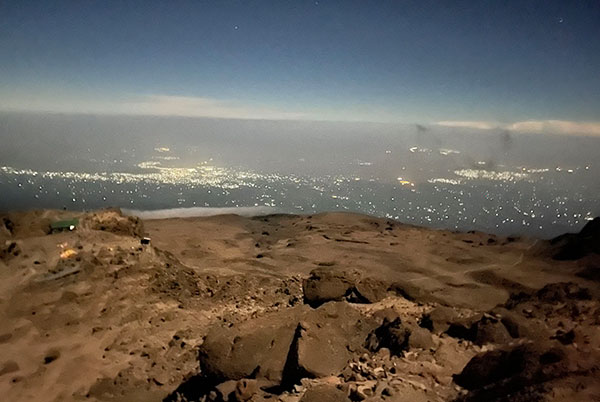 Kilimanjaro At Night
Kilimanjaro At Night
Slow and steady, wins the Kilimanjaro Summit
At midnight, we will start the summit ascend. Our primary goal on the summit night is to keep a very strict routine while going up. Our aim to gain 200m/ 656 vertical feet, per hour.
You'll walk for an hour and then stop, drink water, and eat some snacks, if needed, to use the toilet just off the trail. Each stop would be for around 5 to 7 minutes, depending on the weather.
This will continue for the next 5 hours as you slowly edge your way above 5,500m/ 18,000 feet. As we approach this elevation the lack of oxygen will become more challenging. So, you may need to stop every 20/30 minutes. Therefore at this stage, we will begin to move slowly towards Stella Point, just in time for the first light touching horizon.
The last section up to Stella point is one of the hardest parts of the night. You've to be very slow and steady. It will likely be very cold in Stella Point. So, you'll rest for 5 minutes. After some hot tea, we will continue for the next 50 minutes towards the true summit.
The terrain is now a little easier. The lack of oxygen is a challenge though, so make sure to focus on your deep breathing up till the summit. Getting as much oxygen as you can into your body is the key to success here. You will reach the summit of Kilimanjaro after 6/7 hours of walking uphill!
Best time to enjoy Kilimanjaro at night
The warm and dry seasons are considered to be the ideal period to enjoy Kilimanjaro night. Generally, the period of December to mid-March and mid-June to the end of October is considered to be the best time to climb Kilimanjaro at night.
These four months of the wet seasons get the full blast of Kilimanjaro Glacier. As this is the period the pick is ornamented with fresh piles of snows. Consequently, this snow will start to glow and give you a glittering feeling underneath your feet. However, this period is the peak period. So you should expect to deal with jam-pack tourists.
Kilimanjaro Full Moon Nights
If you think Kilimanjaro is beautiful on a normal night, the night is the beauty of Kilimanjaro on a full moon is absolutely regal. If it is possible during the full moon period the beauty of Kilimanjaro night goes to a different level. That beauty can't be described in words of mear mankind.
The moonlight reflects on the glaciers making them glitter. Also, the rolling clouds below you become glowy. Even the ground beneath your feet will glisten. Dreamy, isn't it?
Also, Climbing Kilimanjaro during a full moon night offers you magnificent night views of Kibo from most of the overnight camps.
Experience the best of Kilimanjaro Night with Jerry Tanzania Tours
Climbing Mount Kilimanjaro under a clear sky, under glittering stars acting as your torchbearer can be a life-altering experience. Make your Kilimanjaro Climb an even more memorable experience (if that's even possible!?) with Jerry Tanzania Tours.
We offer various Kilimanjaro Climb Packages. Browse through our Kilimanjaro climb trip calendar. Don't just select a date that works for you? Chat to us and find out how we can make your trekking experience extra special.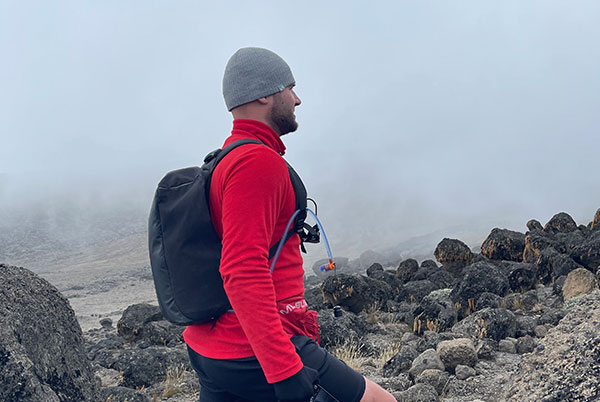 Kilimanjaro Travellers Experience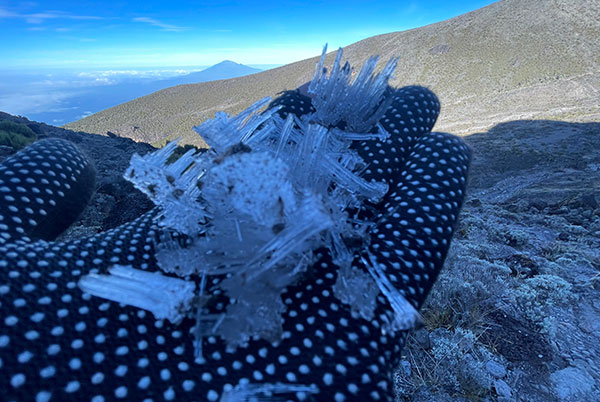 Kilimanjaro Travellers Experience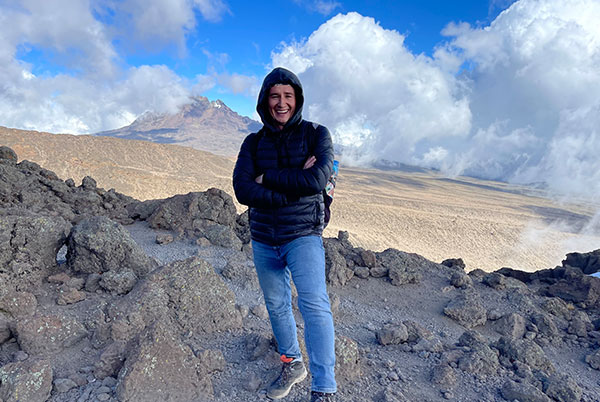 Kilimanjaro Travellers Experience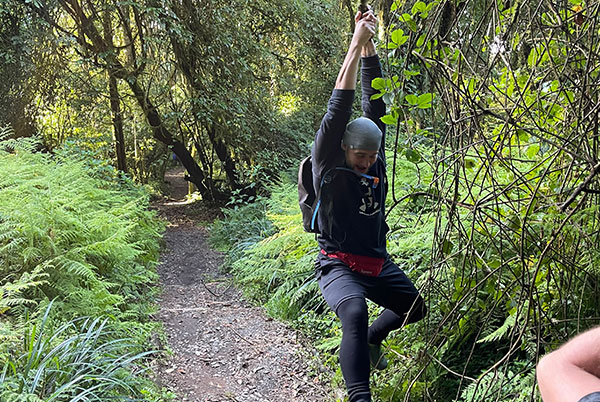 Kilimanjaro Travellers Experience
Related Kilimanjaro Searches
Get your FREE eBook
Enter your name and emailto get your FREE eBook
You can unsubscribe anytime For more details. review our Privacy Policy